Wednesday, September 28, 2016
By Rich Barton
NJS.com Staff Writer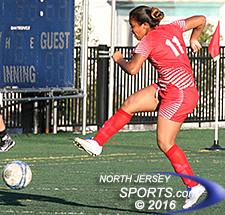 Alizea Henriquez had a hand in all three Hoboken goals, scoring two and assisting on the other, as the Red Wings improved to 6-0 in the season with a 3-1 victory on the road in Union City on Tuesday.
HOBOKEN – For the past three seasons, the Hoboken trio of Jasmin Erichsen, Alizea and Jaeda Henriquez along with fellow classmates Rayza Lopez and Paris McConnell felt the frustration. After finishing below .500 in each of the past two seasons and without winning a single county or state tournament game over that span, the Red Wing seniors knew they had to put in the work to get the reward.
That reward has come early on with six straight wins to start the season. Winning games and being a team that can make deep runs in Hudson County and state tournament play are two different things though. The Red Wings, who play in North 2 Group 1, got their first true test came on Monday against a Group 4 Union City team desperate to get back on track after three losses last week.
After falling behind for the first time all season, the Red Wings responded quickly. Just 90 seconds after the Soaring Eagles took the lead, Zoe Higgins and Alizea Henriquez scored less than a minute apart to put Hoboken back in front. Erichsen made two huge saves late in the first half before Henriquez put the icing on the cake with her second goal as Hoboken showed it is for real with a 3-1 victory in Union City on Tuesday at the Midtown Sports Complex.
"We haven't let up a goal since our first game, but I like how we erased it from our memory immediately and kept doing what we've been doing," said Hoboken head coach Jackie Gennarelli. "In years' past we always felt we had to go forward no matter what. I think we realize now that we can play the ball back and be patient until something opens up. This team doesn't give up no matter what the score is and we will always fight until the end."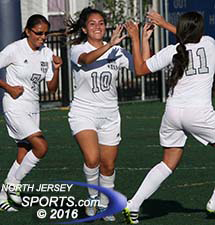 Antonelli Fernandini's goal was the first scored against Hoboken since the season opener and it gave Union City a 1-0 lead.
The play was mainly in the middle of the field before Union City struck at the midway point of the first half. Sweeper Paloma Garcia sent a long ball from midfield in between two defenders. Antonella Fernandini ran onto it and one-timed a perfect volley from the top of the box that glanced the inside of the left post and to put the Soaring Eagles in front, 1-0.
It may have been a shock to the system of Erichsen, as it was the first goal the keeper has allowed all season and the first time the Red Wings had trailed. That did not stop them from hustling their way back in the game with Henriquez winning a ball near midfield to get things started. She settled it down and then slid a pass to Higgins near the top corner of the box. The freshman cut back to her right, took a dribble and then bent a shot around Union City keeper Evelyn Rangel and inside the far post for her fifth goal of the year to knot the score at 1.
Just 58 seconds later, Alizea Henriquez ran onto a through ball played up the middle by her sister Jaeda. Just before the charging Rangel could snatch it, Alizea got a toe on the ball to poke it around the keeper and then knocked it into an open net to put the Red Wings in front, 2-1, in the 23rd minute.
Union City dominated the final 10 minutes of the opening stanza and had two bonafide scoring chances from the top of the box. Erichsen showed her cat-like reflexes by making two diving saves to push each of those shots just inches wide of the left post to preserve the one-goal lead at halftime.
"I didn't have time to do anything other than react to the ball," said Erichsen. "I was mad that I let in the first goal I've allowed year, but it was going to happen and I had to get it out of my mind. On those shots Union City had late in the first half I just tried to cut down the angle. When I'm in position to do that their either going to shoot it right at me or it's going over the net."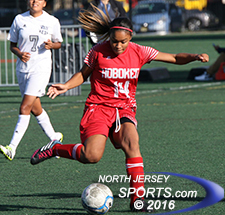 Jaeda Henriquez assisted on Hoboken's third goal of the game.
Erichsen made two more big saves early in the second half before the Red Wing defense led by freshman sweeper Charlotte Foberg and marking back McConnell settled things down. Hoboken got an insurance goal in the 82nd minute on a run that seemed more like a pre-season drill than something executed in the flow of a tight game.
It started with Elyse Santiago winning a ball in the back and dishing it off to Aurora Foberg. She slid a pass forward to steady midfielder Sophia Battaglia, who then two-touched to Jaeda Henriquez., who one-timed a flick into the box and Alizea lined a hard shot into the lower right-hand corner to put the game away, 3-1.
"We moved the ball really well and I was ready to shoot when I got the chance," said Alizea Henriquez, who has a team-leading seven goals. "Even when we went down I had faith in my team and we have faith in each other. The freshman have really come on and pushed us to be better."
Erichsen had 13 saves, six of them coming on either diving saves or ones from point-blank range for Hoboken (7-0). Alizea Henriquez had her hand in all three goals with two goals and an assist. Rangel finished with seven saves for Union City (1-4), which got a solid performance in the midfield from senior Jessie Argueta.
The Red Wings will face their toughest test to date when they take on Bayonne, which has reached the Hudson County final the past seven seasons, on Thursday night. With a big home crowd expected the Hoboken seniors are finally seeing the success they craved ever since they joined the starting lineup as freshmen.
"I've never had fun in my four years like I'm having right now," added Henriquez. "We're playing at a high level and it's so amazing to be a part of it. But we can't just be happy with where we are now. We have to work every day to get better because we know what it feels like to be down especially our senior and we never want to feel like that again."
CLICK HERE FOR MORE PHOTOS FROM THIS GAME. TO BUY A COLLECTOR'S PRINT OF THIS STORY, PLEASE VISIT 4FeetGrafix.com.