Wednesday, September 21, 2016
By Cory K. Doviak
NJS.com Editorial Director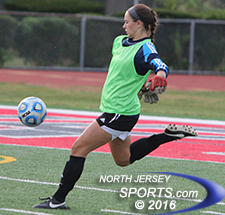 Siobhan O'Sullivan made a couple of big saves for Wayne Hills, which is now 2-1-2 after a scoreless draw at Fair Lawn.
FAIR LAWN – There are those scoreless ties that make it hard not to yawn while the 100 minutes plays out. There are those that defy logic as one team repeatedly pepper the net only to be thwarted by a variety of factors like the woodwork or an in form goalkeeper. And then there are the scoreless ties like the one played between the Fair Lawn and Wayne Hills girls soccer teams on Tuesday, one with enough traffic in front of both goals to make one wonder how zero balls ended up in the back of the net after an entertaining and competitive contest.
Sure there were missed chances by either team, but both coaches were willing to take the result because either could very easily have walked off on the short end after the myriad near-misses both ways. Both teams were hoping to use this game as a momentum builder going forward but, instead, the positive for each was that they avoided a loss on a day when each side played relatively well.
"Today we created the opportunities but the ball just did not want to go in the net. That is something that we are struggling with right now, but it is still early in the season and it will come," said Wayne Hills head coach Greg Rehberger. "Fair Lawn is a good team, so this is not a horrible result, but we feel like this was a situation where we had the run of play for long periods and just couldn't finish anything."
Fair Lawn keeper Victoria Elia was up to the task against a well-organized Wayne Hills attack.
Wayne Hills (2-1-2), the three-time defending Passaic County champion, has now seen three of its five games go into overtimes with only a loss and two ties to show for its efforts. Fair Lawn, which has a lot of firepower returning from last year's team that set a school record for wins in a season, but it has yet to recapture that magic. The Cutters (1-4-1) have won just once so far, but are the kind of team that could get hot in a hurry. They were hoping that Tuesday might provide the right opportunity to kick on, but a break-even result against a quality side might also be the igniter to a quality stretch of soccer.
"We'll take it against a team like that. Traditionally, Wayne Hills is a very, very good team and they are again this year so this is not a bad result," said Fair Lawn head coach John Van Soest. "The start that we have had this year is not exactly the way we saw things going and tough team like this coming in here today was definitely going to present a challenge. It's early I know, but this was kind of a make or break game for our season here. We are just trying to get back to the way we were playing last year when we earned a lot of respect and we created a lot of chances today, we were just unlucky at times."
The first half almost started with a bang as Fair Lawn senior Lisa Kestleboym, a Lehigh University commit and the player that every opponent pays the most attention to, wiggled free right off the opening kickoff. She made a beeline for the left post and got off a shot that forced an early save by Wayne Hills keeper Siobhan O'Sullivan. Fair Lawn got a corner kick out of the deal, but that came to nothing and it would be a while before either side again really threatened to break through.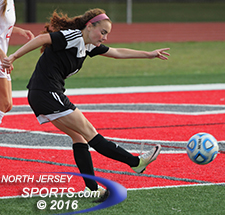 Johnna Caporuscio's speed on the flanks set up some of Wayne Hills' best offensive opportunities.
Wayne Hills had a good chance created by the hustle of Danielle McCall in the 23rd minute. She got involved on a high 50-50 ball just outside the 18 and headed it forward toward Gillian Brogan, who ran in behind the pile up. Brogna's shot finished just wide of the left post.
Fair Lawn had its final chance of the first half five minutes before the whistle and it was set up by a dangerous long throw tossed in from the left side by Amanda Laudani-Taylor. O'Sullivan threw herself into the scrum in front to punch the ball up and she had to recover quickly to let her fist on its again at the back post to keep the Patriots from getting a look at an open net.
The second half was more free-flowing and the scoring chances both ways were too numerous to list, but here are a few of them: Wayne Hills' Johnna Caporuscio won the endline on the right, cut in and hit a rip that was taken in the midsection by Fair Lawn keeper Victoria Elia in the 46th minute. Fair Lawn had the next two as Briana Pinelli sent a cross in through the crease that went unanswered and Kestleboym sent in Laudani-Taylor, who put one on net only to see O'Sullivan hold her line and smother the shot at the near post in the 52nd minute.
Both goalkeepers were solid and both made a couple of key saves that, in retrospect, were absolutely necessary.
Elia's best save came in the 59th minute and even still she needed some help to maintain the clean sheet. Again it was Caporuscio's speed on the flank that set up the sequence and she turned the corner on the right before rolling in a cross toward the foot of Alexis Long, who had her shot blown up by the fearless Elias, who stuck her head in there. There was a rebound, however, that was sitting just four yards from goal before it somehow was belted off the crossbar from short range.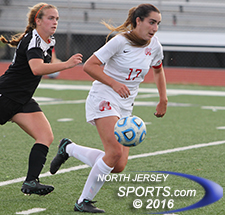 Lisa Kestelboym set up some of the better chances for Fair Lawn, which is looking to getting going after a 1-4-1 start.
O'Sullivan was tested most severely inside the final two minutes of regulation when Laudani-Taylor got in on a free run up the left side and hit one high, hard and on target. O'Sullivan hung in there and punched the ball up and onto the football uprights.
"It was a breakaway and I just had to come out a little bit and cutoff the angle. She shot high, thankfully, so I just had to jump and tip it up and over," said O'Sullivan, one of the 16 seniors on Wayne Hills' roster looking to make another run at a county championship. "I wouldn't say I am happy with what our record is right now, but looking at how we have played we are doing OK. We've played three overtime games, we've gotten two ties and it could be worse. It could be better, but it could be worse."
Either team could have been awarded a second half penalty kick as Fair Lawn's Sasha Lachter was pushed over from behind in the box and Wayne Hills' Olivia Prusakowski was flattened on the endline while trying to shield a potential corner kick in the final seconds of regulation. But the referees chose to let the game play out to its natural conclusion and that was a justified draw.
CLICK HERE FOR MORE PHOTOS FROM THIS GAME. TO BUY A COLLECTOR'S PRINT OF THIS STORY, PLEASE VISIT 4FeetGrafix.com.