Sunday, September 18, 2016
By Rich Barton
NJS.com Staff Writer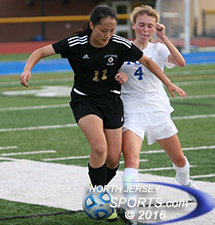 Christine Choi's first goal of the season stood up as the game-winner as Bergen Tech improved to 3-2 on the season with a 3-2 win at Passaic Tech on Tuesday.
WAYNE – Sitting at 2-2 on the season Bergen Tech head coach Victor Cazebas felt this was a good time to take a chance on making a change. Moving a solid field player and making her the last line of defense as the team's goalkeeper is a risky one. Especially when the first test is facing a league rival, Passaic County Tech. Clinging to a one-goal lead for most of the second half and despite playing a new position for the first time this season, Joella Chase proved to be up to the task.
She was aggressive in the defensive third of the field and came up with several key saves late to help Bergen Tech hang on for an important 2-1 road win over PCT on Tuesday afternoon in Wayne.
The game started over an hour later than the scheduled 4:00 start time. Even though they had less warm up time than they normally would before a game it did not stop the Knights from taking control early.
"Not sure if was the start time or what but it's no excuse. They came out ready to play and we were flat," said PCT head coach and former Wayne Hills' standout goaltender Caitlin Kiernan. "I thought late in the game when we played with a sense of urgency that we got a lot of chances to score. But to be where we want to be, we can't start as slow as we did today."
Bergen Tech had four quality scoring opportunities in a two-minute span. PCT goalie Karly Inserra kept the first three out of the net before a perfect shot finally beat her on the fourth. A miscommunication in the back allowed Katie Katz to trap a bouncing throw-in and turn with plenty of space in front and nobody marking her. By the time Bulldogs reacted it was too late. Katz took two dribbles and bent a shot around the diving Inserra and inside the right post to give Bergen Tech a 1-0 lead in the 10th minute.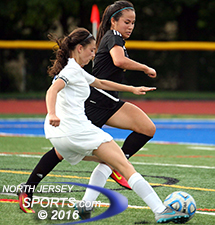 Alexus Costa scored the goal for PCT, which is now 2-2 on the season.
"Our last two games were really tough so we had to get off to a good start," said Katz. "Once I got the ball I saw that I had space in front of me and went to goal. When we get that first goal, we get that energy and just keep going from there."
Later in the first half, the Bulldogs found their legs and started to control play in the midfield. It led to several scoring chances before finally cashing one with just over a minute remaining. Nichole Lawrence sent a through ball right up the middle of the field. Alexus Costa ran on and chipped it off of the fingertips of the leaping Chase and in to tie the score at 1 going into halftime.
It looked like the Bulldogs would keep that momentum going just over a minute into the second half, but a foul waved off the potential go-ahead goal by Carly Spinnler.
The Knights dodged a bullet before Christine Choi fired one in the 53rd minute. Katz touched a ball into space on a give-and-go with Choi beating a defender to the ball near the top corner of the box before lacing a shot just inside the far post for her first goal of the year a 2-1 lead.
"Katie gave me a great pass into space and I felt like I could get to the ball first," said Choi. "I went into that space and just tried to get a good shot."
PCT did everything it could to try and net the tying goal. Lawrence and Costa were tough to mark throughout the 80 minutes and both had chances in the waning minutes. Chase not only proved to be comfortable in net but also used her agility and her speed as a sweeper to be like an extra defender on the back line. She picked off a potential breakaway by Lawrence before being aggressive off of her line to block a point-blank attempt by Costa as the Knights held on for the biggest win of their season to date.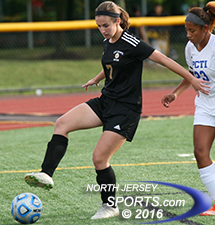 Katie Katz's fourth goal of the season got Bergen Tech on the board first.
"There's a lot of adrenaline in those last few minutes and I just wanted to stay calm but stay aggressive at the same time," said Chase. "At that point in the game I just did whatever I could to keep the ball out of the net."
Chase finished with nine saves for Bergen Tech (3-2). Katz, a co-captain, now is second on the team in goals with four and leads the team in assists with three.
Costa's goal was her third of the season for PCT (2-2). Inserra had five saves for the Bulldogs, who will try to turn things around against a red-hot West Milford side on Thursday.
After a tough win with a shuffled lineup, there is plenty of optimism for the rest of the season for Bergen Tech.
"This is the best team we've had in a long time here at Bergen Tech," said Katz. "We work together really well and we feel like we're getting better every day."
CLICK HERE FOR MORE PHOTOS FROM THIS GAME. TO BUY A COLLECTOR'S PRINT OF THIS STORY, PLEASE VISIT 4FeetGrafix.com.