Friday, September 16, 2016
By Rich Barton
NJS.com Staff Writer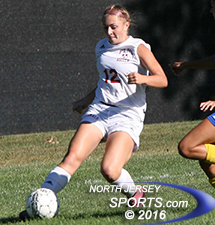 Nicolette MacDonald scored the only two goals of the game for Pompton Lakes, which is still undefeated after a 2-0 over Eastern Christian on Thursday.
POMPTON LAKES – Whenever Pompton Lakes and Eastern Christian meet on the pitch there is usually some star power up front for both teams. That was the case again when the two undefeated squads met on Wednesday. EC's Erin VanderPlaat has been one of the top strikers in Passaic County from the time she first stepped on the field as a freshman and Nicolette MacDonald of Pompton Lakes broke out last year as a sophomore with a 26-goal campaign. Both opposing defenses were designed to stop them from scoring but one would not be denied.
MacDonald scored twice in 60 seconds late in the first half and a stout Cardinal defense made those goals stand up as Pompton Lakes remained undefeated with a 2-0 win over Eastern Christian at Lakeside Middle School.
"Our defense is so strong and that gives me a lot of confidence," said Pompton Lakes' freshman goaltender Maggie Horn. "I thought we were very prepared today and that preparation makes everything easier. My mentality was the same way it is every game, I didn't want to let any shots get past me."
Most of the first half was dominated by defense as neither team had a true scoring opportunity until the 24th minute. VanderPlaat had a direct kick just outside the box from a tough angle. She bent a hard shot towards the near post but the 5-foot-1 Horn leapt to make a big save.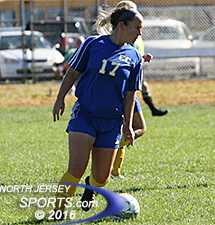 Erin VanderPlaat's play up top has helped Eastern Christian off to a 2-1 start to the season.
In the 33rd minute, MacDonald corralled an errant corner kick outside the box with her back to the goal and a defender right on her hip. She backheeled a pass to herself to create space and ripped a 25-yard blast into the upper left-hand corner for a 1-0 lead. Before the Eagles could blink and get refocused, MacDonald found the back of the net again off of another corner kick. This one, off the foot of Casey Ramirez, skipped through traffic and right onto MacDonald's foot at the penalty spot. She settled it and tucked it inside the left post for a 2-0 lead that the Cardinals took to halftime.
"On the first goal I saw a little opening and had a chance to take a shot. I thought it was pretty lucky but I'm happy it went in. The second goal was a little different. The ball just came right to me and I wanted to get the shot off before a defender could get in front to block it."
Eastern Christian pushed numbers forward in the second half and often got into the Cardinals' defensive third of the field. Getting a quality shot off was another story with seniors Lara Boss and Ramirez along with freshman Catherine Skelly limiting VanderPlaat's touches and clearing the ball out of danger.
The Eagles made a late push and had their best two looks at the net in the final eight minutes. Brianna Altamuro had a long shot that skipped just wide of the post. Courtney Remy received a cross all alone on the edge of the six-yard box and got off a shot. Horn was in the right place at the right time to turn it aside and essentially end any hopes of a comeback.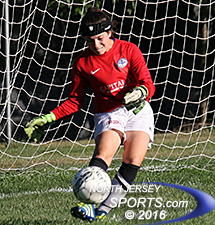 Freshman keeper Maggie Horn made nine saves to pick up her second shutout of th season for Pompton Lakes.
"I thought our organization was much better in the second half and we had our chances, we just couldn't finish and that's a credit to their defense," said Eastern Christian head coach Laura Royle. "Communication is something we need to work on. We're disappointed that we lost but we realize that this is something we can learn from."
MacDonald now has eight goals in four games for Pompton Lakes (4-0). Horn made nine saves to earn her second shutout of the season. Chloe DiPalma made seven saves, including two diving ones, in net for Eastern Christian (2-1).
The Cardinals have exceeded early expectations and have two more winnable games before a tough stretch. They will face Hawthorne, Rutherford, and Glen Rock in a six-day span. If they can navigate their way through unscathed, Pompton Lakes has the potential to have a special season.
"We're really growing day by day and game by game," said Pompton Lakes head coach Tom Clarke. "I thought we were very organized and we very aware of certain situations. We're a young team but we're growing up fast. The more minutes and the more repetitions we get, the better we'll be in the long run. I couldn't be happier with our effort. I hope this is a springboard for good things to come."
CLICK HERE FOR MORE PHOTOS FROM THIS GAME. TO BUY A COLLECTOR'S PRINT OF THIS STORY, PLEASE VISIT 4FeetGrafix.com.