Wednesday, September 14, 2016
By Cory K. Doviak
NJS.com Editorial Director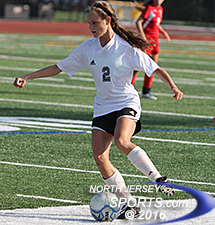 Junior Julie McGovern scored twice for River Dell, which improved to 3-0 on the season with a 4-1 win over Westwood on Tuesday in Oradell.
ORADELL – River Dell's girls soccer team was good last season. The Golden Hawks made it to the Round of 16 of the Bergen County Tournament and the semifinals in the North 1, Group 2 state section, but how much further might they have gone if they had all of their pieces healthy and on the pitch? That question, obviously, cannot be answered, but it will be interesting to see what River Dell can do this with just about its whole team back plus the two key players that were lost to injury.
Rachel Sorkenn, one of Bergen County's best attacking players, missed most of last season after suffering a broken leg in a game against Westwood and Lucy Almberg, a strong presence in the middle of the field, soon followed her to the sideline. Both of those players are back now and rejoin the majority of the squad that did so well in their absence. With a tight-knit group of six senior captains, a talented junior class and some younger players that are providing quality depth, River Dell has won its first three games of the season, including Tuesday afternoon's 4-1 victory over Westwood.
"In the first half you could see me subbing six girls running in and out and I can do that because of the experience that a lot of them gained last year when we were kind of forced to use them," said River Dell head coach Steve Grenz. "We are still trying to catch up with the chemistry side of it, trying to figure out where we want to go with Rachel in, which Lucy in and with Julie [McGovern] able to expand her role a little bit."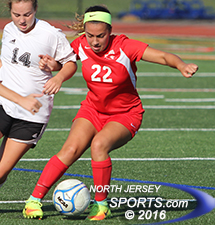 Lucie Gehringer scored the goal for Westwood, which is now 1-2 during a gruelling start to its schedule.
When the injuries hit last season the McGovern was forced to the front. With Sorkenn, a University of Miami commit, unavailable, McGovern had to think shoot first and was the Hawks' main scoring option. Now, McGovern can play deeper and facilitate and also use the attention that Sorkenn receives to find the open spaces like she did 10 minutes in against Westwood. With Sorkenn attacking the 18, McGovern timed a run up the right and tapped in the game's first goal inside the near post off a short diagonal ball played by Sorkenn.
"It felt good because I had not scored yet this season and that [goal] was a real boost for my confidence," said McGovern, a junior. "My movement has been that great this season, but I think we are finally coming together and each game we are getting a little bit better."
McGovern scored again in the 35th minute when she headed home Brenna Tracy's corner kick and Sorkenn made it 3-0 at the break by slotting one inside right post with less than two minutes left in the first half. Sorkenn had a goal and an assist in the first half against the team that she played her last game against last year.
"I've been looking forward to this game since the injury, but I am just happy that we got the result we did. I wasn't going to go into this game and play dirty or anything, I just wanted to play clean and earn the result," said Sorkenn. "I feel awesome, 100-percent. I feel like nothing ever happened to me, I don't think about [the injury] and that is good. I just go out and play."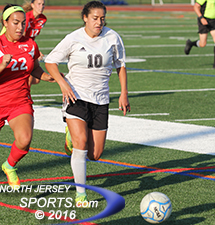 Senior Rachel Sorkenn, full recovered from a broken leg, had a goal and an assist for River Dell.
River Dell (3-0) dominated on the scoreboard in the first half, but it was not solely one-way traffic toward the Westwood goal. The Cardinals have been building under head coach Eric Pfeifer, they are an organized side that plays hard and they had some chances to stay close. Brooklyn Colon's early cross from the right side nearly found the head of Taylor Hirstius just after River Dell had taken the lead and Sarah Levy's quick turn-and-fire from inside the area in the 27th minute ricocheted off a defender before it could cause trouble for Alison Sorkenn, River Dell's four-year starting goalkeeper.
"That is a very good team we were up against. They are retooled, they have a couple of girls back healthy and, that being said, I think we started off the game well. It was 50-50 back and forth there for a while," said Pfeifer. "But like I just told the girls, we had six mistakes and four of them ended up in the goal. It was a very good team that we were playing and, as you saw, they can take any mistake you make and punish you for it."
Senior Caton Henderson put River Dell up 4-0 six-and-a-half minutes into the second half before Westwood found a consolation goal in the final 10 minutes. Lucie Gehringer had two chances to get the Cardinals on the board, the first of which finished just wide to the left in the 71st minute. Gehringer got another chance 30 seconds later off a scrum in front of the net and knock home a loose ball.
Alison Sorkenn made five saves for River Dell, while Camryn Collova made 7 for Westwood, which fell to 1-2 on the season against some stiff competition right out of the gate. The Cardinals' win came against Pascack Hills in overtime and the losses have been against Mahwah and River Dell, two teams with the ability to make deep county and state tournament runs this year.
Camryn Collova made seven saves for Westwood.
"We have to cut out the silly mistakes and we have to take a deep breath some times and be confident that we are that good and we can do great things," said Pfeifer. "We are in a great division with great teams and we love it. We can test ourselves every time out and these tough division games so early in the season show us exactly what we need to work on."
What River Dell needs to work on most is just staying healthy. With its talented and experienced senior class, a deep group of juniors and younger players like freshman Amanda Lubben, who is starting in the central midfield, the Hawks are pretty much loaded. Friday afternoon's match against Mahwah, another premier public, should be a fast and physical affair and could provide some insight as to whether either, or both, can be a threat to crack that Final 4 group come county tournament time, a round played on River Dell's home field.
"I always say when we get to that Round of 8 at Indian Hills that we are one game away from a home game and I would like to be in that position again this year with this team," said Grenz, who now has 201 wins as the River Dell girls coach after a successful stint in charge of the boys program. "Get to Indian Hills, get a chance to get that home game and see what happens from there."
CLICK HERE FOR MORE PHOTOS FROM THIS GAME. TO BUY A COLLECTOR'S PRINT OF THIS STORY, PLEASE VISIT 4FeetGrafix.com.