Friday, September 9, 2016
By Cory K. Doviak
NJS.com Editorial Director
Hailey Ricciardi scored off a corner kick just over one minute into overtime to give Ridgewood an impressive 1-0 win at Ramapo in the season opener for both teams.
FRANKLIN LAKES – The season was still two days from officially starting and already Ridgewood had gotten some bad news. A program that had its 2015 campaign nearly derailed by injuries, the Maroons lost starting goalkeeper Britt Cunningham to a broken leg in Tuesday's practice. It was a non-contact injury, just a bad step after a routine punt, that left Ridgewood scrambling for a replacement only about 48 hours before opening its season on the road against defending Group 2 state champion Ramapo.
It's a good thing that Camryn Muller decided to stick around after Cunningham won the job as a freshman last year. A senior who had never started a varsity game before, Muller played like someone who had been waiting for this moment her entire life. She made two brilliant saves either side of halftime to keep Ramapo off the board and a made a hand full of other standout stops to help see the match through 80 scoreless minutes.
"I came in having never started a game and it was amazing. It was the best experience of my life," said Muller. "I didn't want to let down my team; I didn't want to let down myself or the fans, so I played my best. After the first couple of shots I kind of got into a groove. I've been playing this game my whole life and it just came natural."
Muller and her defensive compatriots absorbed a whole lot of pressure against a precise Ramapo attack for the first 60-plus minutes, but Ridgewood started to turn the tables in the final 20 minutes and the momentum carried right over in the golden goal extra session. Off a corner kick by Hannah Cermack, senior defender Hailey Ricciardi bullied her way to the near post and bodied home the game-winner just 1:02 into overtime as Ridgewood (1-0) got its season off to a flying start with a 1-0 victory in Franklin Lakes.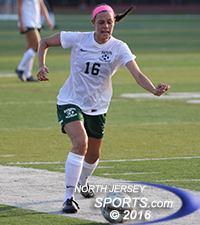 Olivia Kraebel sent in plenty of dangerous restarts for Ramapo.
"It is a play that we have practiced a million times and I can honestly say that I can't remember the last time it worked. It was coming in and I just ran for it. It hit me side-thigh. It was just like a hip right through the goalie and in," said Ricciardi, who ended a career's worth of frustration on one set piece. "It's huge. It's only Day 1, but I have never beaten Ramapo in my four years here. We've been to double overtime with them multiple times and lost. It is just amazing to start off a senior year, the first game of the season like this."
While Ricciardi's most memorable contribution was the game's lone goal, she did plenty beforehand that allowed an overtime to happen. Ramapo had just about all of the quality scoring chances in the opening half. In the 11th minute Cami Pecore fired a left-footed cross that just whizzed by the head of freshman Mary Clare Langan, who was making a far post run and Muller dove to her left to keep out a sneaky Lauren Azzolino effort that came on a quick turn in the box just two minutes later.
The scoreboard clock is official at Ramapo High School, so it evident that there were only 20 seconds left in the opening half when the Green Raider's Olivia Kraebel lined up a corner kick from Muller's left. The service reached the middle of the box where Nikki Butler went up in traffic to head the ball on goal. That left a race for the loose ball between Azzolino and Muller with the Ridgewood keeper making that save plus another when she knocked away Erin Stagg's rebound attempt just as the buzzer sounded.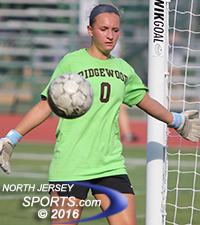 In her first varsity start, senior Camryn Muller made more than a couple quality saves for Ridgewood.
Then, two minutes into the second half, Muller parried an Azzolino chip over the bar as the home team could just not find a way around a late replacement keeper who was playing like a bona fide No. 1.
"We played great. I thought our first 60 minutes we were lights out, but we just had too many opportunities that we did not take advantage of," said Ramapo head coach Paul Heenehan. "I thought we played outstanding soccer for the first 65 or 70 minutes and then we started to do things that are uncharacteristic for us."
Ridgewood started to dictate more of the play late in the second half and nearly found the winner in the final minute of regulation when Cermack got in on a high-bouncer and found herself in a three-way tangle with Ramapo keeper Lizzy Stellakis and defender Sam Sturno. After a collision, Cermack was the only player left standing and the ball continued its roll toward the open net. With Cermack giving chase, Ramapo caught a break when the ball slipped just wide of the post and just over the endline before Cermack could tap it in.
It was a near-miss right before the final buzzer, but Ridgewood undoubtedly had some confidence as it headed out for the overtime session.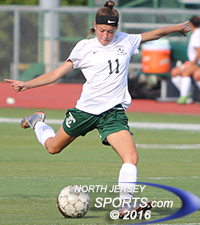 Mary Clare Langan is one of two promising freshmen in Ramapo's starting lineup.
"We work hard on our fitness and we put a strong demand on it in the preseason. We had a little more life in the second half and we were able to settle the ball. We settled down and were able to let the ball do the work, which is our philosophy," said Ridgewood head coach Jeff Yearing. "We got a little more offensive capability once we could find our midfielders and start moving the ball."
And then Ricciardi knocked in the corner on a play designed especially for her with 8:58 showing on the clock to give Ridgewood a signature win after just one game played.
"It's absolutely a huge win for us simply because we know what kind of potential we have as a team and we are looking to move just one game at a time to solidify what we think this season could be," said Yearing. "So this could absolutely be a springboard for us."
CLICK HERE FOR MORE PHOTOS FROM THIS GAME. TO BUY A COLLECTOR'S PRINT OF THIS STORY, PLEASE VISIT 4FeetGrafix.com.