Sunday, November 20, 2011
By Rich Barton
NJS.com Staff Writer
Ramsey celebrated its first state title since 2001 after a 2-1 overtime win over Robbinsville in the Group 2 final on Saturday at The College of New Jersey.
EWING – The last thing Ramsey speedster Lexi Knief ever appears to need is a rest. The senior with the seemingly endless motor has run roughshod through defenses throughout her career with her speed and aggression, especially this year as one New Jersey's most prolific scorers. But in Saturday's Group 2 state final, Knief finally met her match in Robbinsville standout Lauren Budzinski. The two went at it all day with Budzinski getting the upper hand through 80 minutes of regulation. With the teams tied at 1, the five-minute respite between regulation and overtime gave Knief what she did not even realize she needed: time.
Time to relax, time think clearly without being frustrated, and most importantly, time to think of just how she could get the best of Budzinski one time and end her career on the highest of notes.
Off of a cross from Gabrielle Martone, Knief and Budzinski went up for a head ball and when Knief came down the ball was where she was hoping to find it all game long. It was right at her feet. With Budzinski and goaltender Emily Risoldi right there ready to pounce on it, Knief simply reacted and buried the hanger in the back of the with 6:20 to play in the first overtime to give Ramsey its first Group 2 state championship in 10 years with a thrilling 2-1 triumph at The College of New Jersey.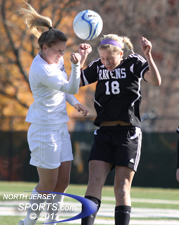 Senior Lexi Knief won a header and then won the game with her overtime goal.
"When you get this far, the only thing that matters is which team puts more in the back of the net," said Ramsey head coach George Wright. "It wasn't the prettiest game and I thought they had the better of play and scoring chances. But we hung in there and we always believed that we would make a play at the end to win it and that's just what Lexi did."
Robbinsville's Christine Levering was as dangerous as any player on the field and continued her torrid run through the state tournament just over four minutes into the game. She took a cross from Kari Nickels and redirected a shot towards the back post. Ramsey keeper Nicole Cirilli could only watch as Levering scored her sixth goal of the state tournament to give the Ravens an early 1-0 lead.
Normally, Morgan Coonrad is known for setting up her teammates for scoring opportunities. With the Rams needing a spark, she took it upon herself to rip a long shot on net. From 32 yards out, her blast snuck in just under the crossbar to the game at 1. Robbinsville had several scoring chances over the final 15 minutes of the half, but Cirilli snuffed them out each time as the teams remained deadlocked heading into the second half.
"It felt pretty good when I hit it, but I was surprised when it went in," said Coonrad. "It was big to tie it up before halftime and we had some momentum. Then we just had to make some adjustments and try to slow them down on the outside. No matter what happened, we had to keep believing that we could win and that mindset pulled us through."
Hailey Coonrad scored to get Ramsey even at
1-1 going into the halftime break.
Ramsey nearly took the lead just over three minutes into the second half with only a miraculous save by Risoldi keeping it out of the net. Off a Coonrad corner, Riley Schmitt's header look like it would sneak inside the right post, but Risoldi laid out with full-extension to make a one-handed diving save.
That was the last quality scoring chance the Rams had in the second half, as the Ravens had them back on their heels for most of the final 30 minutes of regulation. Levering caused havoc throughout the game and Budzinski had two quality shots on corner kicks. Led by Cirilli (six saves) and sweeper Kelly Redl, the Ramsey defense held up its end and the teams headed for overtime.
Knief often dictates how games are played, but for most of this game, Budzinski had marked her effectively with Knief getting off just one shot in regulation. Knief's frustration was at an all-time high, and the confidence she exudes each and every game was waning. The break between regulation and overtime not only allowed her to adjust physically and tactically, but mentally as well.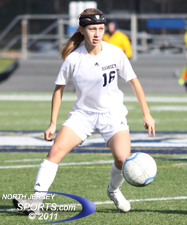 Freshman Gabrielle Martone served in the ball that led to Ramsey's game-winning goal.
"(Budzinski) really did an awesome job of marking me and I couldn't get anything going," said Knief, who will play softball next year at Penn State. "I was definitely getting frustrated and I needed to refocus. The bottom line is that we had at most 20 minutes left to go out and win a state championship. We had to leave it all out there on the field and give it everything we had left."
Ramsey took the Ravens' best shot in the second half before administering the knockout blow 3:40 into overtime. Freshman Gabrielle Martone took a pass from Addie Jensen, both of whom played solid matches throughout, along the right side and served it into the middle of the box. Knief, who was positioned out wide, timed her jump along with Budzinski and with Risoldi staying on her line. As the ball bounced to the turf, it settled right on the foot of Knief, who capped off her fantastic soccer career in style by putting a shot past Risoldi and into the net to touch off a wild and long-awaited celebration.
"When the ball landed right in front of me, I just took the shot without even thinking," added Knief, who finished the year with 43 goals. "When I saw it go in, I just went crazy."
Ramsey capped off its first championship season in a decade with a final record of 21-1-2. For Knief, Coonrad, Jensen, and defenders Schmitt and Shana Patterson, a talented group of seniors, it marked the unbelievable ending to an unbelievable season. One season that will always link them together and one game that they will remember for the rest of their lives.
"It's all about teamwork and we kept working hard for every ball," said Knief. "It wasn't our best game, but you're not going to play your best all the time even though you try to. But we persevered and we peaked at the right time. There is no better way to close out a senior year than with a state championship and we did it."
FOR MORE PHOTOS OF THIS EVENT OR TO BUY A COLLECTOR'S PRINT OF THIS GAME STORY, PLEASE VISIT 4FeetGrafix.com.