Tuesday, October 11, 2011
By Rich Barton
NJS.com Staff Writer
Jennie Hornstra scored both goals for Clifton, which advanced to the Passaic County Tournament semifinals with a 2-0 win over Pompton Lakes on Monday.
CLIFTON – For decades, Clifton has been a model of consistency on the Passaic County girls' soccer landscape. At the start of every season, it seemed like the Lady Mustangs could all but pencil themselves into the Passaic County semifinals. But with each passing year it becomes a little harder for them to get there. On Monday, Pompton Lakes came into the county quarterfinals with a four-game winning streak and brimming with confidence.
When the Mustangs realized this was not going to be a cakewalk of any kind, they went back to what they are known for; tactically breaking down a defense and riding a hot goaltender into the later rounds of the tournament.
Jennie Hornstra converted a pretty through ball from Marissa Fragapane for a first-half goal. Sophomore keeper Rachel Egyed then made a big diving save late and Hornstra scored again off a pass from Fragapane as second-seeded Clifton survived a stern test from seventh-seeded Pompton Lakes and advanced to the Passaic County semifinals with a 2-0 victory at the Athenia Steel Soccer Complex in Clifton.
"This was a tough game, but we expected that and that only makes us better in the long run," said Fragapane. "Pompton Lakes is a good team and they came ready to play. I think it took us awhile to adjust today. But we are real good team at learning from our mistakes and having it make us stronger. I feel like we got better as the game went on."
The speedy Hornstra had a golden opportunity to score on a breakaway as she touched the ball around the goalie, but missed a wide-open net. Fortunately, she got a nearly identical chance just 90 seconds later. Egyed collected a soft shot and quickly got the ball out wide. With two defenders closing in on her, Fragapane slid a pass up the left wing for Hornstra, who outraced the Cardinals into the box. Again she touched the ball around Pompton Lakes goaltender Ally Stygar, but this time she was able to tap it into an open net with 14:48 to go in the first half for a 1-0 lead that the Mustangs took to halftime.
Pompton's Katie Cocilovo had a goal disallowed that would have tied the game a 1.
As the second half started, the Cardinals started to create some chances in the offensive third and it appeared they notched the equalizer 11 minutes in when a long shot by Katie Cocilovo was misplayed by Egyed and trickled into the net. But a questionable offsides call meant the goal was disallowed and the Mustangs clearly dodged a bullet.
"It was a decision that went the wrong way and it was tough to take," said Pompton Lakes head coach Ron Bivona. "But I thought our kids bounced right back and we had our chances. I think if that goal counts, we have a totally different game, but it didn't go our way there. We didn't come away with a win today, but anyone who watched this game knows we belong. We're not going to face a team as tough or as skilled as Clifton in our league or in our section (North 1, Group 1), so this shows what we are capable of doing."
Pompton Lakes pressed for the tying goal and nearly got it with less than 10 minutes to play on a free kick from just outside the top of the box by Melissa Garcia. She struck the ball well around the wall, but Egyed made a diving save to preserve the lead. Minutes later, Clifton got an insurance goal on a play that would be the thesis in a paper for the class, Soccer 101.
Annette Malysa battled to win a 50-50 ball and laid it back to Delana Pasquale, who then switched fields to play the ball to Fragapane. Hornstra then made a diagonal run on the weakside between two defenders and Fragapane hit her in stride and Hornstra blasted a shot into the lower right-hand corner from 12 yards out to make it 2-0.
"When we work together as a team, we can move the ball around really well and it usually ends up in a goal," said Hornstra, who has scored in all but one of Clifton's games this season. "It's always important to open up wide, especially on our field because it's a big field. That allows us to work in space and finish when we get our chances in front of the net."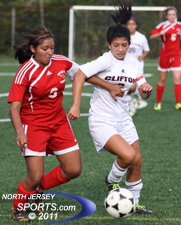 Marissa Fragapane (right) assisted on both of Clifton's goals.
Egyed made seven saves as all five of Clifton's victories this season have been via shutout (5-3-1). Hornstra now has nine goals on the season and Fragapane, who is second on the team with four goals, notched her first two assists of the season.
Cocilovo and Garcia both had good games for Pompton Lakes (8-2-1), who got nine saves from Stygar.
Clifton now will get a shot at revenge in Saturday's Passaic County semifinals against third-seeded Wayne Valley. The teams met a week ago with Clifton holding a halftime lead only to be stunned late by the Indians in a 2-1 loss. With a berth in the county final at stake, this was the type of game the Mustangs needed to prepare themselves for a run at a county title.
"Pompton Lakes was definitely not a No. 7 seed and they gave us everything we could handle," said Clifton head coach Stan Lembryk. "They battled us on every ball and that was the type of competition we wanted to see. At times we looked super, and at times not so much. But for the most part, it was a good performance because we put two halves together. Both goals were very nice plays and we weathered the storm when we had to. It's a good sign for us moving forward if we can continue on that path."
FOR MORE PHOTOS OF THIS EVENT OR TO BUY A COLLECTOR'S PRINT OF THIS GAME STORY, PLEASE VISIT 4FeetGrafix.com.