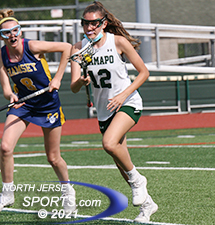 Junior Lexi Wolfe made plays all over the field for Ramapo, which advanced to the Bergen County Tournament semifinals with a 17-5 win over Ramsey on Monday in Franklin Lakes.
FRANKLIN LAKES – When Ramapo's do-everything senior Elizabeth Conklin went down with an injury last week it was a huge blow right as Bergen County Tournament play was about to begin. Replacing someone of Conklin's caliber is not done with just one player, it had to be a collaborative effort.
Facing a Ramsey team that has scored in bunches all season, the Green Raiders showed just how dangerous they can be when they pick one another up and put it together in all phases of the game.
Kaitlin Pani and Lexi Wolfe were making plays all over the field and the Green Raiders also got a huge boost off the bench from seniors Lauren DeLeo and Krista Scheilbelhoffer. DeLeo pumped in a career-high five goals and Scheilbelhoffer tacked on three more as fourth-seeded Ramapo grabbed control early and never let go in cruising to a 17-5 triumph over fifth-seeded Ramsey in the Bergen County Tournament quarterfinals on Monday afternoon in Franklin Lakes.
"Setting a tone is always important because its easier to play with a lead," said Wolfe, a junior. "Our coaches say we're a second half team but we're trying to have stronger starts. We didn't want (Ramsey) to get any momentum because then anything can happen.
Wolfe was dangerous every time she had the ball on her stick and scored on Ramapo's second shot of the game to open the scoring. Ramsey's Kimmy Creegan tied the game on a nice drive through traffic only for Ramapo to respond emphatically.
Kimmy Creegan scored Ramsey's first goal.
DeLeo sparked the burst with a goal to put the Green Raiders in front to stay. They ran their offense with patience and precision throughout the game, often passing up good shots for better ones. Pani and Scheilbelhoffer each tallied a pair of goals during the quick 5-0 run to put Ramapo ahead, 6-1.
Ramsey fought hard to get back in it with goals from Grace Burke and Caitlyn Featherstone to trim the lead to four. The Rams had a chance into that lead even further but were stymied on a pair of point-blank saves by Ramapo keeper Marianna Kelly. Pani, DeLeo, Wolfe all found the back of the net in the final five minutes of the half as Ramapo regained control by halftime, 10-3.
"We have a lot of players who can score and that helps our offense flow," said Pani. "We wanted to settle the ball and play our game. The key was not shooting just to shoot. We want to work it around and get a high-percentage shot."
Ramsey (6-5) head coach Stephen Tabulov gave a passionate halftime speech in the hopes that his high-scoring squad could get on track. Led by Carly Griffin, Meghan Hogan, along with Carolyne and Katelyn Edwards the Green Raiders were a cohesive defensive unit that refused to let the Rams gain any traction. DeLeo along with fellow seniors Emily Viggiano and Ella O'Brien got in on the scoring early in the second half as Ramapo (6-6) was in cruise control throughout the second half and advanced to the Bergen County Tournament semifinals for the first time in over a decade.
The Green Raiders now get a shot against the gold standard in Bergen County girls' lacrosse, Ridgewood. The Green Raiders lost to them earlier this season, 15-7, but hope for a better showing this time around.
"A lot of people see our record and look past us, but we're always going to show up ready to play," said Ramapo head coach Maddie Dalie. "Our schedule is super competitive and we'll give our best battle to every team that comes our way. We have had a couple of injuries, but other players have really stepped up and I feel they'll continue to do so. We have nothing to lose when we face Ridgewood. I expect us to come out and play hard for a full 50 minutes."
FOR MORE PHOTOS FROM THIS EVENT PLEASE CLICK HERE. TO BUY A COLLECTOR'S PRINT OF THIS STORY PLEASE VISIT 4-FeetGrafix.com.