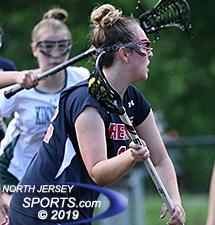 Junior Jordan Petersen scored a career-high five goals for Saddle RIver Day, which won its way back to a section final for a third straight year with a 15-5 win over Kinnelon on Monday afternoon.
KINNELON – One look at the numbers would not paint a pretty picture for the Saddle River Day girls' lacrosse team nor for junior Jordan Petersen. The Rebels entered state tournament play with a 5-13 record and Petersen had just nine goals on the season.
A deeper look, however, would show that the Rebels play in the state's toughest conference and Petersen is just getting healthy and finding her role in the offense. Behind a balanced scoring attack the Rebels are once again rounding into form at the right time with Petersen adding another weapon to an already dangerous attack.
Petersen scored a career-high five goals as sixth-seeded Saddle River Day quickly opened up a big lead and never looked back to advance for the North 1, Group 1 final for the third straight year with a 15-5 semifinal win over second-seeded Kinnelon on Monday in Kinnelon.
"We thought the weather might be a problem or maybe the field but we couldn't think about that," said Petersen. "Our first few goals showed what kind of team we are and it gave a lot of confidence that we used throughout the rest of the game."
Just before game time there was some heavy rain that made the grass field at Kinnelon High School.aquagmire, but not even a muddy track could slow down the red-hot offense of Saddle River Day. Leanna Tsahalis, Sophia McMahon, and Katherine Meeks scored on the Rebels' first three shots. Before the game was six minutes old they were firmly in control with a 6-0 lead.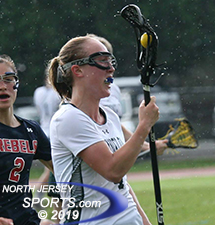 Annie Berthiaume had two goals for Kinnelon which finished its season at 14-6.
"We try out best to work the ball around and find the open player," said Tsahalis, a freshman. "We've had some tendencies during the season of forcing shots. Lately we've been working on pulling the ball back out if we don't have the shot and moving the ball around until we get a better shot. It's worked really well lately and we're getting more comfortable with our attack."
Taylor Wittig got Kinnelon on the scoreboard but the Rebels answered right back with a goal by Ella Adamek. They worked the ball around effectively all game with the open player getting the ball in a position to score. Petersen was the main beneficiary and she added three more first-half goals with the last of those essentially putting the game away by halftime with Saddle River Day holding an 11-1 lead.
"Playing as a team is the most important part of lacrosse," said Petersen. "When Sophia, Leanna, and Katherine are getting pressured up top it's important for players like me, Ella, and Ally to keep cutting and moving without the ball. When we do that it gives us some more options offensively."
The ball movement was evident for Saddle River Day (8-13) with 13 assists on its 15 goals. Tsahalis scored three goals and a career-high four assists. McMahon scored her 100th career goal and added a game-high five assists. Meeks added  a hat trick, including her 70th goal of the season. Ally Glynn chipped in with a goal and two assists and Bella Garabo had five saves in net.
Annie Berthiaume and Wittig each had two goals for Kinnelon (14-6).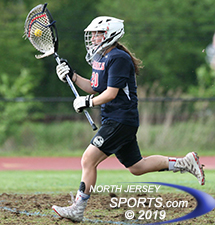 Bella Garabo and SRD will face Mountain Lakes in the section final.
Saddle River Day will get a familiar opponent in the North 1 Group 1 final when squaring off against top-seeded Mountain Lakes. The Rebels have recorded thrilling one-goal victories in each of the last two section finals against the Lakers.
Saddle River Day will be more of an underdog this time around, but with a more diverse attack, an improving defense, and an experience goalie in between the pipes the Rebels feel they are peaking at the right time and poised for a three-peat.
"We play against some of the best teams in the state and that's prepared us I think both mentally and physically for what we've been doing lately," added Tsahalis. "We know Mountain Lakes is a very good team and we'll have to be at our best to win."
FOR MORE PHOTOS FROM THIS EVENT PLEASE CLICK HERE. TO BUY A COLLECTOR'S PRINT OF THIS STORY PLEASE VISIT 4-FeetGrafix.com.