Thursday, June 2, 2016
By Rich Barton
NJS.com Staff Writer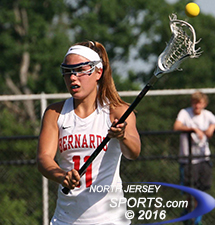 Tegan Warren scored twice and had four assists for Bernards, which won its first ever section title with an 11-3 win over Mahwah in the North Group 2 final.
BERNARDSVILLE – Just past the midway point in the second half of the North Group 2 section title game, it was everything that a championship game is supposed to entail. Bernards and Mahwah battled it out with every possession being an important one. When Mahwah's Kelly Pushie scored with 14:43 to play, she cut the Bernards lead to a single goal and gave the Thunderbirds the hope that they could secure the first section title in school history.
The story of the game, though, was not that the score was so close, it was that Bernards' defense was virtually impenetrable against one of the state's top offensive attacks. That became evident down the stretch as the Mountaineers did something no other team had done all season as they completely shut down Mahwah at crunch time.
Led by solid two-way player Annie Gillis and Regan Thomson, the Mountaineers did not allow a goal over that final 14:43 span. The dangerous trio of Paige Petty, Tegan Warren, and Laurel McHale took over late as top-seeded Bernards scored the final seven goals to secure the first section title in program history with an 11-3 triumph over second-seeded Mahwah on Wednesday in Bernardsville.
"This is a great feeling to stick together and win a section title," said Gillis. "We know we're never going to play with this particular team again and we're trying to keep this season going on as long as we possibly can."
Bernards set the tone by scoring on its first possession. Warren found a cutting Petty for a score just 1:54 into the game. Mahwah answered with Nicole Constantino getting off a quick shot off a feed from Taylor Herrmann to knot the score at 1. Petty was a problem all game long from the T-birds' defense, especially so in the first half. She made a nice cut to the middle to score nearly identical goals off of assists from Gillis and Warren for a 3-1 lead.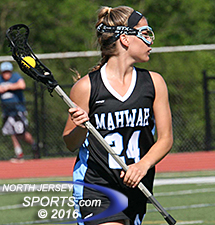 Taylor Herrmann scored the first goal for Mahwah, which finished 17-4.
Although the first half was dominated mostly by defensive play, both teams nearly scored in the final 23 seconds in a wild sequence. Mahwah's Brenna Jaffe ripped a low shot off the post and the Mountaineers got the rebound. They raced down the field and had a wide-open chance in front but it went wide with Bernards still holding a 3-1 lead at halftime.
Mahwah had its best stretch of play during the first 10 minutes of the second half. They twice cut the lead to a single goal with the latter of those coming on a long run by Pushie. She split and spun her way between three defenders to score the goal that trimmed the T-Birds deficit to 4-3. It looked like Mahwah had finally gotten on track.
Unfortunately for the T-Birds, the Mountaineers turned their game up enough notches that it was simply not to be matched on this day. Mahwah came into the game averaging 15 goals per game, but the Mountaineers' back line was up the task. They forced four consecutive turnovers, three of which turned into goals on the other end.
"Between our stick checks, getting interceptions, and Charlotte [Grimm] making some huge saves our defense really stepped up today," added Gillis. "Mahwah has a lot of good offensive players and communication was key. We knew when we started forcing turnovers that it was our time to take over."
With Mahwah's defense clearly focused on limiting Petty's touches it opened up lanes and scoring opportunities for her teammates. Gillis took a turn first by stepping into open space and ripping a high shot past Mahwah keeper Kenna Scannell to make it 5-3. That opened the floodgates with Warren drawing the defense and McHale finishing the job. McHale found the back of the net three times in the final 11 minutes to lift Bernards to its first-ever section crown in girls' lacrosse.
Annie Gillis and Bernards will play Rumson-Fair Haven in the Group 2 state final on Saturday at Kean University.
Petty had four goals and two assists and Warren flip-flopped that effort with two goals and four assists for Bernards (19-3). Gillis had a goal and two assists and Elise Cohan also scored. The unsung hero though was Grimm, the keeper who made three key second-half saves to help Bernards go on its late run. The Mountaineers will look to add another piece of hardware when they face Rumson-Fair Haven in the Group 2 state title game on Saturday at Kean University.
"We've won 10 of our last 11 games and we have so much momentum right now that we're looking for it to carry over into the state final," said Warren. "Ever since we were freshman we've been waiting for this breakout season. To actually get it done and win a section title is pretty incredible. Everything from here on out is just an added bonus."
Constantino had two goals and Pushie added one for Mahwah (17-4). While the season ended in disappointing fashion, the road to get there was one that Mahwah head coach Brian Girardi hopes that his players will appreciate down the road.
"It's always tough when a season comes to an end, but it doesn't take away from the season we had," said Girardi. "Bernards is an excellent team and the best defensive team we've seen all year. To win a section title against a great team, you have to make your own breaks and get over the hump. The turnovers always come back to get you eventually and they did with us here."
CLICK HERE FOR MORE PHOTOS FROM THIS GAME. TO BUY A COLLECTOR'S PRINT OF THIS STORY, PLEASE VISIT 4FeetGrafix.com.