Friday, May 20, 2016
By Rich Barton
NJS.com Staff Writer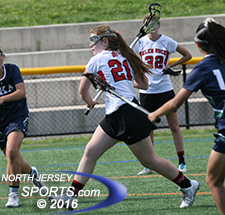 Senior Julia Gaffey scored a career-high nine goals for Glen Rock, which opened its state tournament run with a 17-6 victory over MKA on Thursday afternoon.
GLEN ROCK – So many practices, so many games, so many hours spent and it is all for this. That is what Glen Rock head coach Taryn Tabano has preached to her players all year, the importance of peaking at the right time. It is a message that Glen Rock's Julia Gaffey took to heart and delivered when given the opportunity.
The senior netted a career-high nine goals, including two in a 14-second span in the second half that broke the game open, as seventh-seeded Glen Rock pulled away for a 17-6 victory over No. 10 seed Montclair Kimberley Academy in the first round of the North 1, Group 1 state tournament on Thursday in Glen Rock.
"We've had a great season so far and we want to keep it going," said Gaffey. "Playing in the state tournament is a great opportunity for us to show what kind of team we really are."
Neither team could get much of a flow going early. Both defenses were able to create turnovers and keep the game low-scoring throughout the first half. MKA's Zoe Bieler scored twice and Grace Halvey's goal knotted the score at 4 late in the opening stanza.
Over the final five minutes of the half it was all Glen Rock. Alyssa Lorenz made a nice move between two defenders to give the Panthers the lead for good. Gaffey then made a nice pump-fake to freeze the defense and walk in for the easy score with 1:18 to play. Just 25 seconds later, Emily Schaefer hit a cutting Kaitlyn Arcede for a goal that put Glen Rock in front, 7-4, at the half.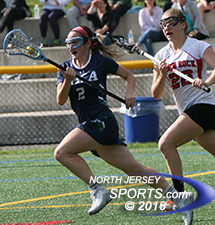 Grace Halvey scored to get MKA even at 4, but Glen Rock took over soon after.
"The goal I had near the end of the half with the fake is something I've practiced a lot all season, especially the past week," added Gaffey. "It's something that is fun to do and it's been working for me a lot this year. Getting some momentum going into the second half was awesome and it gave us a lot of confidence. Once we flipped the switch, we fed off of that and we didn't stop."
The lead was still three before the Panthers took complete control of the game. McKensie Dill made a long run for a goal and Gaffey followed with two goals in 14 seconds to pad the Panthers lead to six, 11-5, with 15:17 to play.
"They forced into a lot of turnovers and quite a few of those turnovers allowed them to get on a run," said MKA head coach Chelsea Intrabartola. "I thought we dictated the pace of the game in the first half, but they dictated the pace in the second. I felt like this game was closer than the final score indicated but give credit to Glen Rock with how well they played. I couldn't be more proud of my girls. From where we started to where we finished is a great accomplishment and something to build on for the future."
Although Gaffey was unstoppable on the offense end the second half was a showcase for the Panthers' defense, led by goaltender Lizzy Burgoyne. She stopped several shots from point-blank range early in the second half before Glen Rock's offense got rolling.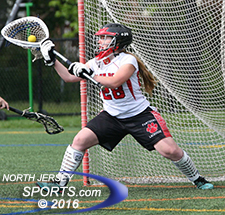 Keeper Lizzy Burgoyne and Glen Rock will face the stiffest of tests when it faces defending state champion Oak Knoll in the North 1, Group 1 quarterfinals.
"Our defense was great today and this was by far the best game (Burgoyne) has had all year, she was really locked in," said Glen Rock head coach Taryn Tabano. "We ended the first half really well and that carried over into the second half. MKA really worked their tails off and we had to match that energy. Our defense playing well and playing together was really the backbone for the runs we went on."
Gaffey's career-high nine goals gave her 67 total on the season for Glen Rock (12-3). Killeen McDonald was all over the field making plays with a goal, four assists, and three ground balls. Arcede scored twice with MK Horton, McKensie and Maddie Dill each finding the back of the net once.
Bieler and Kirsten Zeug each scored twice for MKA, who finished the season with a 9-12 record. With only three starters graduating and four of the Cougars' losses by one goal, the prospects ahead are bright.
Glen Rock will get quite a test in the North 1 Group 1 quarterfinals on Tuesday in Summit where it will face second-seeded and defending Tournament of Champions titlist Oak Knoll. The Panthers will be the ultimate underdog but that does not mean they are not excited at the chance to play the defending T of C champ.
"It's awesome to get a chance to play Oak Knoll," said Gaffey. "We're going to go in ready to play our best just like we do for every other game and see what happens. We've had a great season and no matter what I wouldn't trade this experience with this team for anything."
CLICK HERE FOR MORE PHOTOS FROM THIS GAME. TO BUY A COLLECTOR'S PRINT OF THIS STORY, PLEASE VISIT 4FeetGrafix.com.