Tuesday, May 3, 2016
By Rich Barton
NJS.com Staff Writer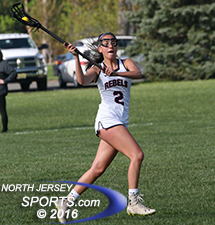 Sophomore Michaela McMahon scored a career-high 9 goals to lead Saddle River Day to the Bergen County Tournament semifinals for the first time with an
18-10 win over Indian Hills.
SADDLE RIVER – It was just last year that the Saddle River Day girls lacrosse program announced its arrival with a dominant first half against Northern Highlands in the Bergen County Tournament quarterfinals. It was a statement of intent, but a short one as the Lady Rebels eventually lost that game in heartbreaking fashion.
It looked like deja vu when Saddle River Day took a commanding halftime lead in the same round on Monday against Indian Hills, but as that lead dwindled in the second half, the feeling of 'Can this happen again?' crept into the minds of the Rebels. It was a fleeting thought as Saddle River Day sophomore Michaela McMahon picked a perfect time to have the highest scoring output of her career.
She netted nine goals, including consecutive goals that helped halt the second-half Indian Hills rally, as third-seeded Saddle River Day, whose girls' lacrosse program is in just its fourth of existence, advanced to the Bergen County semifinals with an 18-10 quarterfinal victory on Monday in Saddle River.
"It's so important for us to win draw controls and that's always our number one goal coming into every game," said Michaela McMahon, already committed to the University of Pennsylvania. "We know when we have the ball that we can score. We have the guns and when we move the ball well, we know we can put it in the back of the net."
Indian Hills came in looking to pull the upset and played well early on. Tricia Thaler was the Braves' best offensive weapon throughout. She scored back-to-back goals to give Indian Hills its only lead of the game, 2-1, less than five minutes in.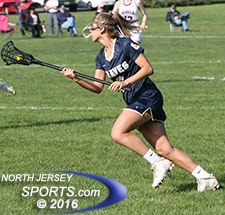 Tricia Thaler scored half of Indian Hills' 10 goals.
Dani McMahon did not have her usual offensive outburst, but contributed largely to the Rebels' big run over the rest of the half by controlling draws and creating turnovers. That led to transition opportunities in which Michaela McMahon and freshman Jackie Wolak thrive. The younger McMahon and Wolak combined for six goals as the Rebels seized control. Then on the final play of the first half, defender Megan Crowley caused a turnover and got it up to Michaela McMahon. She threw a long pass to Maggie Kuntz, who finished in front to put Saddle River Day ahead 10-3 at the break.
"We couldn't control draws and wasted too many possessions to stay close in the first half," said Indian Hills' head coach Mike Carti. "Give credit to Saddle River Day. They have a lot of offensive weapons and when you turn the ball over, they make you pay for it. I thought in the second half we made some adjustments and got back in the game. We just couldn't sustain that momentum and get over the hump."
Indian Hills switched from a zone defense to playing man-to-man all over the field with it paying immediate dividends. The Braves forced turnovers or rushed shots on five of the Rebels' first six possession of the second half. The Braves cashed in on those extra possessions with Thaler scoring twice and Alison Bremer adding another in a two-minute span to cut the Braves' deficit down to four, 11-7.
"Our problem is that we shouldn't have these roller coaster rides at this point in the season," said Saddle River Day head coach Karen McMahon. "I think our I.Q. as far as our team goes is getting so much better. It's about execution and that's what separates the top teams from the rest. As well as we played at the end of the first half, we almost gave it all away in the second half. At this point, it's back to the drawing board and finding what we need to do to be more consistent."
Shannon Mahon and Saddle River Day will play second-seeded IHA in the semifinals on Wednesday.
That was as close as the game got as the dangerous trio of the McMahon sisters and Wolak took over down the stretch to secure the program's first-ever berth in the BCT semifinals.
"When they pressure out on Dani, Jackie, or myself, we keep moving the ball and use our speed to make cuts and get easier shots," added Michaela McMahon.
Michaela McMahon's had three assists to go with her career-high nine goals for Saddle River Day (13-1). Wolak added five goals and three assists. Stanford-bound Dani McMahon led all players with four assists to go with two goals. Kuntz also found the back of the net twice. Thaler scored five of the 10 goals for Indian Hills (7-6). Ashley Barrett finished with 12 saves.
Saddle River Day will face off against second-seeded Immaculate Heart Academy in the Bergen County semifinals on Wednesday. It is another milestone among the fastest rising girls' lacrosse program in North Jersey. However, this is not a team that is just happy to be there. The Rebels want to see just how far they can go.
"I thought we played alright today but we weren't as consistent as we need to be. As we go on in the tournament, the mistakes we made today will end up hurting us. If we are going to compete against the top teams in the county, we have to limit our mistakes as much as we possibly can and bring our 'A' game from here on."
CLICK HERE FOR MORE PHOTOS FROM THIS GAME. TO BUY A COLLECTOR'S PRINT OF THIS STORY, PLEASE VISIT 4FeetGrafix.com.