Tuesday, May 3, 2016
By Cory K. Doviak
NJS.com Editorial Director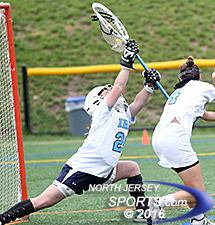 Kate Burns made 13 saves, including a couple of big ones in the second half for second-seeded IHA, which erased a three-goal halftime deficit to record a 14-12 win over Ramapo in the quarterfinals of the Bergen County Tournament.
GLEN ROCK – It might not have been the halftime speech that Immaculate Heart Academy head coach Sue Montegari was planning to give at the intermission of Monday's Bergen County Tournament quarterfinal, but it was one that was easy to put together on short notice. All Montegari had to do was state the facts as they were at that particular moment.
"I just had to make them aware that if we lost today, and we were down by three goals against a very athletic team, that we were done. If they didn't pull it together then IHA was not going to the semifinals and they needed to recognize that," said Montegari, giving the short-hand version. "Mistakes happen, that is a given, but we had to be 100-percent accurate with our fundamental movements; going through ground balls, draw control, catches and really closing the deal on those fundamental parts of the game. It was up to them."
The message got through as before Ramapo could even think about how to play with its three-goal lead in the second half and how it might use it to clinch what would have been a stunning upset, it was gone in a matter of minutes. IHA's Christine Weber won the first three draws of the second half and the Blue Eagles turned them all into goals. Devon Thompson scored twice in the game with both goals coming inside the first three-and-a half minutes of the second half to help get her team back even.
IHA's defense turned it up a notch from there as it allowed just three goals over the final 25 minutes to give the offense time enough to snag a 14-12 victory and a spot in the county semifinals where it will take on No. 3 Saddle River Day. Top-seeded Ridgewood will play No. 4 Northern Highlands in the other Final 4 match.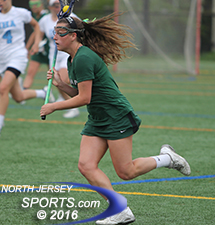 Dani VanCalcar scored a team-high 5 goals for Ramapo, which lead 9-6 at the break.
"We really played a lot better in the second half. I don't know why, but in the first half we were not really looking up and finding the cutters, but in the second half we really communicated more and [goaltender] Kate Rice came up with some awesome saves," said IHA defender Reagan Bossolina. "It was necessarily a panic situation at halftime, but it was a rude awakening. It was awkward for us to have been in that situation, but we came out really strong and changed the momentum of the game."
Bossolina was not the only one who felt that obvious change in momentum.
"We told our girls that just because we were the lower seed that that did not mean that we could not win this game. We came out to play, we were feeling good at halftime and then they scored the first three goals [of the second half]. That really put a damper on the mood," said Ramapo head coach Samantha Fontanella. "In a game like this you have to answer. If they score one you have to score one, but when they got the three in a row it really broke up the momentum that we had going into the half."
Ramapo looked like anything but the underdog in the first half as Dani VanCalcar broke a 4-4 tie by hitting the lower left-hand corner in a man-up situation. Kate D'Alessandro and Taylor Pani then added goals to give the Green Raiders the first three-goal lead of the game at 7-4 with 5:46 to play in the first half.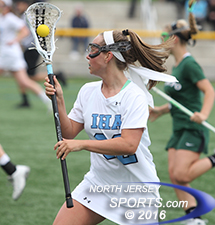 Anne Quinn's lone goal of the game came with 9:34 left and gave IHA the lead for good.
Weber, who went over the 100 career point mark earlier this season, then scored two in a row to get IHA back to within a single goal, but VanCalcar answered by winning the next draw and scoring on a bull-rush down the middle of the field and then from a free position to restore Ramapo's lead to three at the break.
Thompson's second tally got IHA back even with 21:37 left in the game and Weber extended the spurt to five straight Blue Eagle goals by scoring twice from free positions. It was Weber's work in the face-off circle in the second half that kept giving IHA the possessions it needed to facilitate the comeback and it was the work of Rice in the net that frustrated Ramapo on more than a couple of occasions.
Pani and D'Alessandro each scored from free positions to get Ramapo back even at 11 before Anne Quinn returned the favor to put IHA back in front with 9:34 to play. Rice then helped the Blue Eagles hold serve with a save that led to a transition opportunity the other way. Jen Mistretta used the open space to find a cutting Diana Denta for the goal that gave the Eagles a two-goal cushion at 13-11 with 3:46 left.
After Olivia Garner scored for Ramapo and after the Raiders won the ensuing draw, Rice stepped up again, getting her basket up near the crossbar for a key save that kept her team in front.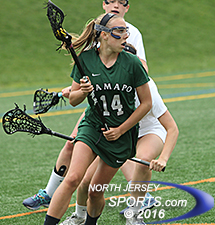 Taylor Pani had 3 goals for Ramapo, which lost for just the third time this season.
"It is a completely mental position and it is difficult sometimes [to play goalie], but once you get in your groove, once you make a couple of saves, you get more confident and you look forward to the next shot," said Rice, who finished with 13 saves, eight of them in the second half. "Just like every other player on the team, you have to play your part and when it is a close game like this, one save can be important and when you make it everyone else gets excited."
Rice's last save was the most important not only because it kept Ramapo one goal in arrears, but also because it led a possession that could not have turned out better for IHA. The Eagles held the ball for nearly three minutes and then got the decisive goal, a charge down the middle by Denta who closed out the game's scoring. Ramapo won the next draw, but Bossolina came up with a clutch steal from behind and the Eagles then ran out the clock.
Weber led IHA with five goals and added an assist while Denta scored three times including the clincher. Mistretta and Thompson finished with two goals apiece while Cat DeKone and Quinn split the other two for the Eagles, who improved to 8-4 on the season and, more importantly, advanced to the Final 4 where Saddle River Day awaits.
"We have watched Saddle River Day play a number of times, we watched their [Northern] Highlands game where they won in overtime, so we know what we are up against with them and we know they are a very good team,: said Montegari. "The couple of days we are going to spend getting ready to give our best effort and finding a way to earn our spot in the [county] finals."
Ramapo's tournament run ended here, but not before it made the favorite sweat a little bit. VanCalcar scored a team-high five goals, Pani had three to go along with two assists, D'Alessandro scored twice and Olivia Garner and Emily Sheppard scored one apiece. Taylor Mathieson made 11 saves for the Green Raiders, who fell to 11-3 on the season, a far cry from where they were when Fontanella took over the program three years ago.
"It's a disappointing loss don't get me wrong because I feel like the girls believed they could win this game, but, really, this is huge. When I came in we were a 1-14 team in 2013," said Fontanella. "To see it go from that to where it is now…these kids have built this program and they will continue to build it. They have worked hard every day, they love each other, they are very supportive of each other and it, as a coach, is wonderful to see."
CLICK HERE FOR MORE PHOTOS FROM THIS GAME. TO BUY A COLLECTOR'S PRINT OF THIS STORY, PLEASE VISIT 4FeetGrafix.com.