Friday, April 22, 2016
By Cory K. Doviak
NJS.com Editorial Director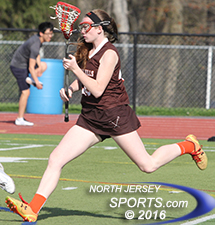 Allie Ernest won 7 of the final 8 draws of regulation to set in motion a late six-goal comeback and she finished it with a overtime goal as Pascack Hills stunned Demarest, 16-15, on Thursday afternoon.
DEMAREST – There are events sprinkled throughout the high school sports calendar that are must-sees. The weekend full of state final football games at MetLife Stadium, any game at any packed gym during the state basketball tournament, the Jambo semifinals, two games played back-to-back in college setting at FDU. Everybody who is into high school sports knows about those events and goes to them.
Then there are those games that are stumbled upon, the ones where only close family and friends are in the stands, where no trophy is a stake and are not documented in any lasting way other than a box score. And sometimes those are the most fun, like Thursday's girls lacrosse matchup between Pascack Hills and Northern Valley/Demarest.
Played between track and field practice going on all around it and without much fanfare, it had all of the elements of a high school sports classic. There were emotional storylines on each bench, an amazing comeback in the waning moments of regulation, standout performances on each side and an overtime finish. Pascack Hills trailed by six goals with just over five minutes to play before getting the game tied with 15 seconds left in regulation and then scored the golden goal 36 seconds into the three-minute overtime session to pull off an incredible 16-15 comeback victory at Northern Valley/Demarest High School.
The game-tying goal was scored by Catie Ernest and the game-winner by her sister Allie Ernest. Their father, Scott Ernest, is the head coach who was not in attendance as he underwent a delicate surgery on Wednesday. His team and his kids played in his honor and the fantastic finish was one that he certainly would have enjoyed.
"Because of [Coach] Ernest, because of everything that is going on, this team is as close as any team can be and we really are a family. We have that bond that is just like a family and we all pulled together at the end because that is what he has taught us," said Lindsey Jachens, who has been Scott Ernest's assistant coach for the last four years and is now serving as the interim head coach in his absence. "We just played another overtime game against Wayne Valley, so we felt a little bit better once we got there. It was just a matter of getting to overtime. That was the battle."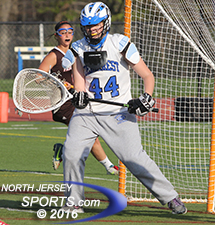 Demarest keeper Sophia Mottola made 10 saves in the game, many of the spectacular variety.
It certainly didn't look like extra lacrosse was in the offing with as well as Demarest had played for most of the second half. The Norsewomen are just at the beginning of developing a program under first-year head coach Alexandra Champ, who has breathed new life into the Norsewomen with her passion for the game. They have one win this year and were well on their way to victory No. 2. Demarest led 7-5 at halftime, it scored the first two goals of the second half to double the lead and then looked like it had emphatically answered the bell when Pascack Hills made its first concerted comeback attempt.
Catie Ernest scored the first and Allie Ernest scored the next two in a three-goal run that had the Cowgirls to within 9-8 with 20:21 to play in the game, but Demarest responded with six of the next seven goals of the next 11-plus minutes to take control. Kaleigh Conti scored the first goal in the spurt, Hannah Schoenfield scored the last and Jamie Cotrell and Alina Kim each scored twice during the dominant stretch when Cotrell was winning draws and the offensive flowed freely of the possession that generated. Things were going so well for the Norsewomen that even when the ball slipped out of Kim's basket just as she started her shooting motion it still found a way into the net, kind of a floating change up that went in.
All the while, Demarest goalkeeper Sophia Mottola was cleaning up any messes behind her defense as she made 10 saves in the game, most of them of the difficult variety.
"I didn't tell my girls how good Pascack Hills was going into this game and I thought we were going to get blown out, to be honest. But this was the best lacrosse game that I have seen my girls play, the best individually and the best as a team as I have seen them play all season," said Champ, a Dwight-Englewood graduate who went on to play lacrosse collegiately in the Ivy League at the University of Pennsylvania. "I played college ball, I played after college and this was as competitive as it gets when you are playing a team like this and it goes to overtime."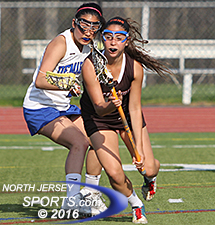 Ally Greenberg scored three goals for Pascack Hills, which improved to 7-2 on the season.
It was probably more a matter of desperation that pulled Pascack Hills together to make the comeback, but one tactical switch by Jachens also helped. She put Allie Ernest on the draws and the maneuver paid off in five straight wins in that phase of the game and seven of the final eight taken in regulation. With the ball the majority of the time in the final five minutes, the Cowgirls had the foundation to fight back and that they did.
Catie Ernest scored off a free position to make it 15-10. Ally Greenberg put home a loose ball in front of the net to make it 15-11 and Maddie Gold's only goal of the game came from in close and made it 15-12 with 3:53 to play. Catie Ernest made it 15-13 with a slicing drive through traffic, Greenberg cut the deficit to one with 3:06 to play and then a pivotal play took place at the other end of the field.
In transition, Demarest's Hannah Schwartz was ahead of the field and charging hard toward Farid Shawcat, the Pascack Hills goalkeeper. Schwartz took a bump about 20 yards from goal, but the trailing referee allowed properly allowed the play to continue because Schwartz still had the advantage as she continued her run into space. With another defender closing from behind, Schwartz got off a shot that found the back of the net, but it was disallowed because it was ruled that she entered the crease. Whether she was pushed from behind was a matter of debate, but because she got a shot off, the original penalty was waved off.
Instead of scoring a momentum-breaking goal with 2:20 left or at least having another chance from a free position, Demarest was instead left with nothing to show as Pascack Hills took possession and kicked off a wild final minute-and-a-half full of anxiety and big plays by both sides, especially by Mottola, who was brilliant in the Demarest net.
Allie Ernest had the first run at Mottola from a free position and the junior keeper stoned the shot at point blank range. Cotrell picked up the ground ball to give Demarest what turned into its final possession of regulation, but it ended in a turnover and then a Demarest yellow card that again changed the dynamics of the game. Pascack Hills had a running start to get back to the other end in search of the tying goal and a man advantage, but Mottola almost erased those advantages. Catie Ernest was awarded a free position with 21 seconds left, but was kept out by Mottola only to hear a whistle for an offsides call against Demarest. That left one more chance for Catie Ernest, who was cutoff on her drive from the goalkeeper's left, but kept her composure, backed out of a pile in front and then scored to make it 15-15 with 15 seconds left.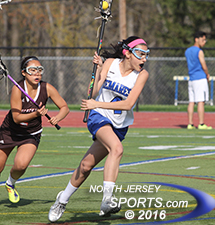 Hannah Schwartz had 4 goals and an assist for Demarest, which played its best game of the season and very likely the best in its program's history.
"I had a free, I had a couple of frees actually, and on that last whistle I thought we were going to be called for offsides. I was like 'Oh, no!' but they were offsides and I got another chance," said Catie Ernest. "I had to finish it for my team, but as I came across there were so many girls packed in there. I backed out, went back in and shot it. I was so happy when I saw it go in."
Demarest was unable to get off a final shot in regulation and the game was decided shortly thereafter. Allie Ernest won the draw, was fouled and then started off on the bull rush that put an end to the festivities. She darted straight down the middle of the field and scored with 2:24 left on the clock to up Pascack Hills' record to 7-2 on the season in the most unlikely of fashion.
"The first thought was to win the draw no matter what. All of the girls on the team, all of the girls on the line were ready for it, but I think I just got lucky," said Allie Ernest, who final goal gave the Cowgirls a second straight overtime victory. "We just had all of the momentum, we kind of got it going and I felt it. Once we got it going it was such a rush that it felt like there was just no way that we were not going to win."
Catie Ernest finished with a game-high nine goals, five of them in the final 11:21, and three assists. Allie Ernest had two goals, the game-winner included, and four assists. Greenberg finished with three goal, Gold added a goal and three assists and Arianna Lee had the other goal for Pascack Hills, which also got six saves from Shawcat.
Schwartz and Conti had four goals and an assist apiece to lead Demarest, Cotrell added two goals and two assists, Sammie Gordon had a goal and Binata Fleysher had a goal for the Norsewomen, who played their best game of the season regardless of the outcome.
The future is bright for the fledgling program under the direction of Champ, who lives two blocks from the school, who is in it for the long haul and who is in the process of starting up a feeder program that hopefully deliver experienced players to the high school level in the years to come. For now though, she is focused on this group of players that put everything it had into Thursday's game.
"I started on March 1 thinking, 'Oh my gosh, I am starting from zero.' We have no feeder program, a lot of these kids are starting in ninth grade having never touched a ball, so I literally was starting from scratch with here is how you catch, here is how you throw going all the way through what is a zone defense, what is a slide defense and plays on attack. They just put it all together so well today and I am trying not to cry because I am so proud of them," said Champ. "I just told them that some of the best games are not wins on the scoreboard, they are wins in how you play. They are all looking at me right now with tears in their eyes because we lost in overtime, but if you go by the flow of the game there were times where we were dominating and we will absolutely build on that and go forward."
CLICK HERE FOR MORE PHOTOS FROM THIS GAME. TO BUY A COLLECTOR'S PRINT OF THIS STORY, PLEASE VISIT 4FeetGrafix.com.