Thursday, April 21, 2016
By Rich Barton
NJS.com Staff Writer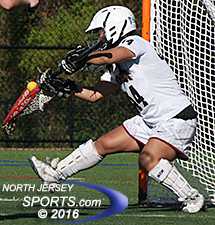 Maddie Collins made a save with 25 seconds left to preserve Summit's 9-8 win over Ridgewood in a battle of two of the state's top girls lacrosse teams.
SUMMIT – When a team has another one circled on the schedule from the first day of practice, it means that this particular regular-season battle has more meaning to it. But when both teams have each other circled, it is a genuine rivalry game with implications that far exceed one win or one loss. Just such a scenario took place on Wednesday when the top two girls' lacrosse teams in New Jersey -- Summit and Ridgewood -- squared off.
It was the rematch of last year's Tournament of Champions semifinal (won by Summit) and a game that was widely expected to go right down to the wire. The fans in attendance were not disappointed as both the atmosphere and the level of play mimicked one that could be played again in June.
Summit was in control for more of the game but the Lady Maroons never stopped playing hard. They fought all the way back from a five-goal deficit in the second half with a possession inside the final minute and a chance to send the game into overtime. It is a position that Ridgewood has often succeeded in over the years but this time they ran into Summit keeper Maddie Collins.
Collins dropped down to make the biggest save of the game with 25 seconds remaining as Summit held on for a 9-8 victory over Ridgewood at Summit High School.
"We knew this game was going to be a close one and there are some great players on both sides," said Summit head coach Mike Walsh. "I think we came in with a good game plan and it's tough to execute it against that zone they run defensively. We just had to stay patient and hang on there at the end."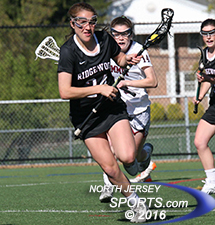 Katie Bourque, the Dartmouth-bound defender, moved up and scored some key goals during Ridgewood's comeback.
Summit got on the scoreboard on its first possession of the game with Callie Humphrey scoring from in close. Alex Absey answered for Ridgewood, but that was the last goal the Maroons would net for quite some time.
Collins came up with some nice saves early and her teammates got into a rhythm near the midway point of the first half by forcing turnovers and winning the battle on both draws and ground balls. A long possession led to the go-ahead goal from Sara Szynal. Maggie Moriarty followed with a goal to make it 3-1 when Ridgewood ran into some bad luck with a nice goal being disallowed.
Szynal scored her second goal of the half to make it 4-1 Summit with 3:03 to play when another Ridgewood goal was disallowed, which would prove costly later as indicated by the final score. Catherine Cordrey scored in the final minute of the half to cap Summit's stellar first half with a 5-1 lead.
"The disallowed goals were tough, but the important thing was that we didn't play with the energy in the first half that we needed to be successful," said Ridgewood head coach Karla Mixon. "In the second half we played with a sense of urgency and we played our game."
Ridgewood started to regain some momentum with Lillie Kloak's goal snapping a streak of six straight goals by the Hilltoppers. However, Helen Johnson's goal playing a man down gave Summit an 8-3 lead and it appeared to be the final nail for the Maroons.
With a ton of senior leadership though, Ridgewood fought one. Katie Bourque got things going with a nice move to score with just over 13 minutes remaining. Nicole Macolino followed with a long sprint up the field and a goal to trim the deficit to 8-5.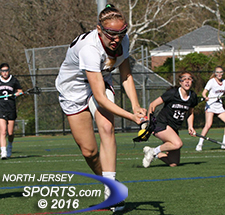 Sara Szynal scored a game-high four goals for Summit, which improved to 8-0.
A goal by Summit's Humphrey did little to slow the Maroons. Bourque, the Dartmouth-bound defender, also showed her prowess on the other end of the field, scoring twice in a 33-second span to make it 9-7.
"Katie Bourque is a heck of a player and a nightmare on the draw," added Walsh. "We did what we could to slow her down. With a player of her caliber, sometimes we just didn't have an answer for her."
Ashley Turnbull scored from a free position to make it a one-goal game and the Maroons won the draw to grab possession with a chance to tie the game.
It was a crisis moment for the Hilltopppers, but they have one of the state's most athletic keepers between the pipes and all of Collins' skills were necessary when Hannah Cermack split two defenders and got a good shot off. Collins saw the ball through traffic in front of the net and dropped down to make the stop with the Hilltoppers running out the clock on a huge win.
"I was just looking at the ball and that was my only focus," said Collins. "I just kind of blacked out on that last possession. It happened so fast and all I was thinking about was making sure the ball did not get past me. When I made the save I just looked up at the clock and I realized what actually happened."
Szynal led all players with four goals and Collins did a nice job in net with 10 saves for Summit (8-0). Bourque found the back of the net three times and scooped up two ground balls to lead the way for Ridgewood (5-2). Things do not get easier for the Maroons, who will try to snap a two-game losing streak on Saturday against another nationally-ranked power, Moorestown.
This game had the feel of a Tournament of Champions final and very well could be a preview of one. Summit drew first blood, but the teams know if they see one other again that something much bigger will be at stake.
"This game was very much like playing ourselves in a way," added Collins. "Ridgewood has so many talented players and they play so well together just like we do. We're both very competitive and it comes down to execution. We knew after the T of C game last year that they would come here gunning for us. This was a great game and it feels awesome to get a win over a team like Ridgewood."
CLICK HERE FOR MORE PHOTOS FROM THIS GAME. TO BUY A COLLECTOR'S PRINT OF THIS STORY, PLEASE VISIT 4FeetGrafix.com.