CRESSKILL'S COLLEEN McQUILLEN
NORTH 1, GROUP 1
The Seeds:
1. North Warren 2. Cresskill 3. Cedar Grove 4. Park Ridge 5. Saddle Brook 6. Wallkill Valley 7. Kinnelon 8. Midland Park 9. Wood-Ridge 10. Emerson 11. Pompton Lakes 12. Passaic Charter 13. Boonton 14. Hasbrouck Heights 15. New Milford 16. Hopatcong
Player to Watch:
Colleen McQuillen, Cresskill
With University having been disqualified from entering the state tournament this year McQuillen ascends to the most viable scoring threat in Group 1 throughout New Jersey. She is a player who can get her shot from virtually anywhere and can take over a game regardless of what kind of defense is designed to stop her.
Dark Horse:
Midland Park
The Panthers have won eight out of their last nine games. That includes a championship trophy for winning the Bergen County Invitational with a win over Group 4 Ridgewood. Senior Gillian Luberoff is a legit inside presence at 6' with Avery Kasbarian and Alyssa Genao providing support from the guard spots.
Biggest First-Round Upset:
No. 10 Emerson over No. 7 Kinnelon
Emerson is capable of making some noise in this section as evidenced by recent wins over Park Ridge, Midland Park, Tenafly, and Indian Hills.
First-Round Winners:
North Warren, Midland Park, Saddle Brook, Park Ridge, Cedar Grove, Wallkill Valley, Emerson, Cresskill
Quarterfinal Winners:
Midland Park, Park Ridge, Wallkill Valley, Cresskill
Final:
Park Ridge, Cresskill
Champion:
Park Ridge
The Owls dominate the mid-range game like no other Group 1 team around. Shannon Burns and Lexi Vonderleith are both handfuls in the mid-range, on the glass, and both excel at the foul line. Add the emergence of sophomore guard Ella Madden and that equals the most scoring depth of any team in this North 1 Group 1. That usually bodes well come tournament time.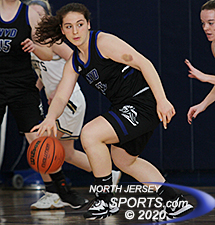 DEMAREST'S CASEY SULLIVAN
NORTH 1, GROUP 2
The Seeds:
1. Jefferson 2. Westwood 3. Dumont 4. Manchester Regional 5. Newton 6. Glen Rock 7. Ramsey 8. Lakeland 9. Northern Valley/Demarest 10. Kittatinny 11. Mountain Lakes 12. Hawthorne 13. Pequannock 14. Morris Tech 15. Pascack Hills 16. Mahwah
Player to Watch:
Casey Sullivan, Northern Valley/Demarest
After losing Division 1-bound forward Dayna Tirado to a shoulder injury, Sullivan has taken on more of the load in both scoring and rebounding. She has averaged 21 points and 10 rebounds a game since Tirado went down. If her stellar play continues the Norsewomen will be a tough out.
Dark Horse:
Glen Rock
The Panthers are not afraid to slow the pace of a game down and wear other teams out with hard-nosed defense, a specialty of teams coached by Steve Grenz. They have allowed 31 points or less in seven of their last eight games. While not high on excitement the Panthers are high on being effective and efficient. That is all that matters in the state tournament, which team comes up on the correct side of the scoreboard.
Biggest First-Round Upset:
No. 9 Northern Valley/Demarest over No. 8 Lakeland
The aforementioned Casey Sullivan has been on fire as of late. But watch out for three-point sniper Liz Argenziano. If she can shoot it well and stretch the Lancers' defense it could be the Norsewomen who keep their season alive.
First-Round Winners:
Jefferson, Northern Valley/Demarest, Newton, Manchester, Dumont, Glen Rock, Ramsey, Westwood
Quarterfinal Winners:
Jefferson, Manchester, Glen Rock, Westwood
Final:
Jefferson, Westwood
Champion:
Westwood
Katy Gashler is a vastly-improved paint presence on both ends of the floor. Her play and ability to stay away from getting in foul trouble will be crucial to Westwood's success. Add in the athleticism of point guard Meghan Riedel along with solid role players like Cassidy Orbe, Josephine Corrubia and Samantha Moleti, who have all played well during a recent five-game winning streak and this seems like a total team ready to take home a section title.
TEANECK'S NAHALI TITTLE
NORTH 1, GROUP 3
The Seeds:
1. Ramapo 2. Montville 3. Sparta 4. Northern Valley/Old Tappan 5. Pascack Valley 6. River Dell 7. Teaneck 8. West Essex 9. Indian Hills 10. Northern Highlands 11. Wayne Valley 12. Wayne Hills 13. Tenafly 14. Morris Hills 15. Paramus 16. West Milford
Player to Watch:
Nahali Tittle, Teaneck
She often gives up size at the forward spot but Tittle is the type of player who will battle for every loose ball and quietly puts up well-rounded, stat sheet-stuffing performances on a consistent basis. She averages 12 points, 12 rebounds, four blocks, four steals, and three assists per game this season. By continuing that production in the state tournament she makes Teaneck a threat to make a run.
Dark Horse:
Wayne Valley
Not many teams come into the state tournament as a No. 11 seed but that is what the Indians are doing this season after winning the Passaic County title. Forward Brianna Neary is the leading scorer, rebounder, and the lone senior on the Wayne Valley roster. Junior Daria Pontone along with sophomores Hailey Cabanas, Sofia Neary, and Vivian Testa round out a solid starting five that give this team a puncher's chance to pull an upset or two.
Biggest First-Round Upset:
No. 13 Tenafly over No. 4 Northern Valley/Old Tappan
Freshman Rylie Theuerkauf is the most dynamic scorer in this section. She is a player who is equally adept at getting to the basket as she is draining threes, including a school-record 11 of them in a win over Dwight Morrow just two weeks ago. The Tigers also have senior leadership with Alex Cohen, Kelsey Koehler, and Leanne Picinic. Do not be fooled by their under .500 record heading into the tournament. This is a team that if they can put four solid quarters together can be extremely dangerous.
First-Round Winners:
Ramapo, Indian Hills, Tenafly, Pascack Valley, Sparta, River Dell, Teaneck, Montville
Quarterfinal Winners:
Ramapo, Pascack Valley, Sparta, Montville
Final:
Ramapo, Montville
Champion:
Ramapo
These two teams have kept an eye on one another all season long. Montville is the only undefeated team remaining in New Jersey and the Green Raiders will need to be at their best to hand them their only loss. Madison Schiller and Lauren Achter provide a solid 1-2 punch with Savannah Ring providing all the intangibles along with the ability to put the ball in the basket. It may come down to pass-first point guard Julia Corrella. When she gets Ramapo into an offensive flow it is tough to slow them down. Keep this matchup circled, it should be a good one.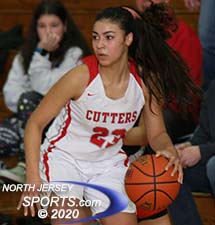 FAIR LAWN'S KELLIE MARTINEZ
NORTH 1, GROUP 4
The Seeds:
1. Randolph 2. Hackensack 3. East Orange Campus 4. Morristown 5. Livingston 6. Kearny 7. Fair Lawn 8. Morris Knolls 9. Ridgewood 10. Paterson Kennedy 11. Paterson Eastside 12. Union City  13. Passaic County Tech 14. Bergen Tech 15. Memorial 16. West Orange
Player to Watch:
Kellie Martinez, Fair Lawn
Martinez is an athletic, strong senior guard who can score in bunches. When she's on, Fair Lawn is on. The question is can she stay on the floor? Martinez has been foul-prone throughout the season and the Cutters will need her on the court for as many minutes as possible to advance.
Dark Horse:
Paterson Kennedy
The Knights have won ten out of their last 11 games, with their only loss coming in double overtime in the Passaic County semifinals to eventual champion Wayne Valley. Sophomore Samantha Ferreras as as much range as any player in North Jersey and must be accounted for behind the three-point arc.
Biggest First-Round Upset:
No. 12 Union City over No. 5 Livingston
Sophomore backcourt mates Erika Mercedes (17 points per game) and Elainy Pichardo (10 points, 4 steals, 3.5 assists per game) put the Soaring Eagles in line to go on the road and pull an upset.
First-Round Winners:
Randolph, Morris Knolls, Union City, Morristown, East Orange Campus, Kearny, Paterson Kennedy, Hackensack
Quarterfinal Winners:
Morris Knolls, Morristown, East Orange Campus, Hackensack
Final:
Morris Knolls, Hackensack
Champion:
Morris Knolls
Even the Super Computer has a heavy heart about this one. Just have a weird hunch and everyone knows that the Super Computer's hunches (unlike the hunches of NorthJerseySports.com writers Richie Ballgame and Cory K. Doviak) are generally correct.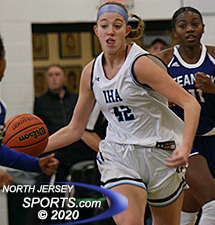 IHA's ANNA MORRIS
NON-PUBLIC A North
The Seeds: 1. Immaculate Heart Academy 2. Hudson Catholic 3. Paramus Catholic 4. Oak Knoll 5. St. Dominic Academy 6. Pope John 7. Dwight-Englewood 8. DePaul 9. Holy Angels 10. Mount St. Dominic 11. Kent Place
Player to Watch:
Anna Morris, IHA
The 6-foot-2 Northwestern-bound forward has had a stellar four-year career both on the volleyball court and on the hardwood for hoops. She consistently notches double-doubles and has scored in double-figures in all 25 of the Blue Eagles' games this season.
Dark Horse:
None
Biggest First-Round Upset:
No. 9 Holy Angels over No. 8 DePaul
The Angels come into the state tournament on a seven-game losing streak. But all seven of those losses came against quality competition and they already own two wins over DePaul in the regular season.
First-Round Winners:
Holy Angels, Pope John, Dwight-Englewood
Quarterfinal Winners:
IHA, Oak Knoll, Paramus Catholic, Hudson Catholic
Final:
IHA, Hudson Catholic
Champion:
IHA
The Blue Eagles have won eight section titles in a row with many of them coming via blowout wins in the section final. That will not be the case this season as Hudson Catholic is on the rise, which an includes a berth in the Hudson County Tournament final this past weekend. It will not come easy but the Blue Eagles have enough senior leadership to squeak past the Hawks.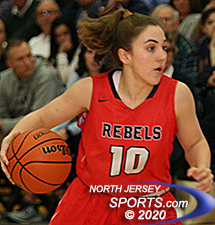 SRD'S DAKOTA COREY
NON-PUBLIC B NORTH
The Seeds:
1. Saddle River Day 2. Villa Walsh 3. Marist 4. St. Elizabeth 5. Morristown-Beard 6. Montclair Immaculate 7. Morris Catholic 8. St. Mary's 9. Montclair Kimberley Academy 10. Newark Academy 11. Immaculate Conception
Player to Watch:
Dakota Corey, Saddle River Day
The versatile sophomore has been consistent all year both in effort defensively and providing the Rebels with someone who gives scoring production without taking a lot of shots or bogging down the offensive flow. For the Rebels to remain section champs, have a shot at a Non-Public B state title and beyond, Corey will have to continue her solid play and continue to do a little bit of everything in order for the Rebels to remain at a championship level.
Dark Horse:
None
Biggest First-Round Upset:
None
First-Round Winners:
Montclair Immaculate, Morris Catholic, St. Mary's
Quarterfinal Winners:
Saddle River Day, St. Elizabeth, Marist, Villa Walsh
Final:
Saddle River Day, Marist
Champion:
Saddle River Day
Marist is still reeling after a brutal double-overtime loss to Secaucus in the quarterfinals of the Hudson County Tournament. With the school closing its doors in May, the Royal Knights are going to make one last push to go out as a champion. Unfortunately, they are going to run into a buzzsaw. The Rebels are the state's best defensive team and have an outstanding backcourt in Saniah Caldwell and Jordan Janowski to lead them back down to Toms River for another appearance in the Non-Public B state final.
TO BUY A COLLECTOR'S PRINT OF THIS STORY PLEASE VISIT 4-FeetGrafix.com.