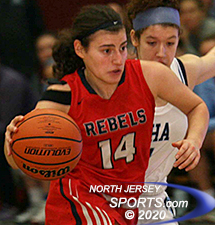 Jordan Janowski, the lone senior on the Saddle River Day roster, spear-headed a defensive effort that led the Rebels to a 54-42 win over IHA and a record-tying fifth straight Bergen County title.
MAHWAH – Great teams must possess talented players who can put the ball in the basket, but to be a county champion requires much more than just players who can score. There has to be contributors whose intangibles do not necessarily show up on a stat sheet. Players who are selfless, bring energy every second of every practice and every game, and would do whatever it takes to help their team succeed. Even for the top teams in New Jersey it usually takes several people to fill those various roles. Saddle River Day head coach Danny Brown is fortunate to find all of those attributes in one player.
Jordan Janowski had been a valuable role player off the bench for three straight Bergen County Tournament Championship teams. The only senior on the Saddle River Day roster, Janowski moved into the starting lineup this year and is a leader on and off the floor wanting nothing more than keeping the Rebels' legacy of winning championships intact.
Even though she finished with just six points in this year's Bergen County Tournament final against top-seeded Immaculate Heart Academy, the New York University-bound guard kept that winning tradition going by impacting the game in every way, especially on the defensive end.
Janowski was a ball-hawk all game long as second-seeded Saddle River Day took control early and never took its foot off the gas to win a record-tying fifth straight Bergen County Tournament crown with a 54-42 triumph over IHA on Sunday afternoon at Ramapo College in Mahwah.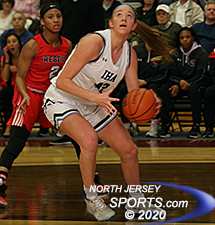 In her final Bergen County Tournament game, IHA senior Anna Morris finished with a double-double of 20 rebounds and 10 boards.
"Once we got the jitters out of the way we started to control the tempo," said Janowski, who had four steals and three assists to go with her six points. "Everyone did their part and everyone had a role in us getting here and us succeeding today. We studied their film over and over, we were totally prepared for anything they came at us with today. It was about playing tough defense and making the extra pass when we were in our offense. I'm so grateful to be part of this and the culture carries on. We came in with a job to do and we got it done."
IHA's Anna Morris showed in the first minute why she is considered one of New Jersey's most dangerous post players. She scored on her first two touches to give IHA a 4-0 lead. The Blue Eagles had the ball again after a Rebel miss with a chance to widen the gap. Janowski made it difficult for IHA to even get into an offensive set. Her steal and assist on a Cierra Pearson three-pointer got the Rebels on the scoreboard and also set a tone that would continue all the way until the final buzzer sounded.
After Pearson's 3, super sophomore Saniah Caldwell scored on a drive to the basket and Pearson followed with another three from the wing as the Rebels grabbed an 11-6 lead after one quarter.
Playing on a bigger court at Ramapo College worked to the Rebels' advantage. That began to show in the second quarter with the Rebels forcing the pace. Off of a steal by Saniah Caldwell, Kristina Mathurin beat everyone down the floor and Janowski found for a layup and a seven-point lead. The Rebels forced seven turnovers in the second quarter and ten overall in the first half to grab a 25-15 lead at the half.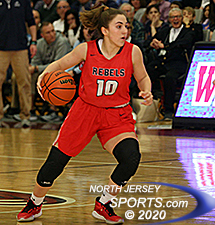 SRD's Dakota Corey came up big with 11 points and five rebounds.
Freshman Madison McCarthy has burst onto the scene lately with some clutch performances off the bench. She was effective again to help the Rebels get off to a strong start by opening the second half with a three-pointer. IHA got the lead back down to ten only for McCarthy to splash another three to make it 31-18.
Depth became a factor in the second half as the Rebels came in with fresh legs that produced quality minutes. Alanis Diaz played tough inside all game and Karly Fischer scored on a layup before Janowski's strip of Morris in the backcourt and layup bumped the lead up to 17, 39-22.
"I reminded them of our strength of schedule this year and how prepared that made us for this game," said Saddle River Day head coach Danny Brown. "Our coaches have worked extremely hard to make sure the girls are prepared as we could possibly be. Everyone stepped up when they had the opportunity. This team was all-in and the effort we showed today was incredible."
The Blue Eagles fought hard to make a push and got within 14 in the fourth quarter but never got any closer than the final margin. Another promising freshman for Saddle River Day, Mia Walsh, canned a three-pointer from the corner midway through the fourth quarter that was essentially the backbreaker as the Rebels put together their most impressive performance in their biggest game of the year.
"Our coaches told us to set the tone early and make them chase us once we got the lead," said Saddle River Day's Saniah Caldwell. "We always play defense but we were smarter on offense today. There are only three players on this team who were here last year. We just told our players to block out the crowd and all the noise and just focus on what we had to do on the court."
Caldwell finished with 15 points, four steals, and three assists for Saddle River Day (20-3). Sophomore Dakota Corey has continued to improve throughout the season and came up big with 11 points and five rebounds. All nine Rebel players who stepped on the floor in this game found their way into the scoring column.
Morris led all players with 20 points and 10 rebounds for IHA (21-2). 
With a record-tying fifth straight Bergen County Tournament title in hand and nearly the entire team returning next year, the Rebels are in the midst of a dynasty like Bergen County has never seen and might never see again. But for now, it is about enjoying one accomplishment for a few hours before starting the journey towards the next goal, a Non-Public B state title.
"This is a great feeling and we're loving it, but tomorrow we're 0-0," said Corey. "This team is like a family and we're getting closer every day. We're not going to slack off and we'll work even harder to get better. Now it's onto states and we're excited to see how far we can go."
TO VIEW MORE PHOTOS FROM THIS EVENT PLEASE CLICK HERE. TO BUY A COLLECTOR'S PRINT OF THIS STORY PLEASE VISIT 4-FeetGrafix.com.