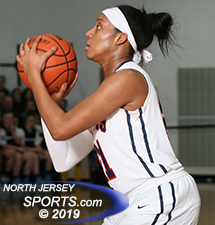 Sydnei Caldwell had 19 of her game-high 23 points, including 5-of-6 from three-point range, in the first half of Saddle River Day's 76-52 victory over Morris Catholic in the Non-Public B North section final.
WAYNE – When senior guard Sydnei Caldwell transferred into the Saddle River Day, a team already loaded with Division 1 stars, it appeared on the surface that her addition would be a perfect fit. While getting along with girls she was already friends with was not an issue, the chemistry on the court was.
There were times where the Rebels looked unstoppable but other times when the team did not seem to mesh well together. It was an adjustment period for Caldwell, but with each passing game growing in terms of importance, the Arizona State-bound senior is picking the right time to play her best ball of the season.
Caldwell had 19 of her game-high 23 points, including 5-of-6 from three-point range, in the first half. Michelle Sidor then hit back-to-back threes in the third quarter to open things up as top-seeded Saddle River Day pulled away to repeat as Non-Public B North champs with a 76-52 victory over second-seeded Morris Catholic on Wednesday night at Passaic County Tech in Wayne.
"Playing great defense typically transfers over into how well we play offensively," said Saddle River Day senior Jaida Patrick. "When we get a turnover and turn it into a layup or a three that really pumps us up and we feed off of that to go on a run."
Jenna Jordan got the Rebels going early by scoring their first seven points. They built an early lead but Morris Catholic was determined to show that it could run with the Rebels. They did that for most of the first half behind the play of point guard Mimi Rubino. She made tough shots, then fed Danielle Mills to give the Crusaders a 22-20 lead early in the second quarter.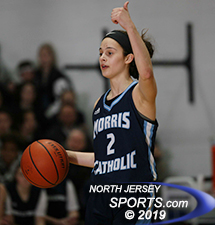 Mimi Rubino led Morris Catholic to a successful season.
That lead would the Crusaders' first and last. With the defensive focus being so focused on collapsing inside all while limiting Sidor her touches someone had to be the beneficiary of that. Caldwell gladly stepped into that role with a trio of three-pointers in short order as the Rebels righted the ship and took a 36-31 halftime lead.
"Our offense is all about sharing the ball with the open player getting the shot and today I had some good looks," said Caldwell. "They were keying on Michelle (Sidor) and I knew I had to step up. Once I hit the first one I felt confident to take the next one. It's all about the fundamentals and when we got the little things down everything started to go our way."
In a game that was already fast-paced, Saddle River Day head coach Danny Brown raised it to another level by going to a full-court trapping defense. That allowed Duke-bound forward Jaida Patrick to create all sorts of havoc on defense. It worked to perfection as both she and Sidor got on track in the third quarter to essentially put the game away heading into the final quarter. Patrick had two steals and a block during a 22-4 run in which Sidor scored eight straight points with the Rebels cruising to victory from there.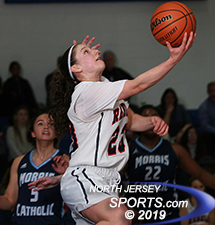 Michelle Sidor and Saddle River Day are now 26-2 heading into the Non-Public B state final.
"We cleaned some stuff up at halftime on both ends," said Brown. "We went to the full-court trap and that forced some turnovers. Offensively, I thought we were stagnant early and we switched things up to focus on moving the ball. Once we started working together defensively and getting that movement going on offense things started to flow."
Patrick finished with her customary stat-stuffing line for Saddle River Day (26-2). She had 19 points, seven rebounds, four blocks, three assists, and two steals. Caldwell's 23 points led the team and was also a season-high for her personally.
Saddle River Day advances to the Non-Public B North championship game on Saturday. The Rebels will take on Trenton Catholic at RWJ Barnabas Health Arena with a scheduled 2:00 P.M. tip-off. In what is expected to be a track meet, the Rebels are ready for the challenge. They feel like they are finally clicking on all cylinders. That will need to continue on Saturday if the Rebels want to be a return appearance in the Tournament of Champions.
"We know we're playing a tough team but we're not going to change what we do," said Patrick. "We want to play Saddle River Day basketball and force them to play our style. This is the time in the season that we live for. We just have to stay locked in and focused on in what we do well and we'll be fine."
FOR MORE PHOTOS FROM THIS EVENT PLEASE CLICK HERE. TO BUY A COLLECTOR'S PRINT OF THIS STORY PLEASE VISIT 4-FeetGrafix.com.