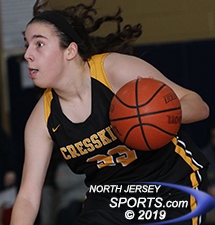 Colleen McQuillan had a game-high 12 points, 8 rebounds, 3 blocks, 3 steals in an outstanding all-around effort for Cresskill, which advanced to the North 1, Group 1 state sectional final with a 36-16 win over Emerson on Saturday afternoon.
CRESSKILL -- Cresskill turned up the pressure, suffocating the Emerson offense for zero points in the first quarter and three points in the first half en route to a 36-16 Saturday afternoon victory to earn a berth in the North 1, Group 1 sectional finals.
"Our defense won the game," Cresskill coach Mike McCourt said. "We had a plan to control [Victoria] Elek because she's a real good player. She takes the ball to the basket really strong. One of the things we did was switch on any ball screen. We were able to do that and we got some mileage out of it, preventing her from driving in the first half. And the rest of it is just good help and recover defense."
"Their defense is outstanding," added Emerson coach Colleen Malzahn. "It definitely took us out of what we wanted to do. It was not our day on the offensive end but we kept fighting. I thought we played pretty good defense."
Emerson's defense was also spectacular early, yielding only six points in the first quarter - baskets by senior Courtney Madison and Colleen McQuillen and a pair of free throws by McQuillen.
McQuillen scored again 30 seconds into the second quarter to make it 8-0. The Cavos finally got on the board with a free throw and put-back by Elek three minutes later to make it 8-3.
Junior Lauren Coffey was the first one off the bench for the Cougars and she made her presence felt immediately. She grabbed 4 rebounds, knocked Cavos passes away and dove on the floor going after loose balls.
"She plays like that all the time," said McCourt. "She's a great defender, a great on-ball defender. And when there is a loose ball she gets after it. Her hustle gave us extra possessions off long
rebounds. She and Elley [Wells] do that real well. They're always active and they're giving us extra possessions. And that's great."
With three and a half minutes to go in the half the Cougars went on a 10-0 run to break the game open.
Senior Sophia Green (10 points in the game) canned a pair of free throws, then drove and scored. After an Emerson timeout McQuillen (game-high 12 points, 8 rebounds, 3 blocks, 3 steals) scored off an inbound pass under the basket and then she fed Green for two more points on a fast break.
"Colleen (McQuillen) is the engine that makes us go," McCourt said. "She does all the work offensively and today defensively she played great. Our outside shot wasn't falling. They weren't bad shots either - none of them were forced shots. But in situations like that you either have to gain confidence or drive the ball to the basket."
Junior Annie Mioli closed out the run with a floater and Cresskill took an 18-3 into the halftime locker room.
Graduation cost Emerson four starters and there were no seniors on this year's team.
"This team has worked so hard, they play so well together," Malzahn said. "I have six juniors that are the core of our team.
"Only Victoria Elek, Karly Manning and Ariana Matusic had varsity experience last year and it was in different roles. It was a tough adjustment in the beginning of the year, realizing 'I'm not the third, fourth or fifth scorer, I'm No. 1 or No. 2.' The three of them really adjusted.
"Karly Manning (the fifth starter on last season's team) had an outstanding year bringing the ball up the floor. The first couple of scrimmages we had a tough time getting the ball over half court.She really came into her own as the year went on. She didn't turn the ball over. Tori and Ariana had outstanding years and I'm so excited for their senior year."
The Cavos scored six points in the third quarter and seven more in the fourth but it wasn't nearly enough. Elek led the way with eight points. On the plus side the Cavos return the entire team next year, a team that gained valuable tournament experience in the last two weeks.
"If you had told me in November we would make the semifinals in the state section tournament I would have told you you're crazy," Malzahn said. "To have our entire team back, including a couple of young kids, will be really good for us next year. They're going to work in the off season. I'm really excited for next year. Dec. 2 cannot come soon enough."
Meanwhile Cresskill moves on to the North 1, Group 1 sectional title game against league rival Park Ridge Monday at its home gym. The Cougars swept the season series in the regular season.
"Our defense is fantastic - especially today," said Madison, who finished with 10 points and 9 rebounds. "It was really amazing. We held them to 16 points - that's awesome for us. It's really great. It helped our offense tremendously. When we play defense it creates offense for us.
"We're confident. I'm confident, I'm ready and really excited to play Park Ridge."
TO BUY A COLLECTOR'S PRINT OF THIS STORY PLEASE VISIT 4-FeetGrafix.com.