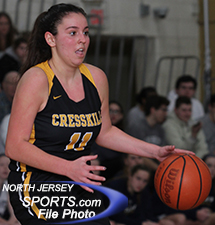 Sophie Green scored 16 points for Cresskill, which got off to a fast start and never relented in a 60-28 win over Wallkill Valley in the North 1, Group 1 state sectional semifinals on Thursday night.
CRESSKILL – Cresskill's girls basketball team used a smothering defense to keep the Rangers off the scoreboard and turn steals and rebounds into points as they crushed Wallkill Valley, 60-28, in the North 1, Group 1 quarterfinals on Thursday night.
"We really try to push the ball as much as we can," said senior Sophie Green. "We try to fast break. We get rebounds and have outlet passes. We want to push the ball, especially when there is a zone defense because it's the easiest way to break the zone."
"That's what we've been doing all year long," added Cresskill coach Mike McCourt. "We try to work hard down on the defensive end and once we get a steal or a rebound we're breaking, we're running, which is great for us. You have to slow us down if you want to be in the game with us."
Cresskill took a 14-6 lead in the first quarter as high-scoring sophomore Colleen McQuillen tallied eight of her game-high 29 points. Then the Cougars opened the second quarter with a 15-1 run, before Wallkill Valley senior Frankie Ciasullo scored the first field goal for the Rangers with less than two minutes to go in the first half.
The highlight of the second quarter may have been when Madison snagged career rebound No. 1,000 with 19.1 seconds to go. The buzzer sounded, the crowd cheered and her teammates surrounded her and presented Madison with balloons to commemorate the achievement.
"I knew I was close - I needed to get seven today," she said. "It was awesome. It feels really good to accomplish that. It's been a goal I've been working on for four years."
Madison, who scored 4 points and pulled down 10 rebounds in the game, was asked about the pounding she has taken under the basket in order to grab all those rebounds.
"I'm a strong girl so I can handle it," she said. "It's all about boxing out, jumping up and getting the rebound."
McQuillen was red hot in the third quarter, scoring 10 points in the first two minutes, but she wasn't the only Cougar scoring points. All five starters scored at least four points in the game and they have all contributed to the offense this season.
"Some nights it's Jen Garcia," McCourt said. "She had 16 points against Secaucus. Some nights it's Sophie Green (who had 16 points in this game). Courtney is steady. She's our rebounder, she's our glue. She gets us going on breaks. And what can I say about Colleen?"
A major reason the team has balanced scoring is because of their ability to zip the ball around the perimeter, passing the ball until they find someone who has an open look.
"That's literally all we work on," said Madison. "We go through offense a good amount of time at practice to make sure we know every play like the back of our hand. We have a really good offense."
"We really are a team," added Green. "We don't have one person who just wants to shoot the ball. There are no ball hogs here. We all want what's best for the team. We keep looking for the open person, swinging it fast and trying to get open as best we can."
Cresskill moves on to play old rival Emerson in the semifinals Saturday afternoon.
"We work really hard, we're getting more game experience and getting better together," said Green. "I'd say we're pretty confident. We're trying to take it one game at a time and not look too far ahead. I really, really want to win and it's going to take hard work. I definitely think we're going to get there if we keep playing like this."
TO BUY A COLLECTOR'S PRINT OF THIS STORY PLEASE VISIT 4-FeetGrafix.com.