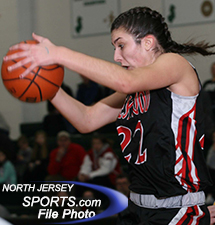 Westwood senior Rachel Bussanich led all scorers with 17 points and pulled down 12 rebounds for the Cardinals, who advanced to the North 1, Group 2 state sectional semifinals with a 51-33 win over Glen Rock on Wednesday night.
WASHINGTON TOWNSHIP - Westwood grabbed a 10-0 lead in the first five minutes of the game to propel them a 51-33 win over Glen Rock Wednesday night to earn a berth in the semifinal round of the North 1, Group 2 state tournament.
The Lady Cardinals used superior speed and great ball movement to set each other up for easy baskets.
"We move and cut," said senior Rachel Bussanich. "You can't stand still or you're not going to get open. We try to move as much as possible on offense so that we get our good shots. Our three-point shooters shoot or if they miss we have rebounders out there.
"It's not like it's one player - we all come together on the court and pass, pass. Everyone gets points, everyone gets assists, everyone gets rebounds. It's a good dynamic to have."
During that early scoring run there were two plays, 20 seconds apart where Westwood put up four quick points. On the first play sophomore Katy Gashler fed fellow sophomore JoJo Corrubia for a layup. Then sophomore Samantha Moleti fed classmate Meghan Riedel for two more points to complete a Cardinals fast break.
"I've been playing with them (other sophomores) since rec ball when I was a little girl," said Riedel. "We all have a lot of chemistry on the court. On and off the court we're really close, we're really good friends. We do a lot of team bonding and I think that really shows on the court."
Two seniors got into the act in the second quarter when Hannah Jackson fed Lauren Rigg underneath for an easy bucket.
"That's something that's been a huge improvement for us the second half of the year," Cardinals coach Charles Collis said of the ball movement. "We're getting the ball up the sidelines and that's something we struggled with earlier in the year. The girls have come together. It's chemistry and the girls have to be in the right places too. The chemistry has clicked a lot better since about mid-January and it shows."
In addition to Bussanich and Jackson the three other players in the starting lineup are sophomores.
"They all do some different things, which is really nice," said Collis. "Some score, some play defense, some are break masters. We're really happy with the progress they have made. Meghan (Riedel) had a phenomenal game today. She carried us on the offensive end."
"It's really an awesome feeling to be out there," said Riedel, who finished with 16 points and 7 steals. "Everyone puts in a lot of work at practice every day. It's all one goal - to win. I think we are very hard-working because we know our potential. A lot of us have experience from last year. Rachel (Bussanich) and Hannah (Jackson) are coming out with a lot of energy since it's their last year. They're trying to really end with a bang their senior year. A lot of the sophomores had experience last year on the varsity court."
Bussanich is the veteran of the team and this is her fourth trip to the state playoffs. She led all scorers with 17 points and pulled down 12 rebounds.
"It's weird," she said. "This is one of the first teams I've had where there are so many underclassmen and we (Bussanich, Jackson and Rigg) are the only upperclassmen. We try to lead by example. Even though we don't have much experience [together] we're a team that's going to work hard. As long as you have that your motivation is good."
"She played like a beast today," Collis said of Bussanich. "She had a ton of rebounds, she finished around the hoop and she put herself in good position, whether to get a rebound or a good post-up and a move to get herself a nice layup."
Westwood will play Pascack Hills at home Friday night. Since the Cardinals are the No. 1 seed they will have home games as long as they stay in the sectional tournament. The past couple of years, as the No. 2 seed, they had to take a bus ride to High Point for the title game.
"In all my years here we've never had that," said Bussanich. "We've always had that No. 2 seed and it kills us to go an hour away on a Monday night. It's dreadful. So having it at home is going to be good especially with our fans here."
"The drive is never easy," added Collis. "Having our crowd here, our fans here, our rims is a huge advantage. We know that and we're very happy. There is no one in our section who has more experience in the state tournament than us. We are the most experienced team. Rachel (Bussanich) has probably played in 16 state tournament games. That's a lot of games. There are probably not a lot of kids in New Jersey who have played in that many. That's something we think is going to help us down the road."
TO BUY A COLLECTOR'S PRINT OF THIS STORY PLEASE VISIT 4-FeetGrafix.com.