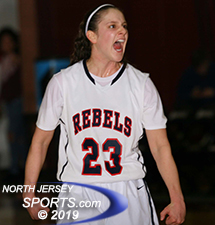 Saddle River Day senior Michelle Sidor finished off a Bergen County Tournament sweep, winning a fourth straight title on Sunday with a 55-49 win over IHA in the championship game on Sunday.
MAHWAH – While being interviewed after being part of the first program ever to win a Bergen County championship at Saddle River Day standout then-freshman guard Michelle Sidor set a lofty goal for herself and her teammates. She said she would not be satisfied until the Rebels won three more county titles.
The program has grown by leaps and bounds since her arrival and before Sunday the Rebels had won two more county titles. It seemed a foregone conclusion that they would win a fourth with one of the most talented collections of players to ever take the floor in Bergen County history, but somebody forgot to tell their opponent.
Immaculate Heart Academy has been as successful as any program in Bergen County for decades. The Blue Eagles channeled their rare role as an underdog into a strength and gave the Rebels everything they could handle, but in the end Sidor & Co. were not to be denied.
IHA trailed by 10 points heading into the fourth quarter, but whittled the deficit down to two points with 2:25 to play. Sidor responded with a huge three-pointer as top-seeded Saddle River Day held off a stern challenge to become just the second program in the 44-year history of the Bergen County Tournament to win four straight titles with a 55-49 triumph over second-seeded IHA at Ramapo College in Mahwah.
"Coming into this game we knew what we had to do and it was all about defense," said Saddle River Day's Jenna Jordan, who is committed to play at LIU-Brooklyn. "This was a tough game. We had that all-in mentality that whatever it takes to get the job done that's what we'll do. It feels great to win four straight county titles."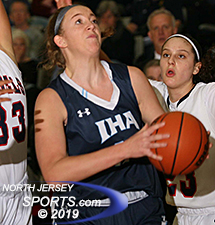 IHA junior Anna Morris finished with a double-double of 14 points and 10 rebounds.
The gym was packed and the adrenaline was running high throughout the first quarter. Duke-bound senior swing Jaida Patrick was aggressive right from the opening tap with two steals and a block, all of which turned into points on the other end of the floor. That was a recurring theme early on as 12 of the Rebels' 16 first-quarter points came off of IHA turnovers. The Blue Eagles, however, showed that they were not intimidated by any means with junior Anna Morris scoring five first-quarter points with IHA trailing by just one point heading into the second quarter, 15-14.
The pace of the game was less frenetic in the second quarter, but Patrick continued to stay aggressive. This time it was on the offensive end of the court. She led all players with 11 first-half points as Saddle River Day stretched its lead to 28-22 at halftime.
"Anna Morris is a really good, athletic player for IHA. I knew I had to match her," said Patrick. "Our offense was a little off today but we picked it up with good help defense. It turned out that our defense really created a lot of our offense. It was about pinpointing what we needed to do and executing."
IHA cut into the lead when Saddle River Day head coach Danny Brown made an adjustment early in the third quarter by bringing in defensive whiz Jordan Janowski off the bench. She finished with just one point on the afternoon but her lockdown on whoever brought the ball up the floor completely disrupted the Blue Eagles' offense, allowed the Rebels to get back on track and take their largest lead of the game, 41-31, going into the final stanza.
"We all knew our roles and my biggest role on this team is defense," said Janowski, a junior guard. "Definitely a big part of our success comes from our attitude and our ability to make plays at the right time. We're a family and we all pick each other up."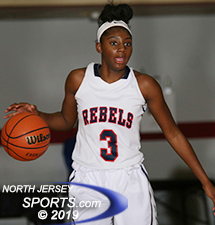 Jaida Patrick had game-highs of 10 rebounds and four steals to go along with her 16 points for Saddle River Day, which improved to 22-2 on the season.
Emma Matesic was held scoreless in the first half but came alive midway through the fourth quarter to bring IHA back within striking distance. She hit a baseline jumper then hit a layup on consecutive possessions to cut the Rebels' eight-point lead in half. The senior forward added a pair of free-throws to slice the lead down to two, 46-44, with 2:25 left to play. For the first time all game it seemed realistic that the Blue Eagles could find a way to wrestle the county title away from the Rebels.
Sidor refused to let that happen. Following Matesic's two free-throws, Sidor was prepared to run a play that was called, but when she saw just enough space to get off a three-point shot from the top of the key there was no hesitation. She buried it to bump the lead up to five.
"I knew if I had any space that I was going to take what I could get," said Sidor. "As soon as I got that space I let it fly. IHA wasn't going to come out soft and they didn't play like underdogs whatsoever. We had to get defensive stops and make some big plays to beat them."
IHA pulled to within four in the closing seconds on a three-pointer from Eliya Herriott. Arizona State commit Sydnei Caldwell answered with two free throws, the latter of which was the 1,000th point of her career, to ice the game as the Rebels celebrated being Bergen County Tournament champions, only the second program to win at least four straight titles and the first in 39 years to do it since Paramus Catholic won titles from 1976-1980.
"Our kids really realized the opportunity and it was a struggle but I'm proud of the way we finished it off," said Brown. "IHA is seeded number two in the county for a reason and (head coach Steve Silver) had them really prepared. To do what we've done over the past four years has been truly amazing. Starting where we did in the basement and to get to the top where we are now has really been great. I'm so proud of these kids, the program in general, and the school for the support they've given us."

Sidor scored a game-high 22 points for Saddle River Day (22-2). Patrick had game-highs of 10 rebounds and four steals to go along with her 16 points. Caldwell finished with 12 points and Jordan also pulled down ten rebounds.
Morris had a double-double for IHA (21-2) with 14 points and 10 rebounds. Herriott also had 14 points and Matesic added 10.
With a fourth straight Bergen County title in hand Saddle River Day will look to defend its Non-Public B state title. Despite the massive amount of Division 1 talent on the Rebels' roster, they are well aware not to take anything for granted.
"This is a huge accomplishment and we're really proud of it but we have a target on our back for states," added Sidor, who will play at the University of Michigan next year. "We're going to get everyone's A+++ game from here on. I don't think we've reached our potential yet and we've got to figure our stuff out. There's no more time for little mistakes like the ones that almost cost us today."
FOR MORE PHOTOS FROM THIS EVENT PLEASE CLICK HERE. TO BUY A COLLECTOR'S PRINT OF THIS STORY PLEASE VISIT 4-FeetGrafix.com.