Pascack Valley senior Brianne Smith made two 3-pointers in an 8-0 third quarter run that gave the Indians some breathing room in a 52-37 win at River Dell on Thursday.
ORADELL - Pascack Valley broke open a close game with a 39-second scoring burst in the third quarter and went on to beat River Dell, 52-37, on Thursday night.
Golden Hawks junior Logan Grebla swished a three-pointer to cut the Valley lead to 32-29 three minutes into the third quarter when the Indians went on an 8-0 run to boost their lead to 40-29. A drive to the basket by sophomore Kelly Andreasan was sandwiched around a pair of three-pointers by senior Brianna Smith to spur the run.
"It's a matter if you're on or not," said Smith. "Anyone can step up anytime. It just happened to be me because we passed the ball through the gap of the zone."
"We hit some shots and I think we did a better job on the glass," added Indians coach Jeff Jasper. "That's (the Hawks) really a good team. Lindsay [Steffner] does a phenomenal job coaching them. They're very talented, they work hard and they don't give up."
Smith is the lone returning starter for Valley, a team which won a Group 3 state title in 2016-17 and made it to the North 1, Group 3 sectional final last season.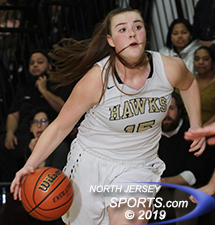 Logan Grebla's third quarter 3-pointer pulled River Dell to within three points.
"It's taking us awhile to adjust," said Jasper. "I think the biggest adjustment has been Bri (Smith). She has evolved as a player, meaning she came off of teams, which for three years she was the fifth option. A good option, but they had to guard everybody else and it gave her an opportunity. Early on she was a little frustrated with the way she played because teams were ganging up on her and the other kids didn't know how to play with her. Bri has taken a very strong leadership role. She's learning how to get others involved and the other kids have worked hard to get better. That's really the key to what is happening with us."
"There is a lot of pressure on me," Smith admitted, "because I know teams come after me, playing me man-to-man. My goal is to get everyone else involved. I want them to get involved to help out, which they do."
Valley jumped out to a 16-2 lead in the first quarter thanks, in part, to three three-pointers by sophomore sharpshooter Kelly Andreasan. She finished with 19 points in the game.
"The other kids are all younger kids," said Jasper. "Kelly Andreasan is a sensational little kid. They're all tough kids who are getting better and it's really because of her (Smith)."
The Golden Hawks fought back in the second quarter as freshman Sophia Firneno entered the game and tallied five of her six points in the game. Senior Kaitlyn McKinless, who led River Dell with 11 points, drained a three-pointer and the Hawks went into halftime trailing by only eight, 29-21.
River Dell came out flying in the third quarter with an 8-3 run, fueled by three-pointers from McKinless and junior Grebla and a bucket by senior Bridget Cahill, but Valley righted the ship, as Smith, who led all scorers with 23 points, scored 12 to propel the Indians to a 45-35 lead, heading into the fourth quarter.
"We're not a bad team now," said Jasper. "We're happy with what we're doing and we're playing well. She (Smith) has taken her game within and by doing so has allowed these other kids to take their game out. It's an interesting concept."
"I'm trying to be a leader," Smith said. "It's what they (her former teammates) all did to me because I was the youngest one. When I stepped out I was so afraid but they helped me through it and that's what I'm trying do with them (her current teammates). Once I leave it's just a young team so I'm trying to help them build their team stronger. It's going to work out well."
FOR MORE PHOTOS FROM THIS EVENT PLEASE CLICK HERE. TO BUY A COLLECTOR'S PRINT OF THIS STORY PLEASE VISIT 4-FeetGrafix.com.