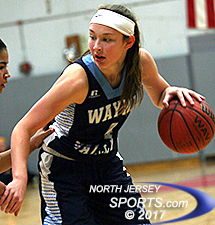 Wayne Valley point guard Stephanie LaGreca made a host of heady plays in the second half to keep the Indians comfortably in front in a 72-56 win at Fair Lawn in the season opener on Friday.
FAIR LAWN – For the past two years the Wayne Valley girls' basketball team has gone through some growing pains. Playing often against bigger, more physical, and more experienced teams within their league, the Indians struggled to put points on the scoreboard. In two games against Fair Lawn a year ago, Wayne Valley scored a combined 59 points in a pair of double-digit losses. On opening day of this season, the Indians got a chance to see just how much they have improved and how much all of the offseason work to become a more dangerous offensive team might actually pay off.
 
With a road trip on Friday afternoon to Fair Lawn, a team that returns over 90-percent of its scoring from last year, Wayne Valley showed vast improvement and made itself into a team to keep an eye on.
The Indians shot the lights out and got contributions from all over the court. Senior guard Lexi Piotrowski and backcourt mate Carson Thomas each hit a pair of 3-pointers in the second quarter as Wayne Valley opened up a sizeable lead by shooting a blistering 80-percent (8-10) from 3-point range in the first half and maintained that edge throughout en route to a 72-56 victory.
"We moved the ball really well against their 2-3 zone and it gave us a lot of confidence when we started to knock those shots down early," said Piotrowski. "I think last year we panicked a lot and we lost leads because we took bad shots. Today we really didn't take many bad shots and that shows us that we're a more mature team this year."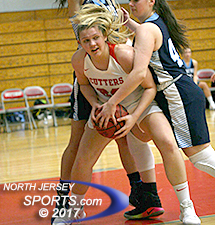 Fair Lawn's Nancy Ruf had game highs of 22 points and 11 rebounds.
Even the most seasoned of teams generally feel some jitters when playing the first game of a new season. However, that was not evident from either side as both teams came out firing in an entertaining first quarter.
Fair Lawn's returning all-league center Nancy Ruf scored on a putback to put the Cutters in front late in the first quarter, but that lead would be their last of the game as Janelle Sandowich came off the bench to nail an jumper from the wing and then a 3-pointer in the final minute, giving Wayne Valley an 18-14 advantage after one.
Back-to-back threes from Piotrowski and Thomas pushed the lead up to 15 before Fair Lawn made a bid to get back in the game. Natalie Mileski scored six points in an 11-3 spurt that trimmed the deficit to seven, but the Indians responded. Thomas' fourth 3-pointer of the half bumped the WV lead back up to double-digits by halftime, 36-26. Before the second half even began, Wayne Valley head coach Kathy Sinram had already seen signs of just how much this team has already come together.
"When I looked up and saw we had 36 points at halftime, I was pretty excited because we didn't score that many points in either game we played them last year (27 and 32)," said Sinram. "We played like a team that's been together for years just by the way we moved the ball and took care of the ball. We were really on today offensively. Defensively, we created enough turnovers and turned those turnovers into points."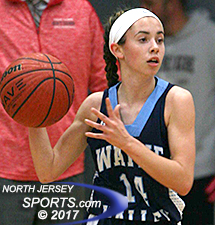 Carson Thomas made four 3-pointers and finished with 14 points for Wayne Valley.
Ruf scored two straight baskets to start the third quarter and got Fair Lawn back to within six, but never got any closer with Brianna Neary asserting her presence more in the paint and Piotrowski nailing a buzzer-beating jumper that capped a 13-2 run that put Wayne Valley comfortably in front heading into the fourth quarter, 51-34.
Fair Lawn went to full-court pressure, but the fourth quarter belonged to junior point guard Stephanie LaGreca. Every time it looked like the Cutters might make a run, LaGreca made a play to keep them at bay. She made a pair of nice pass to Neary for layups along with going 9-for-10 from the foul line over the final six minutes to secure win No. 1 for Wayne Valley (1-0).
Neary finished with team-highs of 15 points and eight rebounds, while Thomas and Piotrowski had 14 and 13 points, respectively. LaGreca stuffed the stat sheet with 12 points, eight assists, four rebounds, and two steals. The Indians also pulled off a rare feat by shooting over 50-percent from the field, 50-percent from 3-point range and over 80-percent from the foul line, a recipe for success on any level of basketball.
Ruf led all players with 22 points and 11 rebounds for Fair Lawn (0-1). Keyara Martinez and Mileski each chipped in with 10 points.
After playing so well in the first game of the season the challenge is not whether the Indians can beat the tougher teams on their schedule it is a question of whether they can improve on such an impressive performance. If they can do that, this coming-of-age team will be a force to be reckoned with not only in their league but also in Passaic County and North 1, Group 3 state tournament play.
"This was a big win for us and we showed today what we can be when we're all playing well," said Thomas. "Last year we got fatigued in close games both mentally and physically. Today we got stronger as the game went on. We want to show everyone that we're not the same team we were last year. Beating a team like Fair Lawn is a big step forward but it's just one step. Now we have to build on this and get better for the games we have coming up."
TO BUY A COLLECTOR'S PRINT OF THIS STORY PLEASE VISIT 4-FeetGrafix.com.