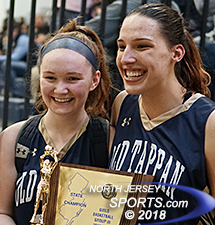 Seniors Alexandra George (right) and Sophie Downey teamed up for the game-winning three-point play with 44 seconds left in a 46-45 win over Ewing that gave Old Tappan is second Group 3 state title in the last three years,
TOMS RIVER – There was less than two minutes remaining in Sunday's Group 3 state final, the game was tied and Northern Valley/Old Tappan senior Alexandra George had a golden opportunity to put her team back in the lead. Sophie Downey drew the defense and bounced a pass to George, who proceeded to miss a layup in crunch time. Ewing then went down to the other end of the floor and took a lead with 1:04 to play in the game and, potentially the high school careers of Downey, George, Erin Harnisch and Katie Dunn, the other seniors on Old Tappan's active roster.
"I literally missed a layup," said George, NV/OT's 6-foot-1 center. "That was the biggest momentum-changer in my mind. I was like, 'Oh, no. This is my fault. We are going down right here."
So when the Golden Knights got the ball back and Downey again made a foray into the lane, who did she look to pass the ball to as the defense stepped up to cut her off?
Yup, George again.
"I was like, what are you doing? I just missed," said George. "But at that point, it is just put the ball in the basket."
With a second chance, George did put the ball through the basket and she finished through contact. She not only made the layup, but also made the accompanying free throw with 44 seconds remaining that provided the winning point in a 46-45 victory that gave Old Tappan its second Group 3 state title in the last three years..
"It's not the shots you make, it's when you make them that counts," said Old Tappan head coach Brian Dunn. "Alex missed a layup and that looked like bad news, but then she comes back and makes the layup and the foul shot. That tells you something about this group. They just keep playing."
MyAsia Jackson scored all of her game-high 16 points in the second half for Ewing.
Ewing's defensive style is to pressure the ball and it was able to force more turnovers than perhaps Dunn was comfortable with, but when Noelle Gonzalez was running the point and out of foul trouble, the Knights' offense was effective. They trailed only once in the first half at 2-0, led 11-7 after the first quarter, hit Ewing with an 8-0 run in the second quarter and led by a comfortable 23-14 margin at halftime.
The Blue Devils were slowed offensively in the first half by the foul trouble encountered by Mya Grimes, Ewing's low-post presence who picked up her second foul with 35 seconds left in the first quarter and her third 1:44 into the second.
Old Tappan led by that same nine-point spread on two different occasions in the third quarter at 25-16 and 30-21 and was up 36-28 when Jackie Kelly made two free throws with 55 second left in the period. Grimes, who was limited to just two first half points, scored six in the third quarter and her two free throws with 44 seconds left got Ewing to within 36-30 heading into the fourth quarter and the game got progressively tighter from there.
MyAsia Jackson's three-pointer with 6:06 left made it a two-point game and she hit another one with 4:00 left to cut Old Tappan's lead to a single point and then added a driving layup that gave Ewing the lead, 42-41, for the first time since Jentle Sheridan made the game's opening basket. Old Tappan then missed two free throws before Jaycee Love made one to give the Blue Devils a 43-41 advantage with 2:16 to go.
The next time down the floor, Gonzalez split two defenders at the top of the key and got all the way to the hoop for a key layup that tied the game with 2:05 remaining.
Noelle Gonzalez tied the game with a driving layup with 2:05 left in regulation.
"I saw the two girls and I knew I could split them. That is my thing; I go to the basket," said Gonzalez, the junior point guard. "I saw them kind of moving away from each other. I saw that gap and I took it."
Ewing took its last lead at 45-43 when Love scored off an assist from Sheridan with 1:04 to play before George's three-point play 20 seconds later moved Old Tappan back into the lead. Ewing's final possession started with 44 seconds left and included a timeout taken with seven seconds left, but the Devils never got off a last shot as a turnover ended their season as Gonzalez dove on a loose ball with :00.2 showing on the clock. One last inbounds pass and the celebration was on.
Jackson (16 points), Love (12 points) and Grimes (10 points) all finished in double figures for Ewing. Gonzalez led Old Tappan with 13 points and George scored all 11 of hers in the second half. Kelly added nine points, Downey finished with 7, Erin Harnisch made two free throws and Megan Weis (3 points) and Gianna Saccoccio combined for four points off the bench.
Old Tappan, which has been to the Group 3 state final in three of the last four seasons and is 2-1 in those games, started this year with a 3-3 record. Nearly three months later, the Knights are winners of 25 of their last 26 games and are one of just six teams in the state with at least one game left on its schedule. Old Tappan is the No. 6 seed and will play No. 3 Franklin, last year's T of C winner, on Wednesday in the opening round at 5:30 again at the RWJ Barnabas Arena in Toms River. Saddle River Day, the Non-Public B champ and the No. 4 seed, is the other Bergen County school in the T of C and will play Group 1 champ University, the No. 5, in Wednesday's nightcap.
"It is just an incredible feeling winning this game," said Downey, who was a sophomore contributor on the 2016 team that won the program's first ever state title, but is now a senior leader on a team heading back to the T of C. "Two years ago we made it to the first round, but no team in school history has ever won a game in the Tournament of Champions, so that has to be our next goal."
TO BUY A COLLECTOR'S PRINT OF THIS STORY PLEASE VISIT 4-FeetGrafix.com. FOR MORE PHOTOS FROM THIS EVENT CLICK HERE!