Jaida Patrick did a little bit of everything with 13 rebounds, 11 points, five blocks, four assists, and two steals as Saddle River Day won its first ever outright state title with a 73-49 victory over Rutgers Prep.
TOMS RIVER – Saddle River Day came into this season with the best collection of talent that Danny Brown has assembled in his six years at the helm of the girls basketball program. The potential was there as was the camaraderie, but the on-court chemistry has been a work in progress.
While the Rebels achieved success, including a third straight Bergen County championship, through a rugged schedule their season would be defined by whether they could play their best with a state title at stake. Facing two-time defending champion Rutgers Prep, the Rebels showed that they have officially arrived as a state power.
Saddle River Day scored the game's first seven points and never looked back. The Rebels had four player score in double-figures, led by Michelle Sidor's game-high 28 points, as they finally put it all together and pulled away in the third quarter on the way to the school's first Non-Public B state title with a 73-49 triumph on Saturday at RWJ Barnabas Health Arena in Toms River.
"We knew we had to make a statement from the jump, the better we started the more confidence we'd have," said SRD's Jaida Patrick. "This game wasn't about just playing hard. It was about talking on defense, making the extra pass, and basically doing all the little things; that's what championship teams do."
This game was a rematch of the 2015 Non-Public B state final in which Rutgers Prep set the tone early and cruised to an easy win. The Rebels turned the tables this time as, after a pair of free-throws to open the game by Jenna Jordan, Sydney Watkins canned a three and Patrick hit Sidor for a backdoor layup for quick 7-0 lead.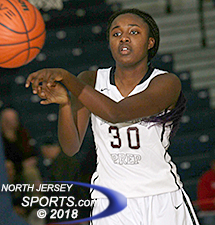 Jasmine Lyles led Rutgers with 14 points.
Ball movement was the key as the Rebels opened up their lead thanks to threes by Watkins and Sidor sandwiched around a baseline jumper from Jordan. The lead grew to double-digits on a nice up-and-under move from Patrick on the opening possession of the second quarter. Two minutes later, Patrick hit Sidor backdoor again. The standout junior guard made a nifty reverse layup for a 25-12 lead.
"It felt amazing to get off to the start that we did and for me personally to be able to contribute by knocking down a few shots," said Watkins, who will play at Manhattan College next year. "We've been having really good practices lately, but we needed to play the way we've been practicing. We had to have balanced scoring and we needed to play team defense. I don't think anyone here expected us to start the way that we did, but it all just clicked today and we didn't stop once we got on a roll."
Despite the early momentum things had the potential to unravel for Saddle River Day. First, Jordan banged knees going for a loose ball and had to come out of the game. It looked bad at the time but she was back on the court a short time later. Secondly, Jasmine Lyles single-handedly kept Rutgers Prep in the game with a strong first half off the bench.
Star junior guard Leilani Correa hit a pull-up jumper from the top of the key to start the second half and cut the lead to six, 30-24, with Jordan picking up her third foul just seconds later. This was a character-testing moment for the Rebels and they showed just how tough they could be.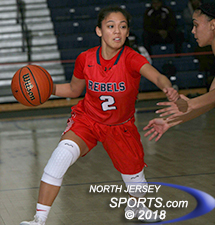 Carolyn Carrera was the defensive stopper for Saddle River Day, which will play in the Tournament of Champions for the first time.
It started on the defensive end with fantastic effort from Carolyn Carrera. Despite giving up 10 inches in height to Correa and not scoring a point all game, Carrera may have been the most valuable player on the court. Correa scored in double-figures for 12 straight games averaging 20 points per game over that stretch. Carrera not only kept her from getting into a rhythm, she held the all-stater to just seven shot attempts the entire game and a season-low six points.
"CC was awesome and played extremely well against a very good player in Correa," said Brown about his defensive standout, Carrera. "The only stat I asked my assistant coaches to keep track of was how many stops we got in a row. We made that big run to open things up in the third quarter, but we never make that run if we don't get stops. Everyone bought in and you saw that with the way we played today."
It was a total team effort with Rutgers Prep grabbing just one offensive rebound in the third quarter. Watkins hit two more three-pointers as the Rebels scored 24 points in the third quarter alone as the lead grew to 54-35 heading into the final period.
Sidor and Jordan quickly put to rest any thoughts of a miraculous comeback by scoring the Rebels' first 14 points of the fourth quarter. Sidor has done just about everything in her illustrious high school career. Check another one off the list as she dribbled out the final seconds on the school's first Non-Public B state championship.
Sidor added six assists and four rebounds to go with her 28 points for Saddle River Day (23-6). Patrick did a little bit of everything with 13 rebounds, 11 points, five blocks, four assists, and two steals. Jordan finished with her customary double-double (19 points and 10 rebounds), with Watkins hitting four three-pointers on her way to 14 points. Lyles scored 14 of her team-high 16 points for Rutgers Prep (25-5) in the first half.
The Rebels will get a much-needed day of rest before finding out what their seed will be and who they will play in the Tournament of Champions. As exhilarating as it is to win a state title, this team has their sights set on even higher goals.
"I'm so proud of this team and what we've accomplished but we're not done yet," said Sidor. "We played the smartest basketball we've played all year by far. I'm so happy right now and it's great to celebrate with my teammates. The only way it could be better is if we win the Tournament of Champions."
TO BUY A COLLECTOR'S PRINT OF THIS STORY PLEASE VISIT 4-FeetGrafix.com. FOR MORE PHOTOS FROM THIS EVENT CLICK HERE!