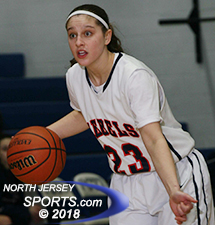 Michelle Sidor scored 19 of her game-high 25 points in the second half as Saddle RIver Day rallied past Immaculate Conception, 48-33, in the Non-Public North B state sectional final on Tuesday in Wayne.
WAYNE – At the end of last season's Non-Public North B state section final, the Saddle River Day players could only watch helplessly as the final seconds of its season ticked away. The Rebels were witness to the celebration of the now-defunct Queen of Peace program's joy of winning a section title at Saddle River Day's expense.
There was anger, there were tears and there was almost a similar feeling starting to creep up on Tuesday night when Immaculate Conception was able to slow the pace to a crawl and use that to grab a surprising halftime lead in this year's final played on Tuesday night at Passaic County Tech.
Facing another possible season-ending disappointment, star guard Michelle Sidor made it her personal mission to make sure that there would be a different ending the second time around.
Sidor scored the first eight points of the third quarter and 19 of her game-high 25 points in the second half as third-seeded Saddle River Day won its second section title in the past three years with a 48-33 triumph over No. 4 seed Immaculate Conception in Wayne.
"Last year's loss to Queen of Peace was really tough. We never wanted to feel like that again," said Saddle River Day's Jenna Jordan. "I thought Danny did a great job of getting us in and out of different defenses. We know we can score but how we play defense is the key to us winning. This team is like a big family and it feels great to move on."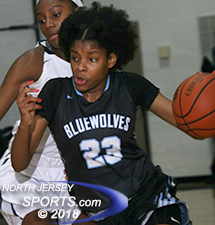 Eleanor Robinson scored a team-high 10 points for Immaculate Conception, which finished the season with a 15-10 record.
Immaculate Conception came out with a gameplan to slow the game and did that effectively throughout the first half. Kendra Lawrence scored from the baseline in the waning moments of the first quarter to touch off an 8-0 run that put the Blue Wolves in front, 15-9. Sydney Watkins answered with two straight buckets, the latter of which came with 4:34 to play in the first half.
A pace that was already slow descended even further into an absolute crawl with IC's Azatah Lawrence holding the ball near mid-court to try to draw out Rebels' center Jenna Jordan. The strategy worked as Saddle River Day refused to gamble defensively and the Blue Wolves went into the locker room with a two-point lead, 15-13.
Halftime presented an opportunity for Saddle River Day head coach Danny Brown to lay into his team and create a spark. Instead, he used the time to simply make adjustments and calmly remind his players of what exactly was at stake and what they needed to do over the final 16 minutes of play.
"I asked them how they wanted to finish their season and left it up to them to motivate each other," said Brown. "Sometimes they just need to hear a different voice and today Michelle really stepped up not just with her game but in the locker room. Once that happened, I just let everyone know what their job was and it was up to them to execute it."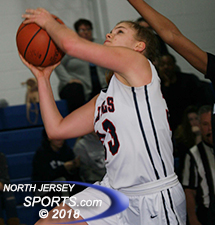 Jenna Jordan and Saddle River Day will take on Rutgers Prep in the Non-Public B state final.
Sidor hit consecutive three-pointers late in the first quarter but those were her only points of the half. She doubled that output in just 54 seconds by hitting a pair of threes on the Rebels' first two possessions of the second half before adding a layup two minutes later to cap a personal 8-0 run. Immaculate Conception kept the game close thanks to four points from Jordan McLemore and a basket from Jariah Patterson that sliced the lead to one, 24-23. The Rebels needed to get back on track and it was a hustle play that did just that.
After a missed shot, the Blue Wolves grabbed the rebound and looked to have a go-ahead possession. That was quickly dashed by freshman Jordan Janowski, who immediately poked the ball away and then dove on the loose ball for a jumpball. The possession arrow went to the Rebels, who took advantage of it. Jenna Jordan scored off of the ensuing inbounds play for a conventional three-point play. Sidor followed on the next possession with a deep 3 to give Saddle River Day some breathing room with a 30-24 lead.
"I knew we had to pick it up and I had to be more aggressive than I was in the first half," said Sidor. "When we get stops and we control the tempo good things seem to come of it."
The lead was still six early in the fourth quarter when Jordan started to take over inside. With IC's defense predicated on taking Sidor out of the game, she worked the pick-and-roll game with Jordan twice with Jordan slipping to the basket for layups that bumped the lead up to double-digits and put the game away.
Sidor kept her hot hand going over the past two weeks for Saddle River Day (22-6). She went 6-for-8 from three-point range and has averaged over 30 points per game over her last six. Jordan and Watkins finished with 11 and 9 points, respectively. Eleanor Robinson was the long player from Immaculate Conception (15-11) to reach double-figures with 10 points.
The Rebels move onto the Non-Public B state final to face two-time defending champion Rutgers Prep. The two teams met back in the 2015 Non-Public B state final with Rutgers Prep scoring a convincing 69-40 win. Sidor, Jordan, and defensive specialist Carolyn Carrera all were on the floor that day. Still playing together, the trio want to be a part of school history by bringing home a state title before going for the ultimate hardware.
"I want to win a state title and then we want to go all the way and win the (Tournament of Champions)," said Sidor, who has scored over 2,700 career points. "I've been thinking about that Rutgers Prep game ever since we lost to them my freshman year. Any game could be our last game. The way we played in the second half has to be the way we play every possession from now on. We want to win the T of C but you have to win a state title first to get there. It's not going to be easy but we'll be ready."
TO BUY A COLLECTOR'S PRINT OF THIS STORY PLEASE VISIT 4-FeetGrafix.com. FOR MORE PHOTOS FROM THIS EVENT CLICK HERE!