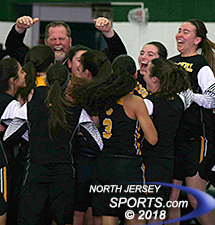 Cresskill celebrated it first state sectional title since 2012 after a 42-40 win over top-seeded Midland Park in the North 1, Group 1 final on Monday.
MIDLAND PARK – Playing in a championship game in front of a sold out crowd is something that every high school player dreams of and Cresskill freshman Colleen McQuillen got to live that for the first on Monday in the North 1, Group 1 state sectional final. Taking it one step further on the "pinch me" scale, McQuillen found herself on the foul line in the waning seconds of a tie game against rival Midland Park, which beat Cresskill in both regular-season meetings. Although the Panthers' home crowd was going crazy, the freshman guard looked totally relaxed.
McQuillen scored eight points in the final two minutes with the last two being the biggest. She calmly knocked down both free-throws with 2.4 seconds left as second-seeded Cresskill proved the third time to be a charm by pulling the upset of top-seeded Midland Park to win its first North 1 Group 1 section crown since 2012 with a thrilling 42-40 victory on Monday night.
"To be on the foul line in that situation against a good team like Midland Park I couldn't dream of something better than that," McQuillen. "My focus was on getting the crowd out of my mind and focus only on what I needed to do, which was to hit those free throws."
Both teams had a case of the jitters early with neither able to get on track offensively. Sofia Hansen hit a three from the top of the key to tie the score heading into the second quarter. Three-pointers from Sophie Green and McQuillen gave the Cougars a lead, but Chloe Kasbarian answered with a three and Hansen converted a three-point play to knot the score at 17 going into halftime.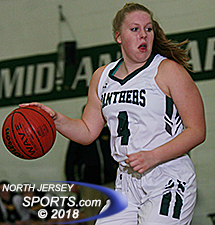 Sofia Hansen had a double-double (13 points, 12 rebounds) for Midland Park, which finished the season with a 20-8 record,
Midland Park had a height advantage inside and started the third quarter by taking advantage of it. Gillian Luberoff and Hansen were effective passing out of the post, which led to three straight baskets to start the second half. Hansen hit two free throws to put the Panthers seemingly in control with a nine-point lead with just over three minutes remaining in the third.
"That was the point in the game where if we got [the lead] to double-digits we might have felt more comfortable," said Midland Park head coach Sean O'Connor. "When we took bad shots, they got the rebound and then capitalized on the other end. They started forcing the pace to make it a track meet and we couldn't slow it down."
Another basket or two might have forced the Cresskill into panic mode. Thanks to point guard Jen Garcia that was not necessary. She hit back-to-back threes that helped give the Cougars some momentum heading into the fourth quarter by slicing their deficit to a single point.
"We needed points and I couldn't pass up any open shots," said Garcia. "The biggest thing for us was that we couldn't look up at the scoreboard. We just had to play hard and play together, that was the only way we were going to make a comeback."
The score was tied at 30, 32, and 34 before McQuillen gave Cresskill a 36-34 lead on a short jumper. The roar of the Panthers' home crowd grew to a deafening level after Hannah Douma nailed a three-pointer from the wing to put Midland Park back in front with 1:14 to play. After a Cresskill turnover, Emily Kontos scored off an inbounds play to make it 39-36 with 40 seconds remaining. The Cougars caught a break 10 seconds later when McQuillen was fouled near mid-court before hitting both ends of the ensuing one-and-one to cut the Midland Park lead back down to one, 39-38.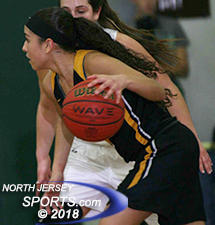 Jen Garcia made some clutch shots for Cresskill, which will play University in the Group 1 state semifinals.
Kasbarian hit the first foul shot but missed the second with McQuillen grabbing the rebound in traffic. From there she went coast-to-coast for a layup to tie the game with 21 seconds left. Midland Park had a chance for the last possession and got the ball inside. Cresskill's Courtney Madison was there for the block and Julia Matlby forced a tie-up with the possession arrow pointing the Cougars' way with 8.4 seconds left.
McQuillen then broke the pressure defense and was fouled with 2.4 seconds left. Midland Park called timeout giving McQuillen time to think what was about to happen, for better or for worse.
After watching Midland Park enjoy a victory at the Cougars' expense twice this season, it was the Cougars' time to celebrate and it was McQuillen's time to shine. The freshman showed poise well beyond her years by hitting both free throws for a 42-40 lead. The Panthers' last-second heave was off the mark as the buzzer sounded with Cresskill celebrating the program's first section title in six years.
"This is a team that will grind it out right until the very end and we showed that tonight," said Cresskill head coach Mike McCourt. "Down nine in the third quarter, we knew we couldn't get that back in one possession. It started with getting a few stops and then Jen hitting those big threes before Colleen took over at the end. It's a great feeling to see how far this team has grown and what they've achieved."
McQuillen finished with a game-high 21 points, 12 of them in the fourth quarter for Cresskill (22-8). Madison finished with eight points and a team-high nine rebounds. Garcia scored all nine of her points from behind the three-point arc. Hansen had a double-double (13 points, 12 rebounds) for Midland Park (20-8). Luberoff added 12 points and six rebounds.
Cresskill advances to the Group 1 semifinals to face one of the state's most talented teams, University (Newark). That game will be played on Wednesday at Ramapo High School with a 5:00 P.M. tip-off. The Cougars' focus though is solely on enjoying the moment and feeling the accomplishment of being a state sectional champion.
"I knew we could get to the finals, but to come here and win it feels amazing," said McQuillen. "Midland Park knew what we liked to run and we know what their strengths are, we just had to execute. This was a great game and fun to play in. Our team is so close and we never stopped believing in ourselves and now we're section champs."
TO BUY A COLLECTOR'S PRINT OF THIS STORY PLEASE VISIT 4-FeetGrafix.com. FOR MORE PHOTOS FROM THIS EVENT CLICK HERE!