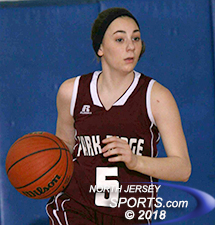 Chloe Collister helped Park Ridge get off to a fast start and it never looked back in a 52-29 win over Saddle Brook in the quarterfinals of the North 1, Group 1 state sectional tournament.
SADDLE BROOK – What does a perfect game look like in basketball? Park Ridge turned in its definition on Wednesday in the quarterfinals of the North 1, Group 1 state sectional tournament on the road in Saddle Brook on Wednesday. In front of a raucous crowd with each team's season on the line, the Lady Owls put together a 13-minute stretch in the first half where everything went right.
The catalyst to the game-breaking run was good old fashioned defense. In that dominant stretch, the Lady Owls blocked eight shots and had seven steals. Sophomore center Shannon Burns made those turnovers count on the offensive end with 10 points in a 23-0 run that essentially put the game away by halftime as fifth-seeded Park Ridge beat No. 4 seed Saddle Brook, 52-29, to advance to Friday's semifinal round.
"We know we have a good chance to win if we play good defense," said Park Ridge's Chloe Collister. "We wanted this win so bad. It all came together in the first half and we were just clicking really well."
Asia Rivera scored on a layup just over three minutes into the game that cut the Owls' lead to two, 6-4. But by the time the Falcons scored again, Park Ridge had padded their lead exponentially.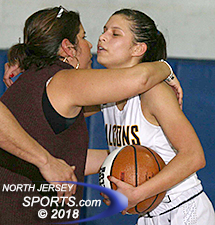 Saddle Brook's Asia Rivera scored her 1,000th career point early in the second half.
Collister set the tone by creating havoc at the top of the Owls' zone pressure. Whenever the Falcons were able to drive into the paint, Burns and Lexi Vonderleith were waiting to either block or alter shots. That often led to fast break opportunities and the Owls cashed in on them. Burns was unstoppable inside and scored on a layup and a putback to get the run started. By the time Rivera broke the long scoring drought with 35 seconds remaining in the half Park Ridge was firmly in control with a 29-6 halftime lead.
"We knew we had a size advantage inside and we wanted to use that both on offense and on defense," said Burns. "They came out in a triangle and two against me and Lexi so we had find other ways to find offense. I thought our communication was great and we started to use our defense to create our offense."
The lone bright spot for Saddle Brook (17-6) came on the first possession of the second half with Rivera hitting a three-pointer to notch her 1,000th career point. The Owls answered right back with eight straight points and cruised from there to victory.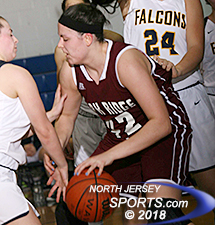 Shannon Burns and No. 5 Park Ridge will visit top-seeded Midland Park in the North 1, Group 1 semifinals on Friday.
Burns filled up the stat sheet with 28 points, 17 rebounds, five blocks, and three assists for Park Ridge (18-8). Collister and Vonderleith (who also had 12 rebounds) each had eight points, three steals, and three assists.
Park Ridge advances to the North 1, Group 1 semifinals where a familiar foe awaits, top-seeded Midland Park. They met twice in the regular season with team winning on the other's home court. For the Owls, the thought of making a section final might have been a reach back in early December, but after a solid season that has seen them steadily improve, they feel they have a good shot against any team in the bracket.
"We've beaten them once this season so we know it can be done, but they beat us pretty good the second time so it can go both ways," added Collister. "We know each other so well that it's going to come down to the little things. Not turning the ball over, boxing out, and our shot selection has to be really smart the entire game. If we pass up good shots for great ones and we play defense the way we played today, we feel like we have a good shot."
TO BUY A COLLECTOR'S PRINT OF THIS STORY PLEASE VISIT 4-FeetGrafix.com. FOR MORE PHOTOS FROM THIS EVENT CLICK HERE!