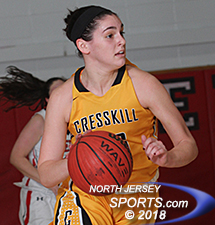 Courtney Madison and Cresskill advanced to the semifinals of the North 1, Group 1 state sectional tournament with a 49-41 win over Emerson on Wednesday night.
CRESSKILL - Cresskill opened the second and fourth quarters with 8-0 runs en route to a 49-41 victory over Emerson in the second round of the North 1, Group 1 state tournament on Wednesday night.
"That's what it is when we play them," Cresskill coach Mike McCourt said of the runs. "They're tough defensively and we play a little defense ourselves. All we had to do was try to get on a run and try to make our transition game a little more effective, which we did."
The second quarter explosion turned a 13-11 deficit into a 19-13 advantage for the Cougars with just under three minutes to go in the half.
Cresskill freshman Colleen McQuillen scored nine of her game-high 24 points in that second quarter.
"We know we have to run if we want to win games," she said. "We have to push the ball. When they're playing a zone or playing a junk defense we know to break it we have to push the ball and we've been doing it a lot more in practice. That's what wins us these games."
The Cavos fought back in those final minutes with an 8-4 run, finished off by senior Carly Petrower's three pointer with 19 seconds to go, trimming Cresskill's lead to 23-21. She finished with a team-high 19 points.
"She's unbelievable," said Emerson coach Colleen Malzahn. "She's been unbelievable for four years, with what she has done for our program. I don't know how many points she ended up with but it's pretty high on the Emerson all-time leading scorer list for her career. She does it over and over again. We're really going to miss her."
Petrower and senior Jenna Cooper have provided skill, talent and leadership since their sophomore year.
"The two of them have brought us so far," Malzahn said. "They're irreplaceable. And it's their heart, not just their talent, and how much they love basketball, love this team, love this program. I'm really upset that their season is over. Carly has a lot in the future - she's going to be playing in college - so she's got a lot of good basketball coming her way."
The teams traded baskets in the third quarter and when Petrower drove the basket and scored with 18 seconds to go the teams went into the final frame tied at 30.
A big play in the third quarter was when McQuillen picked up her fourth foul with 3:14 left, forcing her out of the game.
"I'm really proud of my teammates," McQuillen said, "because they all had to step up and they all did. It was rough at first but we showed up and made sure we knew what to do when I wasn't there."
McQuillen returned to the game and Cresskill took control in the fourth quarter. Junior Jennifer Garcia canned a free throw to break a 30-30 tie and Madison dribbled coast-to-coast for a layup. Then McQuillen drove and scored on two straight possessions and hit a foul shot to complete a three-point play with the second tally.
Suddenly, the Cougars led by eight, 38-30.
"Colleen takes over the game," McCourt said. "She does everything for us. She's our go-to."
Then the Cougars turned up the defense to keep Emerson without a fourth quarter field goal until there were 14.8 seconds left in the game. The Cavos managed only eight free throws and at one point trailed by 14 points.
"Cresskill played great defense - they always do," said Malzahn. "We got into some foul trouble and it kept some of our better offensive players out of the game. It seems like when we got down we were hoping shots would go in instead of sticking to what we do well."
A key to the defense was the play of Madison on the inside. As usual she was forced to play against taller girls. Nevertheless, she got plenty of rebounds and held the bigs to 12 points combined for the game.
"I've been playing the big girls since I was a freshman so I had to get used to it," she said. "I'm not as big as them but I definitely hold my own in there. I know how to three-quarter and I know how to play the post. It comes to me naturally now. It was definitely hard playing against them. They're much bigger than the girls on our team. We don't have any tall girls like they do."
"Courtney plays her butt off," McCourt said. She's a great kid and she's the toughest kid in Cresskill, playing with a broken nose. I don't know many boys that play with a broken nose."
These evenly-matched teams split their regular season games, the Cavos topped the Cougars in last year's state tournament and now Cresskill is the team that continues on in the state tournament.
"It's crazy," said Malzahn. "Every single game with them comes down to the end. It almost got away from us and we had to put up a fight at the end. It's stressful, but it is fun. It's more fun when you win. You want to coach in big games like this and it's great to have such a great coach to coach against."
The Cougars will host Hasbrouck Heights in the semifinals at home Friday night.
"We were all really excited because of what happened last year in the state tournament," McQuillen said. "Cresskill lost in overtime and I know it wasn't my team but I knew I wanted to win for my teammates who played last year. We were all looking forward to it. When the state bracket came out we knew we had to win the first game so we could play Emerson."
"Every year, since my freshman year, it's almost the same game," added Madison. "It comes down to the end. We played extra hard, even without Colleen when she fouled out. When she was in she did an amazing job. She held the team and we just feed off her energy the entire time. So even when she wasn't in we played a tough game. We went into the locker room so happy. As a team we all were hugging and we're ready to play the next game."
TO BUY A COLLECTOR'S PRINT OF THIS STORY PLEASE VISIT 4-FeetGrafix.com.