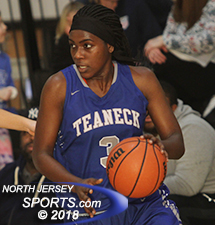 Ebony Brown scored a game-high 19 points for Teaneck, the No. 13 seed that pulled a 49-38 upset of No. 4 River Dell in the opening round of the North 1, Group 3 state sectional tournament.
ORADELL -- Teaneck pressured River Dell with a full court press for the entire game and rode it to an upset of the fourth-seeded Golden Hawks, 49-38, in the opening round of the North 1, Group 3 state playoffs on Monday night.
"That's the first time we've ever done that," Teaneck coach Trinnete Carruthers said. "I told them let's just use fresh bodies, get some other girls out there to keep the pressure on. The girls studied the film and went over it on the court. I said that's the way we're going to win - if we press the entire game. We had to dig deep. We have seven seniors. It's now or never."
"We rely mostly on each other," added senior Jessica Bernard. "In practice we do a lot of drills where we learn to work together. If somebody lapses at a point during the game there is always someone there to pick them up and keep going. We really didn't want to lose and when we don't want to lose we push ourselves even farther."
This is the second year in a row that the Highwaywomen, seeded No. 13 due to their 12-15 record, knocked River Dell out in a playoff scenario. Last year they bounced the Hawks out of the Bergen County Tournament.
"It's a tough environment," said Carruthers. "They have lots of fans, it's loud but I told the girls we have to be ready to play. I told them not to worry about our record. It's not where it should be. Right now it's the state tournament; you have to win. It's that simple."
Julie McGovern finished with 10 points for River Dell.
River Dell grabbed a 5-0 lead in the first two minutes of the game on a drive to the basket by senior Julie McGovern and a three-pointer by junior Kaitlyn McKinless. Bernard and fellow senior Cara Faulkner cut the deficit to 5-4, but Hawks senior Katelyn Gillies scored inside to boost the lead back up to three.
In between, the Highwaywomen's pressure defense was forcing River Dell into turnovers but Teaneck was unable to convert on offense.
That changed after Bernard canned a pair of free throws to again cut the Hawks advantage to one.
River Dell inbounded the ball but Teaneck senior Ebony Brown stole the pass and immediately swished the first of her four three-pointers to give the Highwaywomen the lead for good, 9-7.
Teaneck kept the pressure on and closed out the first quarter with a 10-2 run to take a 14-9 advantage into the second quarter. River Dell fought back, however, outscoring Teaneck, 9-6, to cut the halftime deficit to two, 20-18.
Teaneck scored the first five points of the second half with a long three by Faulkner and a basket inside by Brown, but River Dell scored the next five points on a three by McKinless and a drive by sophomore Logan Grebla to stay close.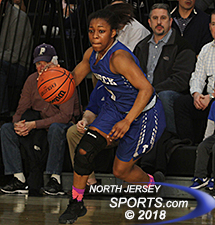 Tamia While scored 8 points and added 5 assists for Teaneck, which will play Wayne Valley on the road in the quarterfinals.
"On offense and defense we just had to keep our cool and talk to each other," said White. "We struggled this season communicating. Today we talked on offense, talked on defense and kept everybody together. We played as a team. You saw different girls coming off the bench. That's what helped us - fresh legs and communication."
The fresh legs and increased communication kept the pressure on and it finally got to the Hawks again as the Highwaywomen scored the final eight points of the third quarter to grab a 10-point lead, 33-23.
"I thought we handled the press really well in the second quarter," said Hawks coach Lindsay Steffner, "but for some reason we got away from it. We just didn't handle it well."
"It feels better when you're pressing them," said White, "because when you get steals you feel like you have to score. When we don't press it slows our game down and we don't score as much. We never catch that spark. When we press and get steals that sparks us and we can keep going."
Brown opened the fourth quarter with a three and when Faulkner did likewise a minute later the Highwaywomen led by 14. River Dell chipped away a bit, but Brown drained another three to boost the lead to 12 midway through the final frame.
"She came through," Carruthers said of Brown. "She's a shooter. I tried to get her inside to get some inside game for us. It's out of her comfort zone but we knew we had to get No. 11 (Katelyn Gillies) in foul trouble. She stepped up for us."
As a result of moving inside, Brown also scored from in close and more importantly set up teammates for jumpshots on the perimeter.
"At the beginning of the season I was a perimeter player," said Brown, who finished with a game-high 19 points. "I didn't attack because of some injuries, but now I got my confidence back and I attack. When I play inside-out we all play as a team and have good results."
"We try to work inside-out," Carruthers said. "We have five rules: rumble into the court, box out on every shot, make the extra pass, dive on the floor for loose balls and take a charge. If they follow those five rules we'll be OK. And they made the extra pass. That inside-out is making the extra pass."
Teaneck will travel to Wayne Valley Wednesday for the quarterfinals.
"We had a tough season - a lot of ups and downs," Carruthers said. "Our record is definitely not what we wanted it to be. The girls felt they had something to prove. We're not done yet. We're taking it one game at a time."
"This gives us confidence going forward," added White. "Going into the next round against Wayne Valley we're looking to keep moving on as far as we can go, which we hope is very far."
TO BUY A COLLECTOR'S PRINT OF THIS STORY PLEASE VISIT 4-FeetGrafix.com. FOR MORE PHOTOS FROM THIS EVENT CLICK HERE!