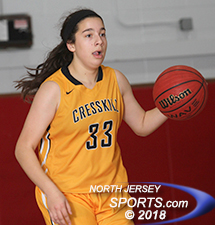 CRESSKILL's COLEEN McQUILLEN
NORTH JERSEY -- The hoops state tournament begins on Monday afternoon, but, really, there is no reason to go out and watch. The NorthJerseySports.com Super Computer™ tells you what will happen before the games are even played. It is aging technology, but it is never wrong. So, without further ado, here is what is to come for North Jersey teams in the girls basketball state tournament...
North 1, Group 1
The Seeds: 1. Midland Park 2. Cresskill 3. Hasbrouck Heights 4. Saddle Brook 5. Park Ridge 6. Pompton Lakes 7. Emerson 8. Cedar Grove 9. Waldwick 10. Butler 11. Wallkill Valley 12. North Warren 13. Wood-Ridge 14. Passaic Charter 15. Palisades Park 16. Boonton
Player to Watch:
Colleen McQuillen, Cresskill
McQuillen has picked up right where her older sister, 2017 graduate and all-county point guard Erin, left off. Just a freshman, McQuillen has quickly made her mark by scoring in double-digits in every one of the Cougars' games this season. She averages over 20 points per game and is already one of North Jersey's best when it comes to driving to the basket.
Dark Horse:
Emerson
The reigning section champion is dangerous as a No. 7 seed with one of the section's most dangerous inside-outside combinations in seniors Carly Petrower and Jenna Cooper. They have plenty of big-game experience that will prove valuable in a wide-open section.
Biggest First-Round Upset:
No.9 Waldwick over No. 8 Cedar Grove
Jessica Turner has quietly been a consistent scorer for the Warriors. If they can find a secondary scorer, likely Lauren Toolen, this is a game Waldwick will win on athleticism alone.
First-Round Winners:
Midland Park, Waldwick, Park Ridge, Saddle Brook, Hasbrouck Heights, Pompton Lakes, Emerson, Cresskill
Quarterfinal Winners:
Midland Park, Park Ridge, Hasbrouck Heights, Cresskill
Final:
Midland Park vs. Cresskill
Champion:
Midland Park
Midland Park has three things going in its favor. More depth than any other team in this section, balanced scoring, and home-court advantage throughout. That will be enough to carry the Panthers to victory.
LAKELAND'S KEIRA MARKS
North 1, Group 2
The Seeds: 1. High Point 2. Westwood 3. Jefferson 4. Glen Rock 5. Lakeland 6. Dumont 7. Kittatinny 8. Kinnelon 9. Mahwah 10. Lenape Valley 11. Newton 12. Lodi 13. Elmwood Park 14. Pascack Hills 15. Hawthorne 16. Ramsey
Player to Watch:
Keira Marks, Lakeland
This section is chock full of good teams, but no player does more for her team than Marks. The sophomore guard gets is done on both ends of the floor. She can not only score and defend but also excels at the intangible aspects of the game that keep the Lancers competitive.
Dark Horse:
Lakeland
Coming off a tough loss in the Passaic County final along with the loss of center Allison McBride (ACL), the Lancers will need to regroup quickly to make a run at a section title. Along with the aforementioned Marks, Skylar Catalioto and Sammy Jost provide rock-solid defense in the backcourt. Watch out for three-point shooter Amanda Cook to have more an offensive role during the state tournament.
Biggest First-Round Upset:
No. 9 Mahwah over No. 8 Kinnelon
Mahwah forward Sam Haubner is a matchup nightmare who will get her points either in the paint, at the foul line, or from the outside. Brenna Forgette has had some clutch performances this season and will have another to lead Mahwah to victory.
First-Round Winners:
High Point, Mahwah, Lakeland, Glen Rock, Jefferson, Dumont, Kittatinny, Westwood
Quarterfinal Winners:
High Point, Lakeland, Jefferson, Westwood
Final:
High Point vs. Westwood
Champion:
High Point
This will be a rematch of last year's final that High Point won on a last second three. Both teams have played a tough schedule, but High Point has by far the best player in the section. Siena-bound guard Margo Peterson can simply do it all and she will make sure that High Point repeats as champion.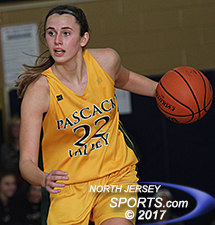 PASCACK VALLEY's KELLY PETRO
North 1, Group 3
The Seeds: 1. Pascack Valley 2. Montville 3. Old Tappan 4. River Dell 5. Wayne Valley 6. Northern Highlands 7. Ramapo 8. Sparta 9. West Essex 10. Indian Hills 11. West Milford 12. Roxbury 13. Teaneck 14. Demarest 15. Wayne Hills 16. Passaic Valley
Player to Watch:
Kelly Petro, Pascack Valley
There are few players in the state who can have a positive impact on a game the way Petro does. She can be the most important player on the floor without taking a shot or without having the ball in her hands. The Holy Cross-bound Petro is an athletic player who does not turn the ball over and can guard every position on the floor. Very few players in the state have that skill set .
Dark Horse:
Old Tappan
The Golden Knights have run over the competition in 2018. They have won 18 of their 19 games with their only loss coming by a single point to Immaculate Conception in the Bergen County semifinals. Jackie Kelly and Noelle Gonzalez have emerged as one of North Jersey's top backcourts and 6'1" Alex George gives the Golden Knights an inside presence that few teams can match up with.
Biggest First-Round Upset:
No. 10 Indian Hills over No. 7 Ramapo
You know the old saying that it's tough to beat a team three times in one year? I hate that saying but in this case it rings true. Ramapo has gotten the best of their archrival in each of their two regular-season meetings. But with Angela Saric inside the Braves are always a threat. If the Braves can navigate Ramapo's zone defense and get her the ball inside she'll get to the foul line often, which is turn will give the Braves a good chance to pull the upset.
First-Round Winners:
Pascack Valley, Sparta, Wayne Valley, River Dell, Old Tappan, Northern Highlands, Indian Hills, Montville
Quarterfinal Winners:
Pascack Valley, River Dell, Old Tappan, Montville
Final:
Pascack Valley vs. Old Tappan
Champion:
Pascack Valley
This will be the rubber game between these two programs. It has emerged as one of New Jersey's best rivalries. Both teams bring a ton of talent, great coaching, and a successful system to the table. Pascack Valley has two of North Jersey's top shooters in Brianna Wong and Brianna Smith. The X-factor will be the play of Toriana Tobasco, the Pascack Valley senior who can impact a game in a variety of ways on both ends of the floor. In what has been a dream season for head coach Jeff Jasper, the Indians will win a close one on their way to repeating as Group 3 state champs.
KENNEDY'S TANIESHA GILBERT
North 1, Group 4
The Seeds: 1. Morristown 2. Passaic County Tech 3. Kearny 4. Morris Knolls 5. Ridgewood 6. Fair Lawn 7. North Bergen 8. Randolph 9. West Orange 10. Paterson Kennedy 11. Hackensack 12. Clifton 13. Belleville 14. Bergen Tech 15. Union City 16. Bloomfield
Player to Watch:
Taniesha Gilbert, Kennedy
Gilbert is an athletic slasher who likes to get in the paint and can finish. The junior has scored in double-figures in all of the Knights' games this season and averages 19 points and nine rebounds per game. The Knights are just as capable to make a section final as they are to getting blown out in the first round. If Gilbert can dominate she will make the Knights a dangerous out.
Dark Horse:
West Orange
Mya Bembry fills up a stat sheet as well as any player in New Jersey. She earned second- All-state honors as a sophomore and has backed that up with a great junior season. She averages 19 points, 12 rebounds, five steals, and three assists per game. She has also come up big in the clutch throughout the season, including a game-winning three-pointer in an upset win over Bergen County champion Saddle River Day. Her presence alone makes the Mountaineers a threat to go all the way.
Biggest First-Round Upset:
Hackensack over Fair Lawn
Hackensack has shown when at its best that it can be a formidable opponent. That is shown by wins over Ridgewood, Northern Highlands, and Ramapo. Gena Kaminski is a quick guard who can shoot it along with leading scorer and rebounder Kyara Cowan inside as a threat. The Comets have the ability to make a deep run in the bottom half of the bracket, which is much weaker than the top half.
First-Round Winners:
Morristown, West Orange, Ridgewood, Morris Knolls, Kearny, Hackensack, Paterson Kennedy, PCT
Quarterfinal Winners:
West Orange, Ridgewood, Kearny, Paterson Kennedy
Final:
West Orange vs. Kearny
Champion:
West Orange
The Super Computer often malfunctions when teams out of our coverage area are picked to win so we'll just move on.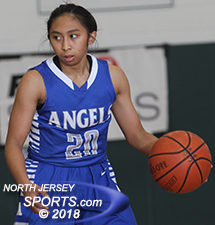 HOLY ANGELS'S ELENA PULANCO
Non-Public A North
The Seeds: 1. Immaculate Heart Academy 2. Paramus Catholic 3. Union Catholic 4. Kent Place 5. Oak Knoll 6. Holy Angels 7. Mount St. Dominic 8. Pope John 9. St. Dominic Academy 10. DePaul
Player to Watch:
Elena Pulanco, Holy Angels
Pulanco is the most experienced player in this season. She can single-handedly carve up defenses by herself, especially ones that choose to press. The Wofford-bound senior has also played her best against top competition highlighted by a 29-point performance against Old Tappan.
Dark Horse:
Holy Angels
Any time Holy Angels is not a top two seed in this section it is a threat to pull one or more upsets. Senior Colby DeBellis is a streaky three-point shooter who can heat up at any time and Caroline Staff has grown into a consistent performer as the season has gone on. As the No. 6 seed, the Angels have everything to gain and are the one team in this section nobody wants to face.
Biggest First-Round Upset:
None
Quarterfinal Winners:
IHA, Oak Knoll, Holy Angels, Paramus Catholic
Final:
IHA vs. Holy Angels
Champion:
IHA
The Blue Eagles are simply too big, too quick, and too physical for any team in this section. Freshman A'Nyah Barker is North Jersey's quickest player and watch out for sophomore Anna Morris to take over inside and lead IHA to yet another section title.
Non-Public B North
The Seeds: 1. Morris Catholic 2. Hudson Catholic 3. Saddle River Day 4. Immaculate Conception 5. Morristown-Beard 6. Marist 7. Villa Walsh 8. St. Elizabeth 9. Newark Academy 10. Mount St. Mary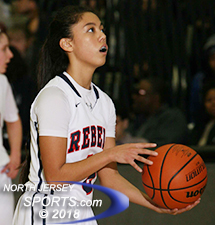 SADDLE RIVER DAY'S CAROLYN CARRERA
Player to Watch:
Carolyn Carrera, Saddle River Day
There are a ton of players in this section who can take over a game on the offensive end by themselves. To become a section champion that has to be true on the other end as well. The Rebels have just that in the 5'1" Carrera. Her speed and tenacity gives opposing players fits and also allows her teammates to take more chances defensively. She is the type of player that coaches love and also need to be successful in state tournament play.
Dark Horse:
Marist
The Royal Knights have an abundance of talent led by junior guard Breyanna Frazier, but they also have a few puzzling losses on their resume. It has been a disappointing season for Marist but that can be rectified with a huge upset over Saddle River Day in the quarterfinal round.
Biggest First-Round Upset:
None
Quarterfinal Winners:
Morris Catholic, Immaculate Conception, Saddle River Day, Hudson Catholic
Final:
Morris Catholic vs. Saddle River Day
Champion:
Saddle River Day
Falling apart late in last year's loss to Queen of Peace in the Non-Public B North section final has fueled the Rebels all season. They possess the best scorer in the section in Michelle Sidor and the best pure defender in Carrera. If Jenna Jordan can continue to dominate the boards and Sydney Watkins can bury open jumpers, this team will be tough to slow down let alone stop in this section.
TO BUY A COLLECTOR'S PRINT OF THIS STORY PLEASE VISIT 4-FeetGrafix.com.