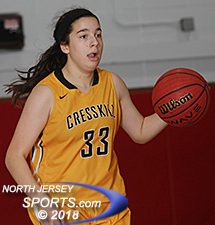 Freshman Colleen McQuillen poured in 39 points for Cresskill, which took the lead in the second quarter and held it the rest of the way in a 58-35 win over Park Ridge on Tuesday afternoon.
CRESSKILL - Freshman Colleen McQuillen poured in 39 points to propel Cresskill past Park Ridge, 58-35, on Tuesday afternoon as both teams sharpen up for the North 1, Group 1 state sectional tournament.
"She's good," said Cresskill junior Courtney Madison, speaking of McQuillen, the freshman point guard. "She brings a lot of energy to the team. Her drive to score, her drive to steal balls - we feed off of her definitely. She may be a freshman but she's another leader on this team, besides Julia [Maltby] and me."
Junior Sophie Green gave Cresskill its first lead of the game by draining a three-pointer two-and-a-half minutes into the game. After Owls sophomore Lexi Vonder Lieth gave Park Ridge a 4-3 lead with a put-back, Madison found McQuillen down low for a layup. Less than a minute later junior Jennifer Garcia hit McQuillen with a pass underneath and the advantage grew to 7-4.
"We constantly feed the ball inside to the post during practice," said Madison. "It's going to be open if you have post moves inside. Even Colleen is now one of our post players. She's doing great. She passes the ball inside because she gets the ball where it needs to be at all times. It works. We run what we have to run."
"We work on pass and cut," said Cresskill coach Mike McCourt. "A lot of times when you cut if you just wait in the lane for a second that defense expands. Once it expands, bang, you can hit it."
Park Ridge rallied back with a drive to the basket by senior Kristina Anzilotti and three-pointer by sophomore Shannon Burns to grab a 9-7 lead, but McQuillen scored five points in the last minute of play to give the Cougars a 12-9 lead heading into the second quarter. It was a lead they would not relinquish the rest of the way.
As the second quarter began the Cougars picked up where they left off.
McQuillen scored on a coast-to-coast layup and then fed Green underneath for a score. McQuillen went coast-to-coast again, hit a pair of free throws and drained a three. Green also swished a three and when the smoke cleared the Cougars had completed a 19-2 run to grab a 26-11 lead.
"They can go on runs like this," McCourt said. "It's amazing. Colleen is amazing for a freshman. She makes us go. She's like the catalyst. We knew they were going to try to junk her so we needed to get the ball to her in transition early and that's what we did."
"It's a special part of the game pushing everybody to do better and getting them open," McQuillen added. "If I'm not making shots I'm going to get my teammates open and get them to make shots. It's one of the best parts of the game."
The defense was a key to the success of the Cougars in this game.
"Defense is an important part of our game," said McQuillen. "That's pretty much what fuels our offense. I think every game we go on a run, every game we play well offensively is all because of the work we put in on defense. We emphasize defense a lot. We have to work hard down there to get open shots down the floor."
"We mixed it up," said McCourt. "We played a little match-up zone, which we always work on, and man-to-man. Man-to-man is our staple. It's what we go to all the time. We try to do the right things in the paint. We don't play behind people. We switched back and forth and it worked out. Our press gave us a couple of turnovers, which was nice. "
Green contributed 11 points for the Cougars, while Burns led the Owls with 15.
"It was our defense that helped us," said Madison. "It kept the bigs from scoring as much as they usually do. We kept them off the boards and that's what we needed. The guards did their jobs guarding Park Ridge. We all did our jobs collectively and we worked as a team a lot and it helped us win this game."
TO BUY A COLLECTOR'S PRINT OF THIS STORY PLEASE VISIT 4-FeetGrafix.com.