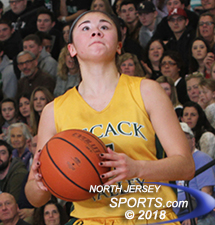 Brianna Wong scored her 1,000th career points during Pascack Valley's 76-42 win over Ridgefield Park in the quarterfinals of the Bergen County Tournament.
HILLSDALE - Pascack Valley made it into the semifinals of the Bergen County Girls Basketball Championship with a 76-42 victory over Ridgefield Park in the quarterfinals Saturday afternoon.
"It's an awesome feeling," said Indians senior Kelly Petro, who led all scorers with 18. "Before the game we talked about it as a team about how much we want to make it all the way to the finals. It's one game at a time in the counties and I think getting past this game was a huge thing for us. It motivates us."
The motivation is a result of last year's 43-41 loss in the Round of 16 to Old Tappan. That loss not only knocked the Indians out of the 2017 county tournament but it also gave them their first loss of the season.
Last week Old Tappan once again handed Valley its first loss of the season with a 48-37 regular season victory.
"We were feeling really good for a while. We were 16-0 and it [the loss to OT] put it into perspective for us and gave us the motivation like it did last year," Petro said of this season's team. "It was almost the same situation except last year it was in the counties. We saw how much it motivated us last year. It stunk to feel that again, going through the same thing, but they're (the Golden Knights) such a great team. They're always such good competition and we have that rivalry all the time."
This season's motivation began with a bang; a 75-34 win over Holy Angels two days after the loss to Old Tappan. It continued against the Scarlets as the Indians jumped out to a 10-2 lead four and a half minutes into the game. By halftime the lead had grown to 37-11.
"We always practice getting the ball in transition and pushing it up," said Petro. "I think that's something we did really well today. We got seals on defense, we got rebounds and we pushed the ball up in transition."
"When we play well we come out with great energy," added coach Jeff Jasper. "We had a couple of times this year where our energy level has been a little suspect. In those days we're a notch down from the way we normally play. Today the energy level was high. We were moving well and we looked like we were wonderfully choreographed and that's what made a difference."
While the offense was humming along the defense shut down the Scarlets' shooters.
"After the Holy Angels game," said Petro, "Jasper sat down with all of us - freshman, jv, the whole team and said, 'if you can't play defense then your offense doesn't matter.' I think that's one of the things we pride ourselves in. I think we really showed how much knowledge we have on how to play defense, how quick we are and how much 'hearts and guts' we have."
Valley stayed in control the rest of the way and with 5:14 to go in the game senior Brianna Wong drove to the basket and scored. The horn at the scorers table suddenly blared and the Indians players surrounded Wong, hugging her and patting her on the back. She had scored her 1,000th career point. Wong said she knew it was coming but was nevertheless surprised when the horn sounded.
"I knew because on nj.com it said that I had 51 to go," she said. "So I thought that it might happen in a couple of games. Today I saw Jasper say to the other coach (Scarlets coach Nicole Pucciarelli) something about No. 5 and I didn't see any No. 5 on their team. Then he called timeout and he said he wanted Bri Wong shooting and he told me to work hard to get open. I was so confused when it happened." 
"Only three of us knew," Petro said, "and Jasper said, 'do not tell anyone.' I hugged her and she said, 'what's going on?' I told her she just scored her 1,000th point. She's a phenomenal player and she just came out and played her game."
When play resumed the subs had entered the game. Wong finished with 17 points, junior Brianna Smith tallied 13 and senior Tori Tabasco chipped in with 10.
"It's the beautiful part of sharing the ball," said Jasper. "Every one of those kids can score."
IMMACULATE CONCEPTION 45, OLD TAPPAN 44 (OT)
In the second game at Pascack Valley High School, Immaculate Conception defeated Old Tappan in overtime, 45-44.
The Bluewolves stormed out to a 7-0 lead but the Golden Knights stormed back to grab a 10-9 lead by the end of the first quarter. After that neither team led by more than three points until the overtime period.
The lead changed hands three times in the last minute and a half of the fourth quarter.
Knights sophomore Gianna Saccoccio stole the ball and fed junior Jaclyn Kelly for a fastbreak layup and 37-36 lead. Bluewolves freshman Eleanor Robinson hit a jumper to give IC a 38-37 advantage, but Kelly hit a three-pointer to give Old Tappan a 40-38 lead with 44 seconds to go. With 27.3 seconds left Robinson canned a pair of free throws to tie the game at 40.
Old Tappan took possession of the ball but the Bluewolves defense prevented the Golden Knights from even getting a shot off so the teams headed to overtime.
Senior Jordan McLemore hit a jumper to give the Bluewolves a 42-40 lead midway through the overtime and on the ensuing possession sophomore Jariah Robinson beat the Old Tappan defense down the court for a layup and 44-40 lead.
Kelly drained a three with 1:35 to go and senior Alexandra George hit a free throw to tie the game, 44-44 with 40 seconds left.
Immaculate Conception went into a stall, passing the ball around the perimeter until McLemore drew a foul with 7.3 seconds left. She made 1-of-2 free throws to give the Bluewolves a one-point lead and Old Tappan called timeout with 3.9 seconds to go.
The Golden Knights got the ball in, made a pass, then another and a three-point attempt was wide of the mark and the buzzer sounded, ending the game.
The Bluewolves move on to play Pascack Valley in one of the semifinal games next weekend at Ramapo College.
TO BUY A COLLECTOR'S PRINT OF THIS STORY PLEASE VISIT 4-FeetGrafix.com.