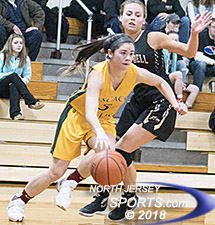 Brianna Wong scored a game-high 15 points for Pascack Valley, which got a tough test from River Dell before posting a 50-43 win the Round of 16 of the Bergen County Tournament
OLD TAPPAN - River Dell gave undefeated Pascack Valley one of its toughest tests of the season to date in the Round of 16 of the Bergen County Girls Basketball Championship on Saturday morning, but the Indians prevailed, 50-43, to help erase the memory of an early exit from the 2017 tournament.
"This was our most competitive game," said Indians senior Brianna Wong. "The difference between this game and all of our other games is they came in wanting it more than the other teams. They outplayed us on some plays and we had to come back and outplay them on other ones."
The defense for both teams was spectacular and was a big reason River Dell was able to keep the game close.
"We've been playing very good defense as of late," said Hawks coach Lindsay Steffner. "We've won nine in a row because of our defense. We weren't putting up offensive numbers but we were holding teams to an average of 27 points.

"Our goal was to hold Valley to around the 50-point mark. They've been averaging somewhere in the 70's against very good competition. I told our girls to focus on defense and control what we can control. Get out on the shooters and stay with it."
The Golden Hawks led for much of the first quarter. Senior Chloe Derian canned a three-pointer to break a 5-5 tie and, after Wong and senior Kelly Smith scored for Valley, RD senior Julie McGovern drove and scored as River Dell regained the lead, 10-9. Wong tallied a three-point play with 28 seconds to go and Valley led, 12-10, after the opening period.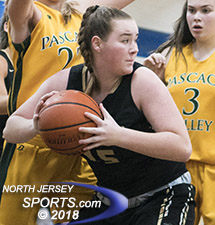 Logan Grebla and No. 18 River Dell hung in there with second-seeded and undefeated Pascack Valley.
The Golden Hawks hung tough, however, throughout the rest of the game. After Indians senior Kelly Petro scored from in close, River Dell junior Kaitlyn McKinless swished a three-pointer to cut the lead to one. Then a pair of free throws by McGovern gave the Hawks a 15-14 lead.
An eight-point run, including a three-pointer by senior Cerina Dunkel, a three-point play by Wong and a coast-to-coast layup by Petro, gave the Indians a seven-point advantage. A trey by Hawks sophomore Logan Grebla cut the lead to four and the teams went to intermission with Valley ahead by only four, 22-18.
Indians coach Jeff Jasper was impressed by the Hawks effort and the coaching of Steffner.
"She did a marvelous job," he said of Steffner. "She had a good game plan. The kids played awesome; they knocked down the shots they needed to. They shot extremely well and they defended well. And that was great for us to see. Every time we come out of a game like this, it's a learning experience and it makes us a little better for the next time."
The Indians opened the second half with a 9-2 run to give themselves some breathing room. The teams traded baskets most of the rest of the way. The Indians led by as many as 12, while the Hawks were able to get within eight points a couple of times.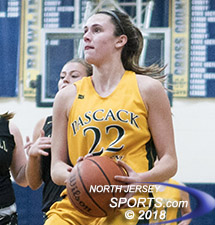 Kelly Petro and Pascack Valley with play Ridgefield Park in the quarterfinals.
"I know as a team we wanted this so bad," said Petro, "especially after last year when we got kicked out of counties. This is something our hearts are set on so we know the importance of the game. Every game we play we're out there to win it - we have a lot of heart and guts as Jasper likes to say."
A key to the game might have been the insertion of Indians sophomore Sofia Bautista into the lineup in the second half. She used her size and talent to take control of the inside.
"She did [take over inside]," Steffner said. "Because they have an outside game we can spread our defense out a little. With her in [the game] we had to readjust how we play them. She's a sophomore but she's got good size, good hands and she made her foul shots."
"It's always a matter of trust," said Jasper. "They all work very hard in practice but sometimes they have a difficult time executing in quality minutes of the game. Sofia has been coming along and as you do better when you are on the floor you develop that trust. Once you develop that trust you have an opportunity to play. We're always going to play the players that earn that trust. Once you earn the trust and you make mistakes that's ok. If you make the mistakes before you earn the trust, in quality minutes you can't be on the floor. In her case she has now gone up and over and she has earned that trust, she earned her time and she'll see more and more quality time."
Wong led all scorers with 15 points. Petro added eight points, snagged six rebounds and dished five assists. Kelly Smith scored six and pulled down six rebounds for Pascack Valley, which will take on Ridgefield Park next Saturday in the quarterfinals. McGovern led River Dell with 12 points.
"River Dell came out and played smart and they played hard," said Petro. "I think we were prepared for the game we just have to make sure our heads are in it. They're an amazing competitor and we have to take it one game at a time."
"Our goal was to make this a game," said Steffner. "We did not want to go in and get blown out, like they've been doing to [other teams]. They get on a roll, hit shots in transition. They're a very talented group. We battled defensively. I just wish we could have gotten some defensive rebounds down the stretch to keep it a little bit closer."
TO BUY A COLLECTOR'S PRINT OF THIS STORY PLEASE VISIT 4-FeetGrafix.com.