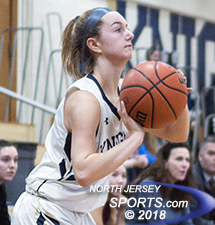 Junior Jackie Kelly scored a team-high 18 points for Old Tappan, which raced out to a 9-0 lead on the way to a 57-42 win over Ridgewood in the Round of 16 of the Bergen County Tournament.
OLD TAPPAN – NV/Old Tappan's girls basketball team have had a habit of getting off to slow starts and turning it on in the second half. But against Ridgewood Saturday afternoon the Golden Knights made it a bit easier on themselves by jumping out to a 13-2 lead and coasting home to a 57-42 victory in the Round of 16 of the Bergen County Woman's Coaches Association Tournament.
"It's a matter of shooting the ball better in the first half, coming out and making a couple of shots," said Old Tappan coach Brian Dunn. "Getting off to a good start is huge because I think we play really good 'D.' If we can get out to a lead it puts a lot more pressure on the other team. It's always great when you can make a couple of shots early."
Golden Knights junior Jaclyn Kelly hit a couple of shots and a three and then zipped a pass inside to senior Sophie Downey for a layup and a 9-0 lead.
"Recently we've decided to come out strong and that's what we've needed to do in order to be a good team," said Kelly, who led the Knights with 18 points. "It's our game from the start. We know we still have to come out strong whether it's the first quarter or the fourth quarter. We got it back. We never give up. We're coming out the same way."
Midway through the first quarter senior Alexandra George ripped down a rebound and fed senior Erin Harnisch, who dribbled coast-to-coast for a layup and 20-6 lead. George is an important piece who sat out her junior year in 2016-17 with a torn ACL. Now she is back and steadily improving on offense.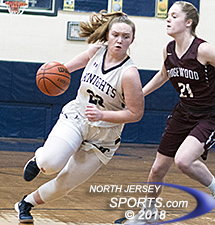 Sophie Downey and sixth-seeded Old Tappan will get a shot at No. 3 Immaculate Conception in the Round of 16.
"It's a huge adjustment [for the team]," George said. "Sophie (Downey) was on the team last year and is a post player that also plays outside. So we can do a lot of 5-out stuff. I'm mostly a post player who plays inside so that's an adjustment everyone had to make. I never really played with these girls because when I was younger I was playing with the upperclassmen. I grew up with them but it was a hard adjustment to make."
"We weren't used to having Alex there," Kelly added. "We need to work around her because now she's in the post. We needed that. I think that's why we're coming out strong now. That's why we're getting a lead."
The Old Tappan offense moved the ball around smartly finding open shooters as they continued to extend their lead.
"That's something we work on all the time," said Kelly, "because we have a great all-around team. It's not like we have one person. We're a team - there is no one who really stands out. We work together - we give everyone chances. Everyone is a different player on the court."
"Our game plan is to make sure we find the open player and share the ball all the time," said Dunn. "The last bunch of games we've been up in the 60's, scoring a fair amount of points and in all those games we had five kids in double digits. It's about sharing the ball, kids knowing to play to their strengths and making sure their teammates are playing strong. Be a good player and a good teammate by getting someone else in a good spot where they are comfortable."
The Golden Knights defense was also important in the victory.
"Defense is key," said Kelly. "If we're not having a good day on offense we at least have to have a good day on defense. We practice defense, defense, defense. Offense will happen as long as our defense is great."
George is a key component of the defense, particularly her shot blocking ability.
"That's one of my favorite things because it's a huge momentum changer," she said. "A lot of times I'll yell to my teammates, 'I got, I got, I got' and they'll step off their girl and I'll stuff her. It's a great feeling. I've been doing it since I was very little because I've always been taller than everyone else. It's a lot of fun."
"She's been like that the whole year," Dunn said of George's defense. "That's something that hasn't changed. She's been a presence since the last time she played, sophomore year in Tom's River. It was the last time she played high school basketball. She can move, she's got good timing and she's a good shot blocker."
The Golden Knights move on to play Immaculate Conception in the quarterfinals on February 3.
"We feel more confident on the floor now," said George. "When we were 3-3 we wondered if we were going to be a good team this year. We all wanted to be and knew we could be but now it's more like, we're going to establish the tempo and establish a pace so when we come out we know we'll win."
TO BUY A COLLECTOR'S PRINT OF THIS STORY PLEASE VISIT 4-FeetGrafix.com.