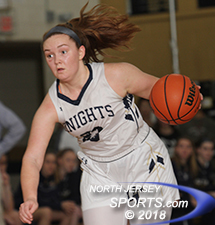 Senior Sophie Downey broke out on the offensive end and finished with 21 points for Old Tappan, which won its ninth straight game, 60-40, over Holy Angels on Tuesday afternoon.
OLD TAPPAN – Northern Valley/Old Tappan ran out to a 12-0 lead and never looked back en route to a 60-40 victory over Holy Angels Tuesday afternoon.
"We had no energy in the first quarter and they came out guns ablazing," said Angels coach Sue Liddy.
Junior Jaclyn Kelly got things going for Old Tappan when she was fouled five seconds into the game and drained both free throws. Thirty three seconds later senior Alexandra George took a feed from fellow senior Sophie Downey for an easy layup. A put-back by Downey made it 6-0 and Liddy called timeout.
When play resumed senior Erin Harnish drove and scored, George tallied from in close and then George stole the ball and dribbled downcourt for a layup to make it 12-0.
And Liddy called another timeout.
"The first quarter was it," said Liddy. "We're just not the type of team that can climb out of a hole that deep. If we get down four or five points we can make a run here and there. We just don't have that talent inside."
"It was a good start - some good passes and we caught a couple of easy baskets and converted," said Old Tappan coach Brian Dunn. "We defended real well. I thought Noelle [Gonzalez] did a real good job on No. 20 (Angels senior point guard Elena Pulanco). She was a killer for us the last time we played and Noelle did a great job."
Pulanco broke the scoring drought with a three-point play, senior Angela Romanos canned a free throw and Pulanco went the length of the court to score and cut the Angels' deficit to 12-6. Old Tappan scored just before the end of the quarter on a bucket by Kelly to take a 14-6 lead into the second quarter.
"We've been doing that the last couple of games," Downey said of grabbing an early lead. "In the beginning of the season we played well in the second half. But we're finally coming out strong in the first quarter. We always play a lot better when we're winning in the beginning."
Romanos and senior Colby DeBellis drained three-pointers sandwiched around a jumper by Downey to get AHA to within 16-12 a minute-and-a-half into the second quarter. But Kelly hit a three and Downey scored off a pass from George to make it 21-12.
"She had a great game," Dunn said of Downey, who finished with 21 points and a ton of rebounds. "She's been struggling with her scoring for a good part of the season. I know she's been frustrated, but she stepped up and did it right today. It was a good time for her to get her game rolling again. In basketball the season is short and if you have a couple of games where you're not making shots you get worried. She did really well today. I'm happy for her."
"I've been getting a lot of looks," Downey said, "but I haven't been finishing strong to the basket. I think I put it together today, along with rebounding and assists. I like to go for the rebounds."
In addition to the rebounds and scoring, Downey also dished a lot of assists, including a couple to George, who is back this season after sitting out last year with a torn ACL.
"I love when she is down low and I can find her when she is sealing a defender off," said Downey.
The Knights took a 33-19 lead into halftime as they held Pulanco scoreless in the second quarter and for half of the third quarter.
"[Noelle Gonzalez] picked up a couple of early fouls," said Dunn, "and then Erin (Harnish) did a tremendous [defensive] job for the duration of the first half into the third quarter. She really stepped up defensively and helped us out a lot.
"Being able to control [Pulanco] is no easy task. Their other kids play well off of her. They hit a couple of corner threes against us by drawing our defense in on her."
As a result Pulanco was held to 10 points for the game.
By the end of the third quarter it was 48-30 and the subs entered the game shortly thereafter. Kelly finished with 15 points and George had 10.
"The last time we played them a couple of weeks ago it went to overtime and we won by two or three," said Downey. "So it was awesome we came out strong today and beat them by that much. They're a great team and it shows how much we've improved over the last couple of weeks. I'm really proud of how we played today.
"In the beginning of the season we were 3-3 and now we're 12-3. We haven't lost in a couple of weeks. Hopefully we can keep that going.
TO BUY A COLLECTOR'S PRINT OF THIS STORY PLEASE VISIT 4-FeetGrafix.com.