Saturday, December 31, 2016
By Cory K. Doviak
NJS.com Editorial Director
Brianna Smith scored 8 points during a 24-2 second quarter run that put Pascack Valley way out in front on the way to a 62-36 win over Northern Highlands in The Joe Poli Tournament final.
HILLSDALE – Watching Pascack Valley's girls basketball team play this season provides a reminder of why players where numbers on their jerseys. Without them, it would be impossible to tell the Indians apart because they are all so similarly skilled and none really plays one position as traditionally defined.
Any and all of them can shoot, they can all pass and catch and they all have an understanding of the game when it comes to pull-up or drive. They can all run and they all hustle. They are fun to watch and they have been incredibly effective through their first seven games.
Five different Pascack Valley players scored during a 26-4 second quarter run that turned a tie game against Northern Highlands into a master class on ball movement and fluid offense as the Indians rolled to a 62-36 win in The Joe Poli Tournament final.
"This is a really fun team. They play very unselfishly, so yes, they are going to make a lot of passes and along the way they are going to make a handful of mistakes. But they are always willing to make the extra pass, to make the right pass to give the kid with a better shot the chance to shoot it," said Pascack Valley head coach Jeff Jasper, who is closing in on 970 career victories. "We bring in more than a handful of kids, they are all interchangeable, they play hard and if you were in practice with me every day you would think you were in heaven."
It certainly has been a dream start to the season as the Indians improved to 7-0 with a meaningful trophy already in hand. The Joe Poli Tournament or The Poli, as it has become known, is one of the most competitive holiday tournaments in North Jersey year in and year out. Named in honor of the late Pascack Valley High School principal, a man whose legacy is celebrated each year at this event, this is the first time since 2010 that the host team has won it.
Sophomore Breanne Davis scored a team-high 9 points for Northern Highlands, which went 2-1 in the highly competitive Joe Poli Tournament.
"We take it one game at a time, but this game had such a deeper meaning to it because it brings so many different people together. So many of the players that have played here in the past come here to watch us," said PV junior Toriana Tabasco. "[Jasper] always says that we are the long gold line, we are all a family even though some people have already graduated, and the Poli Tournament means a lot of all of us."
The championship game was close early as Northern Highlands scored the first three points of the second quarter to tie it 8. Shortly thereafter, the rout was on. Kelly Smith hit a jumper from the corner to give the Indians the lead for good with 7:20 to play in the first half and by the time the halftime buzzer sounded, Pascack Valley had opened a 34-12 lead. Brianna Smith made two second quarter 3-pointers, Smith scored 9 of her game-high 18 points in the second period and Brianna Wong scored half of her 14 points in that same stretch as Pascack Valley put the game away before the intermission.
Highlands (5-2) was a team on a roll heading into the final and had a size advantage that it needed to exploit to stay close. The Highlanders did not want to get into an up and down game with Pascack Valley, but that is much easier said than done. PV pushes the ball at every opportunity and sprints just as hard to get back on the defensive end.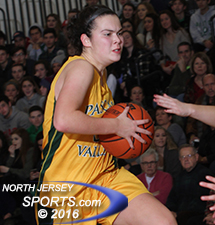 Junior Kelly Smith (18 points) was one of three Pascack Valley players to finish in double figures.
"They get down the court and get uncontested shots because they are so quick, meanwhile at the other end they get back so fast so all of our shots were contested," said Highlands head coach Al Albanese. "They make it hard to do everything, run an offense and even rebounding. They are not big, but they are relentless on the boards."
Pascack Valley does not have a traditional post presence, no one player that is going to receive entry passes on the block, but that does not mean it cedes the painted area to the defense. Instead they spread the floor and probe the middle. Because so many of the Indians handle the ball like a point guard, they are constantly driving, even against a good zone defense like the one Highlands often employs. If the defense collapses, the Indians will kick it to one of their myriad shooters or they will go right to the hoop for a layup as a defense is forced to pick its poison.
"Highlands is a really good team, this tournament was filled with really good teams. This was a good test for us and a chance for us to come out and show what we can do against good competition," said PV junior Kelly Petro. "I think we finally just clicked in the second quarter. Sometimes we start off a little slow and then we get into a huddle and Jasper tells us what we need to do. He tells us what we need to focus on and usually it works."
Kelly Smith (18 points), Wong (14 points) and Brianna Smith (11 points) all finished in double figures for Pascack Valley, but none of them forced anything to get there. As Jasper tells it, they were just open most often and any one of the players he runs out there could be the leading scorer in any given game.
Sophomore Morgan Micallef scored 8 points for Northern Highlands, which is now 5-2 on the season.
"We don't have a go-to player and the upside to that is that every one of them is going to have their day. That is a wonderful thing to have," said Jasper. "They work so hard, they care deeply about each other, they love the game, they love to play and I think you can see that when they are one the floor."
Petro finished with 6 points, Cerina Dunkel scored 5 off the bench, Tabasco added 4 and Shannon Culloo and Lyndsay Rohde split the other 4 points for Pascack Valley, which is off to a 7-0 start.
Breanne Davis had a team-high 9 points for Highlands, Morgan Micallef added 8, Tori Reich had six and Madison Grossman had 5. Siena Pennington, Kaitlyn Simpson and Peyton Carnovale each made field goals for the Highlanders, who lost point guard Sarah Minchin for the game after she took a nasty fall in the first half. Minchin's head made hard contact with the floor and her availability for the next couple of games is unknown.
But even in taking this loss, the Highlanders came into The Poli with some question marks and leave knowing they were one of the last two teams left standing in a tough early season tournament.
"I give a lot of credit to my kids. If you told me a couple of weeks ago that we would be going to the final of the Joe Poli, I might have said, 'Uh, I don't know about that," said Albanese. "I am proud of what we accomplished and if it turns out that Sarah is okay after taking that fall, then this was a good experience."
CLICK HERE FOR MORE PHOTOS FROM THIS GAME. TO BUY A COLLECTOR'S PRINT OF THIS STORY, PLEASE VISIT 4FeetGrafix.com.