Tuesday, December 27, 2016
By Cory K. Doviak
NJS.com Editorial Director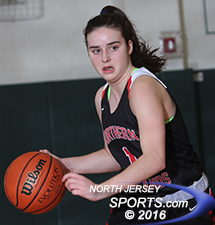 Junior Breanne Davis made a 3-pointer off an inbounds play at the buzzer to give Northern Highlands a 57-54 win over Secaucus in the opening game of the Joe Poli Tournament on Monday.
HILLSDALE – Breanne Davis had not had a good day shooting the ball and the play was not designed for her anyway. So, needless to say, she was a shocked as everyone else at the outcome.
Locked in a tie game with young and talented Secaucus team with 2.5 seconds to go in regulation, Sarah Minchin took the ball from the referee and surveyed the options laid out for her in the timeout huddle just a couple of seconds before. When nothing materialized as planned, Minchin went to Plan B or maybe it was C or D, which was to inbound to Davis on the left wing.
"To be honest, we put Madison Grossman back in the game [at the timeout] and that is who we were looking to go to," said Northern Highlands head coach Al Albanese. "There was nothing there and when the ball went to Bre[anne], she had no choice but to shoot it."
With no time to think about it, Davis let it fly and her shot hit nothing but net as the buzzer sounded to give the Highlanders a 57-54 victory and kicked off the 2016 Joe Poli Holiday Basketball Tournament with a bang at Pascack Valley High School on Monday afternoon.
"It's crazy. I was 0-for-7 [from behind the 3-point line] before that last shot. That was not how that last play was supposed to be," said Davis, a sophomore who turned a rough shooting game into one she will remember forever. "We stuck it out in the end and we played well in the fourth quarter, which is the most important one."
Secaucus sophomore Amanda Ulrich finished with a game-high 21 points.
Northern Highlands led really early and then really late and not for long stretches in either instance. In between taking a 2-0 lead 28 seconds into the game and then not having another one until going up 54-52 with exactly one minute to play, it was Secaucus that looked like the more polished team even though it does not have a single senior on its roster and has three freshmen in its tight rotation.
Junior Lindsey Mack, sophomore Amanda Ulrich and freshman point guard Damaris Rodriguez form a talented offensive trio and all three took turns helping Secaucus off to an impressive start. Rodriguez hit a step-back jumper, Mack scored four straight points and then Ulrich made a layup in transition to cap an early 8-0 spurt that put the Patriots up by double digits for the first time at 17-5 just 5:31 into the game. Ulrich's coast-to-coast layup then closed the first quarter scoring as Secaucus, unbeaten coming in, held a 19-9 advantage after the first period.
Secaucus' advantages were clearly in the open floor and it was able to force the pace in its favor in that wide open fourth quarter. Northern Highlands needed to find a way to slow things down, take care of the ball and then pound it inside, where its advantage was, especially when Tori Reich got herself involved.

Reich, a senior who can be dominant in the post when right, is due for some good luck. She missed all of last season with a knee injury, missed two weeks in the preseason after taking a knock to the head and then the last two games while battling the flu. Reich did not start on Monday, but came off the bench to stabilize the Highlander offense. She scored back-to-back buckets late in the first quarter to keep her team within shouting distance and then had 10 in the second quarter to draw her team close. Reich made both ends of a one-and-one with 9 seconds left in the first half and then a foul line jumper to open the second half scoring as Highlands inched back to within five points at 37-32.
Senior Tori Reich, just back from an illness, started on the bench and finished with a team-high 18 points for Northern Highlands.
"I was out with the flu, this is my first game back and so I was not expecting to come out as strong as I did. I guess something clicked. Driving to the basket worked and that gave me the confidence to keep going and going," said Reich. "For our season we needed to get one of those wins under our belt that makes us realize that anything is possible. We came into this knowing we were probably the underdogs, that we were up against good competition and we found a way to get a win."
The Highlanders still had some work to do to put themselves in a position to win because Rodriguez, a budding talent who can get to the hoop with either hand, scored six straight points, the last two on a steal and lay-in, to put Secaucus up 43-34. Ulrich buried a 3-pointer off a kick-out by Amanda Dehnert to make it a double digit Patriot lead one last time, 46-36, with 2:56 left in the third.
Lost in the 9-2 Secaucus run was that the game was getting more physical, which played well to the Highlanders style. By contesting every drive to the basket, Highlands was mucking up the middle and making the Patriots pay a physical price for daring into the paint. Down 47-40 heading into the fourth, Reich scored off an assist by Sienna Pennington, who just starting to make her presence felt.
The junior forward scored on a drive to the basket with 5:09 to play to get Highlands to within 50-47 and then scored three straight points to get the game tied at 52 with 1:44 to play. The Highlanders had not been even since the score was 2-2 and Minchin's fastbreak bucket gave them their first lead since it was 2-0 at 54-52 with 1:00 to go.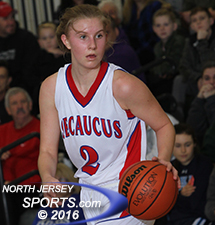 Junior Lindsey Mack had 17 points for Secaucus, which is now 2-1 on the season.
Secaucus got a clutch jumper from the short corner by another member of its deep freshman class, Natalie Kashian, whose only bucket of the game tied the score at 54 with 15 seconds to go. That gave Highlands one last possession to try to win it and, after surviving a held-ball situation where the possession arrow was in its favor, Albanese called the timeout to design the play that did not work at first but then turned into Davis' decisive 3-pointer.
"I told the girls that the game did not come down to that last play. Whether somebody should have switched [onto Davis] or not, this game should have been over much earlier than that. We were not mentally tough enough in the fourth quarter when they picked up their intensity," said Secaucus head coach John Sterling, who is sitting on 499 career victories. "You want to blame it on us being pretty young? I guess that is learning how to play at this level, but you can't stop playing just because you thought you were fouled. If the ref doesn't call it then it is not a foul and we gave up far too many breakaway layups the other way because our girls thought they were fouled and just stopped."
Secaucus fell to 2-1 with the loss, but it also showed that it is going to be a player in Group 1 and in the Hudson County Tournament. The trio of Ulrich (21 points), Mack (17 points) and Rodriguez (14 points) combined for 52 of the Patriots' 54 points. Kashian's late jumper provided the other two points and the Patriots are only going to get better from here as they gain experience on a roster full of underclassmen.
Reich (18 points) led the way for Highlands and Minchin (11 points) was the other double-digit scorer in a balanced offense. Davis scored five of her 9 points in the fourth quarter, including the all-important last three of the game. Pennington scored all 9 of her points in the second half. Grossman and Kaitlin Simpson each had 4 points and Morgan Micallef made two free throws to round of the scoring for Northern Highlands, which is now 4-1 on the season with the lone loss coming against Immaculate Conception, the No. 1 team in the Unknown Ranker's latest Top 20.
"Give credit to [Secaucus], they shot the lights out, but our girls just stuck with it and I am proud of them. That is a good win for us," said Albanese. "In the third quarter we had to match up man because they were just going to hold the ball. The kids contested every pass, doubled in the corners and it was awesome."
CLICK HERE FOR MORE PHOTOS FROM THIS GAME. TO BUY A COLLECTOR'S PRINT OF THIS STORY, PLEASE VISIT 4FeetGrafix.com.