Tuesday, December 27, 2016
By Cory K. Doviak
NJS.com Editorial Director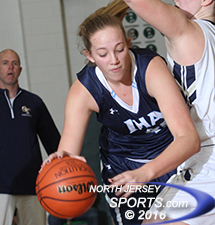 Anna Morris, one of four freshmen in IHA's starting lineup, finished with a game-high 13 points as the Blue Eagles improved to 4-1 with a 45-34 win over Old Tappan at the Joe Poli Tournament.
HILLSDALE – In his tenure as the head coach of the Immaculate Heart Academy girls basketball program, Steve Silver has never had a team quite like this. He's coached the Blue Eagles to tremendous heights, Bergen County titles, state sectional titles, an outright state title and a Tournament of Champions appearance, but this current squad is something different. With his lone experienced player, senior Katie Jones, out with a hamstring injury, Silver sent a group of four freshmen and one sophomore out for the opening tip against Northern Valley/Old Tappan on Monday in the second game of the four-game set at the Joe Poli Holiday Tournament.
So, how does Silver feel about this unique arrangement for a program of this pedigree?
"It really is different, but it has been a blast. I have to admit, I am really enjoying it," said Silver. "The No. 1 thing is that they are really good kids. They are fun to be around and we are just going with it."
Make no mistake, however. This group of young players is no rag-tag band that had their uniforms thrown at them in desperation. This is a talented group that, if it stays together and relatively healthy, will be a force to be reckoned with in the years to come. In fact, maybe it already is.
As is the trademark of any Silver-coached team, these Eagles get after it in its aggressive man-to-man defense, they help, they share the ball and they can score it from inside and outside and also at the foul line. IHA held Old Tappan to three single digit quarters and, other than ties at 2-2 and 4-4, led just about wire-to-wire in a 45-34 victory at Pascack Valley High School. IHA, youthful mistakes and injuries notwithstanding, is off to a 4-1 start with the lone loss coming against an out of state opponent in St. Francis (NY).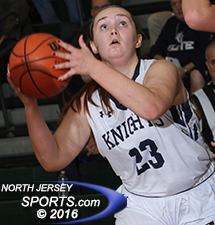 Junior Sophie Downey scored 11 points to lead Old Tappan.
One of the freshmen in the starting lineup has already been through a similar situation. Anna Morris, the Eagles starting center, was also the centerpiece of the volleyball team which lost a bunch of talent to graduation but never skipped a beat as it won a state title and got all the way to the Tournament of Champions final. Her conventional 3-point play with 4:48 left in the first quarter gave IHA the lead for good.
"Some of the other starters on this time like Sam Rinaldi and Emma Matesic, I play with them in AAU, so that has made the transition a little easier for all of us. That has really helped me and probably has helped all of us," said Morris. "The biggest adjustment that I had to make is that the game is so much quicker than in middle school, obviously, and I have to get up and down the court a lot quicker. Also, in middle school I didn't go against a lot of players that are actually my size. It is different now playing against girls by size, but I am enjoying it. It is a good challenge."
IHA was getting a challenge from an Old Tappan team that is in a similar situation. The Golden Knights have zero returning starters from last year's Group 3 state championship team, but are still dangerous because of the kind of fundamentally sound man-to-man defense taught by head coach Brian Dunn. Jaclyn Kelly's jumper from the corner had NV/OT within 11-8 late in the first quarter and Skylar Regan hit a free throw to open the second quarter scoring to cut the deficit back to 12-9.
Sophomore Eliyah Herriot made two consecutive second quarter 3-pointers to help IHA pull away.
Old Tappan is not the kind of team an opponent wants to leave hanging around, so, being that she is the team elder for now, IHA sophomore Eliya Herriot, took the opportunity to nail back-to-back 3-pointers to push the lead back up to 18-9.
"We needed some momentum. We were kind of sluggish at that moment and making a couple of shots in a row really helped us," said Herriot. "Being the only sophomore out there with the four freshmen I really wanted to try to be a leader out there. On defense I wanted to talk it out and on offense I tried to take the lead when we needed a basket."
Herriot made three second quarter 3-pointers, the last of which kicked off a 6-0 half-closing run that gave IHA a 26-14 lead at the break.
Old Tappan closed to within nine points, 37-28, when Erin Harnisch closed the third quarter with a 3-pointer and a personal 6-0 run by sophomore Noelle Gonzalez got the Knights all the way back to within 37-34 with 3:58 to go in the game.
But that was as close as they would get as Matesic made two free throws and then went back door to convert a pass from Brittany Graff into a layup. Morris then made four straight free throws, all one-and-ones, to close out the scoring.
Morris (13 points) was a perfect 5 of 5 from the free throw line in the game and Herriot (11 points), who made three of her team's four 3-pointers, was the other Eagle to finish in double digits. Matesic added nine, Graff finished with five and Annie Walsh (4 points) and Victoria Sandner (3 points) rounded out the scoring for IHA.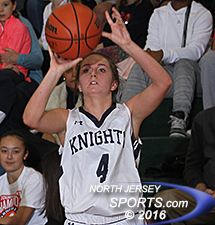 Jaclyn Kelly had seven points for Old Tappan, which fell to 2-2 on the season.
Sophie Downey led Old Tappan with 11 points. Kelly added 7, Gonzalez scored all 6 of her points in that fourth-quarter spurt and Regan and Harnisch had 3 points apiece. Kristine Hawkins and Megan Weis split the other four points for the Knights, who are undergoing some on-the-job training against an uncompromising schedule. Old Tappan played defending Bergen County champion Saddle River Day in the Hoops 4 Autism Benefit Games last weekend and went into the Poli where there is no such thing as an easy opponent.
"I thought we played very well in the second half. In the first half I felt like we were too timid and we were just waiting for something to happen. We have some kids that can put the ball in the basket, it just hasn't shown in games right now. We are just not in a rhythm offensively and it is taking a little longer to get there than I had hoped it would," said Dunn, whose team is now 2-2 on the season. "I think at some point we are going to be a good team and we are always going to go out and play the same kind of tough schedule. If you want to be one of the best teams you have to go out and try to figure out the level. You can't show up in February or March and think you are going to figure out then. We will find out in December what it is all about because it raises the intensity in practice because the kids realize what they have to do to be successful."
CLICK HERE FOR MORE PHOTOS FROM THIS GAME. TO BUY A COLLECTOR'S PRINT OF THIS STORY, PLEASE VISIT 4FeetGrafix.com.