Friday, March 3, 2017
By Cory K. Doviak
NJS.com Editorial Director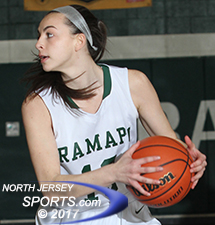 Lauren Colyer made a 3-pointer with 1:08 left in regulation to tie the game and Ramapo went on to beat Sparta, 41-38, in overtime in the North 1, Group 3 state sectional quarterfinals.
FRANKLIN LAKES – There were seven minutes and 36 seconds left in the game and Ramapo was pretty much dead in the water. Sparta, the No. 5 seed, came into the fourth-seeded Green Raiders' own gym and scored the first nine points of the game and left Ramapo playing catch-up right from the get go and it was not going well. Ramapo made just four field goals through the first three quarters of the game and faced its largest deficit, 13 points, when Sparta's Erin Walsh scored off an inbounds play right out of the gate in the fourth.
"Offensively we were a little stagnant," said Ramapo head coach Sandy Gordon in a quote that will be in the running for 'Understatement of the Year,' when the postseason awards are handed out. "It's at that point in the season where you have no legs, you are a little tired…but there is no tomorrow. I told them that they had to dig down."
What Ramapo really needed was to just make a couple of shots so that it could change the pace of the game. Through the first three quarters Sparta was able to start just about all of its possessions from inside the court boundaries as Ramapo, due a dearth of made baskets, could rarely set up its pressure defense that might have allowed it to create some transition opportunities.
But once the Raiders made a couple, the dominoes started to fall into place. Nikki Butler cleaned up a mess under the basket and her simple layup with 7:03 left in the game started the Ramapo comeback. The Raiders held Sparta to just two points over the final seven minutes of regulation and to just six in the final 11 minutes. Where once it could make almost no shots, Ramapo made a host of big ones from behind the arc and from the free throw line to force overtime and then to squeak out a 41-38 victory that put them into Saturday's state sectional semifinal against top-seeded Pascack Valley.
It looked like it was going to be Sparta's night from the get-go as Paige Smith banked in a 3 for the first points of the game and hit another 3-pointer and then Walsh scored four straight points to give the Spartans a 9-0 lead five minutes into the game. Ramapo did not get on the board until 5:23 had already run off the first quarter clock and then it fell behind by double digits for the first time when Walsh nailed a trey from the corner to put Sparta up 12-2.
Emily Calabrese scored all five of Ramapo's first quarter points and, behind second quarter 3-pointers by Olivia Kraebel and Lauren Colyer, the Raiders were able to crawl back in the game and close to within 21-17 at halftime. All of that good work was undone, however, when the Raiders missed two free throws a minute into the third quarter and then saw Sparta run off nine straight points. Brianna Falco and Laing each made 3-pointers to bookend Walsh's conventional 3-point play and Ramapo could manage just two Calabrese free throws in the whole of the third quarter on the way to a 30-19 deficit heading into the fourth.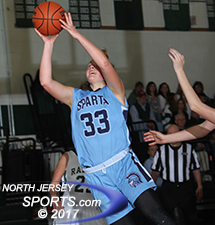 Erin Walsh scored the first points of the fourth quarter to give Sparta a 32-19 lead.
"I was just trying to will them. I know [Sparta] came out on fire and I know we couldn't throw it in the ocean, but I just kept telling them to play defense, get some stops, make a basket, make a foul shot…anything that might get us going," said Gordon. "And I knew, or at least I was hoping, that [Sparta] was not going to stay hot."
That was the proper hunch as offensive production abandoned Sparta right after Walsh scored off that inbounds play to start the fourth quarter. That bucket gave the Spartans their largest lead of the game at 32-19 with 7:36 left in regulation, but they would score just two more points in the fourth quarter, which gave Ramapo ample time to close the gap.
After Smith scored inside to put Sparta up 34-23 with 4:57 left Ramapo ran off the next 11 points. Butler made the Raiders' first 3-pointer of the second half to cut the deficit to seven, Tori Muller made two free throws to make it a five-point game, Kraebel scored off the offensive glass to get the Raiders to within 34-31 with 3:35 to play and then Colyer stepped up big time.
Her 3-pointer from the wing with 1:08 to go got Ramapo even at 34. That marked the first time in the game that Ramapo was not trailing other than at 0-0.
"I knew we were down by three and I just went for it," said Colyer. "I just did whatever I could to get open and make a shot."
Did she know it was going in as soon as it left her hand? "No. Definitely not."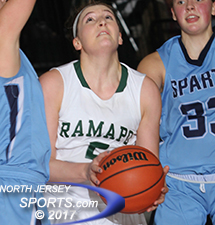 Emily Calabrese scored a game-high 15 points for Ramapo, which will play top-seeded Pascack Valley in the semifinals.
But it did go in and it was actually Ramapo that was in control of the final minute of regulation and beyond. Sparta was called for a travelling violation on its possession following the Colyer 3 and it turned into a one-and-one attempt for the Raiders, but they missed the front end and they also had the last look of regulation, a Kraebel heave from the wrong side of halfcourt that nearly went in.
Ramapo took its first lead of the game, 35-34, on a Kraebel free throw 1:24 into overtime and Sparta took its last 1:25 later on Smith's strong drive from the wing. Calabrese took over from there as she completed a huge 3-point play with 52 seconds left that put Ramapo in front 38-36 and then made it a two-possession game 15 seconds later by going 2-for-2 at the stripe. Muller made a free throw with seven seconds left to keep the Raiders in front by three and Sparta's last shot, a rush job from behind the arc, fell short.
"It was a huge team effort. My shots weren't falling, but I trusted my teammates and everyone stepped up," said Calabrese, who will play at St. Bonaventure in the A10 next season. "Those are the games you want to play. You don't want a blowout. You want to have to fight and be competitive and to come back like that is just amazing."
Smith (10 points) was Sparta's only double digit scorer. Falco and Walsh each finished with 8 points, Laing made the two 3s to account for all six of her points, Emily Dilger made two second quarter field goals and Emily Lake added two points off the bench for the Spartans.
Calabrese, despite a rough shooting night, still battled to a game-high 15 points and did most of her damage from where Ramapo had its biggest advantage. By continually pounding the ball inside to Calabrese, she got to the line 12 times and made 9 of them. As a team, Ramapo was 17 of 30 while Sparta was just 2 of 6. Kraebel finished with 8 points and Colyer, Butler and Muller all finished with 6 for Ramapo, whose season continues for at least two more days.
"The last thing I put up on the board was 'Survive and Advance.' It could be ugly, it could be pretty, but the bottom line is you have to have more points on the scoreboard than them at the end," said Gordon. "We are moving on."
CLICK HERE FOR MORE PHOTOS FROM THIS GAME. TO BUY A COLLECTOR'S PRINT OF THIS STORY, PLEASE VISIT 4FeetGrafix.com.