Wednesday, March 1, 2017
By Cory K. Doviak
NJS.com Editorial Director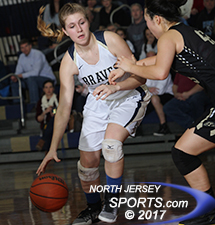 Junior Angela Saric scored 15 of her game-high 26 points, including the 1,000th of her career, in the fourth quarter and two overtimes of Indian Hills' 61-52 win over River Dell in the opening round of the North 1, Group 3 state sectional tournament.
OAKLAND – The 8/9 game in any 16-team tournament bracket is supposed to be a competitive matchup between two teams with similar resumes, but Tuesday night's North 1, Group 3 state sectional tournament opener between Indian Hills and River Dell took that to the next level. Indian Hills had the largest lead of the first half at eight points, River Dell had the biggest advantage of the second half at 10, but after a third quarter that ended in a tie score, it felt like it might stay that way in perpetuity.
It was 32-32 after three quarter, 47-47 after four quarters and 51-51 after the first overtime of a state playoff classic. It was not until the Braves snuck in a layup off the opening tip to start the second extra session that they were able to take the lead for god and not until after River Dell simply ran out of experienced offensive options that Indian Hills was finally able to put the wraps on a 61-52 victory.
"That was a battle from the opening tip to the finish," said Indian Hills head coach Julie Haledjian. "Every kid on the floor for both teams just worked so hard and not one of them gave up."
Because neither team was willing to give an inch, there were a couple of runs that were answered quickly and put the game back into an every-possession-is-important flow. Indian Hills scored the first six points of the game and was still up by six at 14-8 with 2:11 to go in the first quarter before River Dell closed the period on a 6-0 run to get even and then outscored the Braves 11-4 in the second quarter to take a 25-18 halftime lead.
A 3-pointer by Bridget Cahill and a bucket inside by Madeline Weber off a Caton Henderson entry pass to give River Dell its largest lead of the night at 30-20 with 6:53 left in the third quarter, but any inkling that the Hawks might have had of pulled away were squelched over the next four minutes. Indian Hills closed the period on a 12-2 run to get right back in it. Angela Saric, the junior forward who was just heating up, made a steal and a layup and then grabbed a defensive rebound and went coast-to-coast for the four points that got the Braves even at 32 heading into the fourth quarter.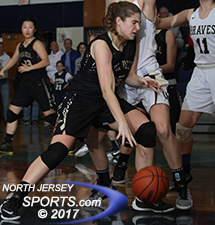 Madeline Weber had 14 points for River Dell before fouling out early in the first overtime session.
River Dell was still at full strength when the fourth quarter started, but the fouls were piling up and would play a major factor down the stretch even as the Hawks held the lead for most of the final period of regulation. Sofie Su hit a 3-pointer on RD's first possession of the fourth and another with 5:23 remaining to put her team up 38-33, but Indian Hills kept crashing the glass and getting to the free throw line to keep itself in the game.
While River Dell, with Weber doing a lot of damage in the post, controlled the interior in the first half, Indian Hills got in the paint in the second half and stayed there. The newfound commitment to battling on the boards gave the Braves extra chances at the basket while also pushing up River Dell's personal foul total, which would pay dividends later.
"We started moving girls around instead of standing out on the perimeter. I told our girls that they had to do things that might not have been in their comfort zone," said Haledjian. "We had to get someone on the block to make a solid post and finish. It started right away in the second half with [Saric's] layup."
Mixed in with the chase to catch River Dell, Saric was also closing the gap on the personal milestone of reaching the 1,000 career point mark while still in her junior season. The two pursuits came together with 3:02 left in the fourth quarter as Saric made two free throws that gave her 1,000 on the button and also tied the game for the first of four times in the fourth quarter at 41 apiece.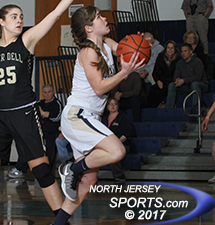 Aileen Carey had 11 points for No. 8 Indian Hills, which will visit No. 1 Pascack Valley on Thursday in the
North 1, Group 3 quarterfinals.
"I wanted to get to 1,000 points, but I wanted the win more. I wanted our team to push forward, so when I got to do both at the same time, it felt amazing," said Saric. "River Dell is a really good defensive team. They were in our face the whole time, so to catch up, tie the game and eventually take the lead, we had to get somebody going inside and I tried to step up and be that person."
Aileen Carey's two free throws with 2:39 left gave Indian Hills its first lead of the second half, 43-41, before Henderson's runner retied it 10 seconds later. Henderson went on a personal 5-0 run and her driving layup put River Dell right on the brink of taking control, up 46-43 with 1:05 left in regulation before Saric made four free throws in the span of four seconds to give Indian Hills a 47-46 lead with 34 ticks on the clock. Weber made a free throw 26 seconds remaining to tie it again and Indian Hills was called for a travel before it could get off a last shot and overtime became necessary.
River Dell started the first extra session without Henderson and Katelyn Gillies, who both fouled out in the final 40 seconds of regulation, and then lost Weber to fouls a minute into the first overtime as Saric just kept getting to the foul line. From the fourth quarter on, Saric went to the stripe 20 times and made 15 of them and went one-of-two on consecutive trips to tie the game at 49. Savannah Abouyan, who was 7 of 8 at the line in the game, made two straight to give Indian Hills a two-point lead, but Julie McGovern scored on a drive to retie it and Indian Hills missed an open look at the buzzer to set up the second overtime.
By then though, River Dell had lost two starters and three of the top six in its rotation to fouls and another to injury. There was wasn't much left in the tank on the offensive end to answer Abouyan's layup off the jumpball that started the extra session.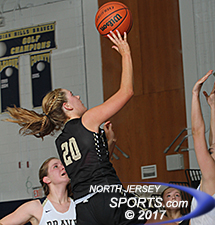 Caton Henderson had 13 points for River Dell, which finished the season with a 14-9 record and having won 8 of its final 10 games.
"We ran out of steam there. We ran out of some offensive threats, we ran out of some defensive players that we have gone all year with. The kids that wound up on the court for us at the end did a nice job, they really did. They got us through the first overtime," said River Dell head coach Lindsey Steffner, whose team finished its season with a 14-9 record and having won 8 of its last 10 games. "I just feel bad that a lot of my seniors fouled out of their last game. I have six of them that I would love to keep coaching, I would love to have another game with them, but I am proud of their effort and you have to give credit to Indian Hills. We were up [10] in the third quarter and they came back to beat us."
Weber finished with 14 to lead River Dell and Henderson added 13. Su made three 3-pointers to account for all 9 of her points, Cahill added 5 and McGovern and Gillies each made two field goals. The Hawks were a combined 6 of 13 from the free throw line.
Saric led all scorers with 26 points to go along with 8 rebounds and 7 steals and was 14 of 22 from the line while Indian Hills (15-11) was 29 of 41 as a team for the game. Carey, the senior point guard, added 11 points and 5 steals which Abouyan (10 points) stepped up as the much-needed third option. Analee Boggio (7 points), Amy Weisse (4 points) and Alex Martins (3 points) rounded out the scoring for Indian Hills, which, as the No. 8 seed, earned itself a shot at No. 1 Pascack Valley in Thursday's quarterfinal round.
"We want to go as far as we can. We know we have a tough game next against Pascack Valley, but we will give it 100-percent and see what happens," said Carey.
CLICK HERE FOR MORE PHOTOS FROM THIS GAME. TO BUY A COLLECTOR'S PRINT OF THIS STORY, PLEASE VISIT 4FeetGrafix.com.