Tuesday, February 28, 2017
By JC Baumuller
NJS.com Correspondent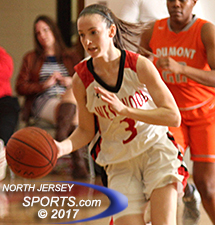 Carlye Danziger finished with a game-high 15 points for Westwood, which opened it North 1, Group 2 state tournament run with a 56-24 win over Dumont on Monday night.
WASHINGTON TWP – Westwood closed out the first quarter with a 9-0 run and then closed out the first half with a 14-3 spurt to propel itself to a 56-24 victory over Dumont in the opening round of the North 1, Group 2 state sectional playoffs on Monday night.
Westwood combined its offensive prowess with tight defense that held the Huskies to fewer than 10 points in each of the four quarters.
"We take a lot of pride in our defense," said Westwood coach Charles Collis. "The help was fantastic tonight. It helps having the length but a lot of kids were getting in the right spots where they don't have the open layup. Hannah Jackson did a great job of dropping herself and putting herself in the way of [Ariana] Pena who has a good five inches on her. That was a key for us."
The injury-riddled Huskies managed to hang around in the first half of the first quarter after senior Chi-Chi Onwudiwe fed junior teammate Jenna Mazzone for a layup to cut Westwood's lead to 8-7. But Westwood junior Carlye Danziger drained three 3-pointers and senior captain Samantha McClutchy drove to the basket three times in the opening frame to give Westwood a 17-7 lead heading into the second quarter.
The Cardinals put the game away in that second quarter as junior Shannon Monaghan and sophomore Rachel Bussanich combined for nine points, while McClutchy chipped in with five more.
"One of the benefits of this team is that all five of the players on the floor can score," said Collis. "Sam (McClutchy) usually gets between 15 to 25 points. And every single night - sometimes it's Rachel (Bussanich) who finishes with 12; sometimes it's Carlye (Danziger) who goes anywhere from eight to 12; and sometimes Shannon (Monaghan) has a night. That's been one of the special things. They're unselfish. If someone is having a night they're feeding the ball to the kid who is having a night."
Dumont overcame a host of injuries to finish the season with 16 wins.
"It's great," McClutchy said of the balanced scoring. "We have really good shooters but we also have shooters who like to drive. That adds to the benefit. We tell them, 'we have confidence in you – if you miss your shot we got your rebound. Be ready to shoot again on a kickout.' We're dangerous out by the arc and inside. We have a pretty good offensive rebounding team. We want them to continue to shoot because we're pretty sure we'll get the rebound."
Meanwhile, sophomore Samantha Howard drained a pair of 3s to account for all six of the Huskies' second-quarter points.
"It's just unfortunate that we have played so well for so long and we came into a buzzsaw," said Huskies head coach Dave Cieplicki. "Sam (Howard) has played so well for the last three weeks. We've all gotten more mature – we've all kind of figured it out, we've played good games, handled situations and adversity."
Danziger scored six more points in the third quarter to finish with a game-high 15 points. McClutchy was the only other player on either team to score in double figures with her 13 points. In all, seven different Cardinals scored at least two points.
The injury bug bit the Huskies early in the season, when they lost 5-foot-11 junior forward Amber Porrett to an ACL injury in December.
"As soon as she got hurt, and we knew it was an ACL I said, 'this is like summer league' because she was away all summer," Cieplicki said. "We never saw her at all. Going into next season we have a lot of positives. Sam (Howard) wouldn't have gotten all the experience without all these injuries. Jenna Mazzone came on really strong. We had two kids who came off the bench, freshman Ella Connolly, and Mackenzie Tamburro. It's been a blessing in disguise."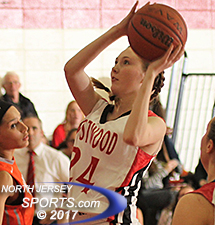 Olivia Cassidy and Westwood will host Hawthorne in the quarterfinals.
Dumont senior Sarah Skeith, who is the team's leading scorer, went out with a leg injury a couple of weeks ago. She has not played since but with less than three minutes to go in this game she stepped on to the court, took a pass from a teammate, drove to the basket and scored. As cheering by fans from both teams filled they gymnasium, she limped back to the bench.
"She's had a brilliant career – third all time scorer with 1,273," Cieplicki said of Skeith. "This was her hundredth game playing as a Huskie. If you had said to me that we were going to lose Sarah (Skeith) for an extended period of time and Amber (Porrett) all year long, and win 16 games after winning 12 last year, I would have signed up for that a long time ago.
"So many good things have happened this year. Chi-Chi (Onwudiwe) has been great all year. We got to play a state tournament game, got a little experience. It's not the way I wanted it, because Westwood is a very good team. Maybe next year we'll be in their situation."
Westwood moves on to play No. 7 seeded Hawthorne Wednesday in Washington Township.
"We feel confident but we're not going to dismiss any team," McClutchy said. "Any team can lose on any given day. We have a lot to lose. We're the No. 2 seed and trying to get back to where we were two years ago - Pine Belt [Arena]. That's been our goal the entire year. We want to come out intense, come out strong, come out playing good defense and playing well for each other. Because you don't know what's going to happen."
CLICK HERE FOR MORE PHOTOS FROM THIS GAME. TO BUY A COLLECTOR'S PRINT OF THIS STORY, PLEASE VISIT 4FeetGrafix.com.