Monday, February 20, 2017
By Rich Barton
NJS.com Staff Writer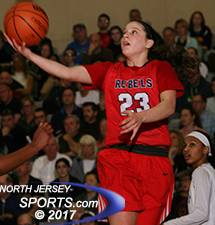 Sophomore Michelle Sidor hit two early 3-pointers to get Saddle River Day off and running toward a 51-39 win over Immaculate Conception and a second straight Bergen County championship.
MAHWAH – Walking off the court after losing to rival Immaculate Conception in a regular-season meeting back in December, Saddle River Day knew that nothing had really been settled. What lay ahead was a challenging independent schedule against which the young Rebels would have time to mature ahead of potential rematches in the Bergen County and state sectional tournaments.
Saddle River Day challenged itself and was ready when the rematch No. 1 rolled around on Sunday in the county final on Sunday at Ramapo College. The Rebels threw in a new wrinkle as head coach Danny Brown made the switch from his customary zone defense and full-court pressure to playing straight man-to-man.
The strategy worked to perfection in the first half as the Blue Wolves' potent offense was stifled. Sophomore standout Michelle Sidor nailed two first quarter 3-pointers and, late in the second quarter, Carolyn Carrera and Michaela McMahon nailed back-to-back 3s to break the game open as No. 3 seed Saddle River Day led by double-digits from that point on to grab a second consecutive Bergen County Tournament title with a 51-39 victory.
"When we played them the first time they got a lot of open shots. We couldn't let that happen again," said Saddle River Day's Jenna Jordan. "We switched our defense up. It was easier to contain them playing man and force them to take tough shots. Once they got frustrated we just kept going and finished strong."
There was an intense atmosphere from the opening tap and both teams tried to set the tone defensively. Neither was able to create much on offense, which led players to try to create shots on their own. Fortunately for the Rebels nobody in North Jersey does that better than Sidor. Her two early stepback 3s gave Saddle River Day an 8-5 lead after one quarter.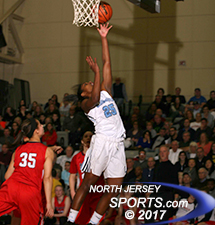 Breyenne Bellerand finished with 25 points and 17 rebounds for Immaculate Conception, which is now 18-5.
"It's big for me and it hyped me up to hit those shots early," said Sidor. "I didn't want to force anything like I did last week (in the BCT semifinal win over IHA). I trust my teammates and we just ran through the offense until we got a good look. Bad shots against IC turn into easy transition points, so we had to stay away from those."
The Rebels settled in during the second quarter by either forcing turnovers or limiting the Blue Wolves to one shot per possession nearly ever trip down the floor. Immaculate Conception started to double Sidor off of pick-and-roll plays. The sophomore guard made the correct read more often than not, including finding fellow sophomore Jenna Jordan for a foul-line jumper that made it 14-7.
Breyenne Bellerand's stellar play single-handedly kept Immaculate Conception within striking distance until two possessions changed the complexion of the game. Carrera and McMahon came off the bench and made immediate impacts. Carrera nailed a triple from the wing and McMahon followed by swishing one from the corner as Saddle River Day had IC doubled up at the half, 24-12.
"I thought this was as well as we played defensively all season especially in that first half," said Brown. "It showed by holding a team like IC to 12 points in a half. We wanted to control the pace and force them to adjust to us. When we settled in and made good decisions with the ball everything started to come easier."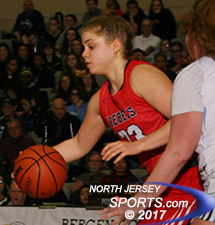 Jenna Jordan had 11 rebounds for Saddle River Day, which improved to
19-5 for the season.
The intermission did little to slow the momentum as the Rebels continued to force turnovers and keep IC out of the paint. Bellerand did everything she could to get her team back in the game, but every time she scored, the Rebels had an answer. Maggie Kuntz and Cassie Cruz nailed baseline jumpers spanning the third and fourth quarters to remove any late-game suspense. As the final seconds ticked down, the Rebels poured onto the court to celebrate their second straight Bergen County title.
Sidor netted a game-high 28 points for Saddle River Day (19-5). Jordan led the team with 11 rebounds to go with eight points. Cruz added five points and six rebounds along with tough defense inside. Bellerand did it all for Immaculate Conception (18-5) with career-highs of 25 points and 17 rebounds.
As the top two seeds in Non-Public B North, the two teams could meet again for a section title, but for now the Rebels are basking in the glow of another county championship. While they are excited at the prospect of defending their section crown, the younger players on the team have another goal in mind.
"We want to be the first team ever to win four straight county titles," said Sidor. "That's something we have in the back of our minds. It's awesome to go back-to-back, but I want to get two more of these."
CLICK HERE FOR MORE PHOTOS FROM THIS GAME. TO BUY A COLLECTOR'S PRINT OF THIS STORY, PLEASE VISIT 4FeetGrafix.com.