Sunday, February 19, 2017
By Cory K. Doviak
NJS.com Editorial Director
Senior Latice Cunningham finished with 11 points for Kennedy, which took an early lead and never looked back in a 47-37 win over Wayne Hills in the Passaic County Tournament semifinals.
PATERSON – Considering what has happened to the Kennedy girls basketball in terms of injuries there are a shelf-full of excuses that the Lady Knights could reach for should they not reach the heights that seemed possible when the season began.

Senior Tajae Stevenson, who was one of North Jersey's top returning players, was lost to a knee injury right at the beginning. O'Leysha Braxton, another senior standout, went down last week in a game Kennedy won anyway against a quality Secaucus team and, two days later against Saddle River Day, sophomore Jimmirah Johnson went down with an injury as well.
Neither Braxton nor Johnson are expected back so the Knights, quite literally, limped into the Passaic County Tournament semifinals on Saturday against a Wayne Hills team that it had already lost to during the regular season. Kennedy could quite easily just have gracefully bowed out.
"We have a ton of injuries, man," said Kennedy head coach MarQuette Burgess. "To have any chance to be successful today, we were going to need everybody that we have left to get involved and make a contribution."
And just about everybody did.
The Knights scored the first seven points of the game and never really let Wayne Hills get back in it. With a 16- 1 that started with a Cha'Liya Brown 3-pointer a minute-and-a-half into the second quarter, Kennedy broke the game open on the way to a 47-37 win and the Passaic County Tournament final where it will face upstart Lakeland, the No. 5 seed that upset No. 1 seed and defending champion Eastside with three late free throws.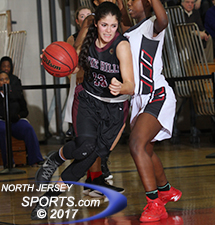 Taylor Rodriguez hit a 3-pointer to get Wayne Hills back to within 15-11 early in the second quarter, but the Patriots could get no closer the rest of the way.
"It was really important to play from in front. They beat us the last time we played them and we knew this was going to be a hard game to win. We couldn't give them a head start," said Latice Cunningham, Kennedy's senior point guard. "We have had a lot of injuries, but we have come together as a team. We play together, we stay together and we wound up coming out with a win. We want to carry it right into next week and win a championship."
Kennedy has won five state sectional championships under Burgess, but has not won a county title since 2008. Because of who they are without, it did not seem likely that this would be the year that the drought ends, but the Knights have a new-found strength in numbers. Five different players scored at least one point in the first quarter against Wayne Hills and sophomore Taniesha Gilbert was the early catalyst. She scored six points in the Knights' game-opening 7-0 run and it was sophomore Destani Smith who made the field goal that put Kennedy up by double digits for the first time, 15-5, with 52 seconds left in the first quarter.
"We hit some shots and it is true for anybody that when you hit some shots you can do some different things. You can set up some defenses and the kids gain confidence and that is big," said Burgess. "The good thing is that some of these sophomores who only got to play a little bit last year, they have been playing all year this year and with Braxton and Johnson out now, they have to play even bigger roles. They did today and this was a complete team win."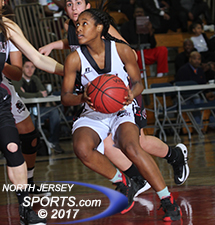 Taylor Yancey made two 3-pointers for Kennedy, which will play Lakeland for the county title on Saturday.
Wayne Hills crept back in the game briefly with a 6-0 run spanning the end of the first quarter and the start of the second. Amanda LaGuardia just beat the first quarter horn with a bucket in transition, Rachel Vellis hit a free throw to open the second and Taylor Rodriguez made a 3-pointer to get the Patriots back to within 15-11 with 6:48 left in the first half.
But the next time down the floor, Brown hit the 3 that kicked off the decisive 16-1 run that put the game out of reach. Kennedy (17-6) led 31-16 at halftime and by 39-24 after the third quarter.
Rodriguez and Alexa Gentile each scored 11 points to top Wayne Hills. LaGuardia added 6, Vellis finished with 5 and Tori Riccardi had 4 for the Patriots, who made five 3-pointers as a team but hurt themselves at the free throw line where they went a combined 4 of 14.
Cunningham and Brown, who each scored 11 points, were the only double-digit scorers in Kennedy's diverse offense. Jayla McDuffie scored 9 points off the bench, Gilbert (8 points) did most of her damage in the first quarter, Taylor Yancey (6 points) made two second quarter 3-pointers and Smith had the other field goal for the Knights.
CLICK HERE FOR MORE PHOTOS FROM THIS GAME. TO BUY A COLLECTOR'S PRINT OF THIS STORY, PLEASE VISIT 4FeetGrafix.com.