Friday, February 17, 2017
By Rich Barton
NJS.com Staff Writer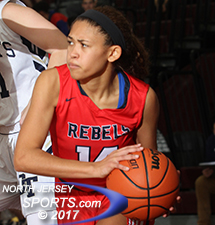 Senior Cassie Cruz is one of those players that does a little bit of everything for a contending team. She hopes to help Saddle River Day win a second straight Bergen County championship.
UPPER SADDLE RIVER – Saddle River Day senior Cassandra Cruz is the type of player that is getting harder and harder for a coach to find. As the game of basketball has evolved into a free-flowing game filled with 3-point shots, the player who is willing to the dirty work inside without any fanfare or desire for personal accolades has essentially become an endangered species. But as the Lady Rebels look to defend their Bergen County title in a rematch with Immaculate Conception of Lodi on Sunday at Ramapo College, it is Cruz who has emerged as Saddle River Day's fearless leader.
Patience has been quite the virtue for Cruz. Although she did not make any starts over her first three varsity seasons and was not in an offense running any plays specifically for her, Cruz always worked hard to make her mark in limited minutes. On top of working hard on the basketball court, Cruz dove into the challenge of succeeding in the classroom as well.
"I knew they were trying to build a winning girls' basketball program and my parents loved what the school provided academically," said Cruz, a Wayne resident. "The coaches know how we are and how we play. It took a long time for me to get a lot of minutes, but I kept my head down and kept working hard. I want to be a leader and keep pushing us to be better every day."
Her tireless work ethic made an indelible impression on Saddle River Day head coach Danny Brown. He knew that somehow, some way he had to find a spot for her on the court.
"Cassy has become a player who can turn the momentum of a close game on a dime just by making a hustle play," said Brown. "She knows her role, she comes to work every single day, has the respect of her teammates and has all the intangibles that every coach dreams of. She has done an outstanding job on the boards and can guard anyone on the floor. A true leader who doesn't care how many shots she gets, she just wants to win. Players that versatile and that selfless don't come around very often."
The senior forward has played much bigger than her 5-foot-6 frame with several standout performances this season highlighted by a 16-point, 10-rebound effort in a win over Emerson for her first career double-double. Against South Jersey power Notre Dame, Cruz pulled down a career-high 15 rebounds in a 53-51 victory. It was the seventh time this season she had at least 10 rebounds in a game.
Cruz also came up big in the last year's Bergen County final by leading all players with eight rebounds as Saddle River Day won the first county title in school history in any sport with a 53-36 win over Immaculate Conception.
"It felt great to build something and become county champs," added Cruz. "The seniors last year really had great leadership and showed us younger players how to be leaders. We all knew if we put in the work in that we had a chance to be a championship team."
Despite Cruz notching a game-high 12 rebounds and six steals, Immaculate Conception got a measure of revenge in this year's regular-season meeting in a 53-45 win. The teams will meet again on Sunday, this time with a Bergen County title at stake. Cruz cannot think of a better way to close out her career in a Rebel uniform.
"We want the feeling of winning a county title again, said Cruz. "I want to be the backbone of the team. I want to be that player who will grab rebounds, dive on a loose ball and be someone my teammates know will do whatever it takes to win. I'm really proud to be part of a winning tradition at Saddle River Day. It's going to be sad when this season and my time at Saddle River Day is over. Hopefully, we can keep it going as long as we can and win back-to-back county championships."
CLICK HERE FOR MORE PHOTOS FROM THIS GAME. TO BUY A COLLECTOR'S PRINT OF THIS STORY, PLEASE VISIT 4FeetGrafix.com.