Monday, February 13, 2017
By JC Baumuller
NJS.com Correspondent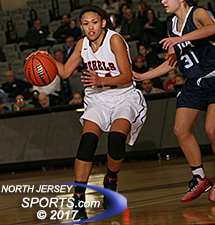 Cassie Cruz helped lead defending Bergen County champion Saddle River Day back into this year's final in a 58-38 win over IHA on Sunday at Ramapo College. Next up is a championship rematch with Immaculate Conception.
MAHWAH - Saddle River Day sophomore sensation Michelle Sidor tallied 10 of her team's first 12 points in the third quarter to turn a five-point halftime lead into a 16-point advantage and propel the defending champions into the finals of the Bergen County Tournament with a 58-38 victory over Immaculate Heart Academy on Sunday afternoon at Ramapo College.
The high-scoring Sidor, who finished with 23 points, was held to only one basket and four total points in the first half. That changed two-and-a-half minutes into the third quarter when, in a span of three-and-half minutes, she scored 10 points. First she stole a pass and dribbled the length of the court for a layup. Then she canned a pair of 3-pointers, the second of which was of the step-back variety, in 64 seconds.
"She was out of sync in the first half for whatever reason," said Rebels coach Danny Brown." She wasn't going to stay in that funk for the whole game. As a coach you're waiting. All the kids on the bench [are encouraging her]."
After sophomore teammate Jenna Jordan canned two free throws Sidor drove to the basket, took a great pass from junior teammate Michaela McMahon and scored to boost the lead to 34-18. While Sidor worked through her problems on offense, Jordan had kept the Rebels ahead of the Blue Eagles by scoring 10 of her 15 points of the game in the first half.
"I felt I had to step up and put points on the board until she got going," said Jordan.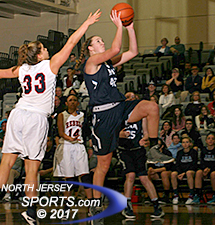 Anna Morris and IHA's three other freshman starters combined to score 21 of the Blue Eagles 38 points.
"Jenna had a great game in the post," Sidor said." She was hitting in the first half. Jackie [Wolak] could drive – she is really quick. So I depend on my teammates because they can do stuff. If I come out with a slow start, like I did today, I can depend on them to do their thing."
Brown wasn't worried because his team has proved it can function without Sidor if need be.
"When we played Northern Highlands," he said, "Michelle was out sick with the flu. It was a really good opportunity to see what would happen. Jenna (Jordan) did the same thing that night. She stepped up, Jackie (Wolak) stepped up and everyone took on a different role.
"In the hallway [after the game] I told Jenna to think back a year ago and 'where you were confidence-wise and how much you have taken ownership of what you do on the court for this team.' She should be very proud. She held her composure, didn't panic and showed up when we desperately needed it."
Rebels senior Cassy Cruz also contributed in a number of ways in addition to contributing five points. She was tenacious on the defensive end, stealing passes and otherwise disrupting the Blue Eagles' offense.
"She's like Charles Oakley when he was a Knick," Brown said." She's all over the floor. I have so much confidence in her that if Michelle is not coming off the screen off the dribble where's the ball going? Right to Cassy. The offense will run through her. If she wants to drive she has the green light. She sets the tone on offense, she sets the screens. That's a player that does all the little things. On defense she's constantly chatting to the kids. She's the glue out there on defense."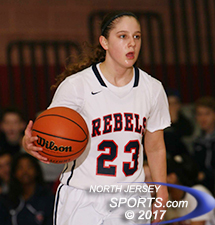 Michelle Sidor scored 19 of her game-high 23 points in the second half for Saddle River Day,
"She gives her heart every single game," added Sidor. "She plays for rebounds, hustles on defense, everything. She's a hustler and it's nice to have her out there."
Immaculate Heart's starting lineup is comprised of senior Katie Jones and four freshmen: Brittany Graff, Emma Matesic, Anna Morris and Samantha Rinaldi. Those freshmen tallied 21 of the Eagles' 38 points in the game and their play helped the Blue Eagles to trail by only five at the half.
But the Rebels took it to the young team in the second half.
"Turnovers hurt us in the first half," said IHA coach Steve Silver, "but we got out of sync just enough that some of our bad plays turned into points [for Saddle River Day]. It is hard to keep up with them scoring-wise. I thought we did a good job of containing them. We did nothing special, just man-to-man. Obviously there is a little more responsibility with Michelle Sidor.
"We have freshmen out there and it's a big move. We got a little anxious, we left our feet, we allowed an offensive rebound and then she hits a three or two. That's a backbreaker. Then we take an open shot – not a great shot – and all those things add up. But I'm happy with the way they played. It's not easy to look comfortable on this court. It takes time. I'm happy they got the experience. It will go a long way."
Saddle River Day moves on to play Immaculate Conception in the finals Feb. 19, a rematch of last year's contest won by the Rebels. The two teams played last Dec. 22 with the Blue Wolves coming away with a 53-45 victory.
"When we played them in the beginning of the season our chemistry wasn't ready," said Jordan. "Danny [Brown] prepared us but as individuals we weren't ready. We're prepared now."
"It was a three-point game and our last five possessions were turnovers and they got to the foul line," Brown said of the Dec. 22 game. "We had four new starters. You had Michelle-ball going and that was working. Jenna (Jordan) was not in sync with the offense. Cassy (Cruz) didn't know her role. The roles are much more defined now. Jackie (Wolak) turned a huge corner in the first week in January, on offense and defense. You don't find a kid like Jackie on defense. I'm much more confident with the kids in their roles."
CLICK HERE FOR MORE PHOTOS FROM THIS GAME. TO BUY A COLLECTOR'S PRINT OF THIS STORY, PLEASE VISIT 4FeetGrafix.com.