Monday, February 13, 2017
By JC Baumuller
NJS.com Correspondent
Breyenne Bellerand got hot in the third quarter as Immaculate Conception pulled away from Queen of Peace in a
48-38 win in the semifinals of the Bergen County Tournament at Ramapo College on Sunday.
MAHWAH – Immaculate Conception broke open a close game with a 9-0 run to start the second half, which propelled them past Queen of Peace, 48-38, and set up a rematch with Saddle River Day in the Bergen County Tournament finals on February 19.
"That's been our main goal," said Blue Wolves head coach Jeff Horohonich. "That's why we played the schedule we played this year. We feel all this has prepared us for next Sunday and for the state tournament. We believe that. We can compete with anybody if we play the way we're capable of. We're excited. We were hoping to play them again. It's going to be a great game and we'll see what happens.
"The last two years we've been beaten in the finals and they want to win the county championship and the state championship."
Blue Wolves senior Breyenne Bellerand, who scored a game-high 15 points, caught fire in the third quarter. In the first minute of the second half Bellerand stole the ball and dribbled down the court for a layup. She followed that with a jumper and, after senior teammate Khayla Latimer drained a 3-pointer, Bellerand got the ball inside, spun away from a defender and scored from in close.
"She's incredible," said Horohonich. "She did a great job guarding Raven [Farley]. She's a tough matchup for a lot of people because she can post, she can go outside. That's what she's going to be so good at in college."
Bellerand's talents boosted the Blue Wolves to a 35-25 lead and the game was all but over. The Golden Griffins got back within four points, 35-31, on 3-pointers by sophomore Natalie Arroyave and junior Sydney Watkins, but Wolves senior Danielle Deoul completed a 3-point play with less than a minute to go in the third quarter.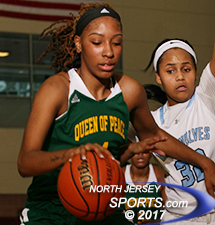 Raven Farley-Clark and Queen of Peace fell to 13-5 on the season.
A minute into the final period Watkins drained another 3 to again cut the lead to four. Bellerand countered with a pair of free throws and, after Farley tallied on a put-back, IC junior Jordan McLemore swished a trey to increase the advantage to seven, 43-36.
With just over five minutes to play QP junior Forever Toppin scored on a coast-to-coast layup after stealing the ball, but whose were the final points of the game for Queen of Peace as the Blue Wolves turned up the pressure on defense and spread the floor on offense.
Immaculate Conception scored its final basket of the game on a great pass from Bellerand to Deoul for an easy score from in close. The Wolves added some free throws to make the final margin 10-points.
""We are one of the best passing teams," said Horohonich. "It's incredible how unselfish they are. A lot of kids wouldn't buy into that. We ran our stuff today, got great ball movement. It's fun to watch."
Early in the game Queen of Peace matched up nicely with the No. 1 seed in the tournament. Senior D'avlyon Magazine scored all of her team-high 12 points on 3-pointers in the first half as the Golden Griffins trailed by only one heading into intermission.
"Magazine did a nice job knocking down shots," Horohonich said, "but we have to tighten up our responsibilities. All year that's been our main strength. In the second half we only gave up 14 [points]."
The Blue Wolves head to the tournament final for the third straight year. They lost to Immaculate Heart Academy two years ago and to Saddle River Day, their opponent next Sunday, in the 2016 tournament championship game.
Jordan McLemore and IC will face Saddle River Day in the county final for the season straight season.
Earlier in the season IC defeated the Rebels, 53-45. Even though they won that game, Bellerand believes the team is even more prepared to earn the school's first county championship.
"The first time we played them," she said, "we were getting new players together, trying to build our bond together, trying to mix together, what works where, who plays better doing something else. Before the beginning of the game we were like a hand, [fingers] spread out. Now we're more like a fist; we're more together.
Horohonich also believes his team is ready to win.
"Danny (Danielle Deoul) is much more comfortable with us," he said. "Our schedule, who we have played, has made us so much better. We are definitely a much better team than we were that first weekend. We have great leadership and they're a fun group."
Bellerand says the team's hunger for the title is "more than words can explain."
"It's been on our mind since freshman year," she said. "This year we're definitely going after it. It would mean a lot to the program and the school. It would mean a lot to the seniors. Losing two years in a row hurts so we're determined. It's something that doesn't leave your mind. We definitely are [prepared] and we're coming back for more."
CLICK HERE FOR MORE PHOTOS FROM THIS GAME. TO BUY A COLLECTOR'S PRINT OF THIS STORY, PLEASE VISIT 4FeetGrafix.com.