Sunday, January 29, 2017
By Rich Barton
NJS.com Staff Writer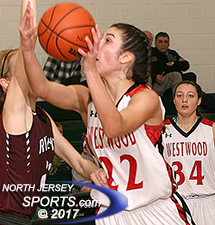 Rachel Bussanich scored a game-high 14 points for Westwood, which reached the Bergen Countyquarterfinals for the third time in the last four years with a 41-33 win over Ridgewood on Saturday.
HILLSDALE – Walking to the locker room with his team trailing at halftime against Ridgewood, Westwood head coach Charlie Collis felt that, despite being limited offensively in the first half, only one minor adjustment needed to be made. Instead of taking the first available shot that was often contested, Collis wanted his players to completely run through their offense until they got a better, more open look at the basket. With a chance for the program to make its mark in Bergen County, the Cardinals made sure to show him that they got his message loud and clear.
Carlye Danziger and Samantha McClutchy hit back-to-back 3-pointers to start the second half that gave fifth-seeded Westwood the lead for good as the No. 5 Cardinals advanced to the Bergen County quarterfinals for the third time in the past four years with a 41-33 win over 12th-seeded Ridgewood in the Round of 16 on Saturday at Pascack Valley High School.
"Ridgewood really disrupts your offense, so we emphasized running all the way through the offense if we can't get anything in transition," said Collis. "Knocking down some outside shots early in the second half opened things up. I told the girls before we went back out on the court that they are all awesome basketball players. Sometimes getting that little boost of confidence is all they need to play their best and play smart."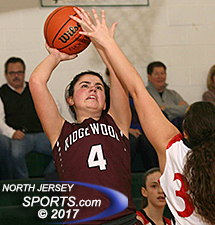 Claire Smesko had 10 points and 9 rebounds for Ridgewood.
Ridgewood has been a tough team to play all season with multi-sport athletes all over the floor. The Maroons played smothering defense in the first half and did just enough on the offensive end of the floor to keep pace. Claire Smesko drop-stepped and scored to give the Maroons an 8-6 lead at the end of the first quarter and they took a one-point lead going into halftime, 19-18.
Westwood made a concerted effort to move the ball around until they got an open look to start the second half. It paid dividends immediately with Danziger knocking one down from the corner and McClutchy hitting from the top of the key to quickly turn a one-point deficit into a five-point lead, 24-19.
"We got off to a slow start, but we picked it up and really gave it our all," said Westwood's Rachel Bussanich. "All it takes is one shot to change the whole game. Once they hit those 3s, everyone feels more lifted up and more determined to win the game."
Ridgewood hung around deep into the fourth quarter with a jumper from Katie Keyes and a layup by Lillie Kloak cutting the lead to four with less than four minutes to play. Westwood has a ton of experience though and it showed down the stretch. Bussanich knocked down a huge 3-pointer from the wing and Shannon Monaghan scored on a baseline drive as the Cardinals hung on for the win.
Olivia Cassidy and Westwood will face No. 4 Queen of Peace in the Round of 8 next weekend.
Bussanich led all scorers with 14 points with McClutchy adding 12 for Westwood (15-1). Monaghan chipped in with eight points and Olivia Cassidy did the dirty work inside with eight rebounds and a game-high six blocks. Smesko had 10 points and nine rebounds for Ridgewood (9-9). Annie McCarthy and Kloak each scored seven points.
Westwood has played in the Bergen County quarterfinals before, but this year the Cardinals are not just content with being the only small public school (Group 2) in the Bergen County quarterfinals, they want to be the first team in school history to reach the semifinal round. To do it, they will have to get past a very talented Queen of Peace squad. The Cardinals are not intimidated though and will come into that game just as they have every other game this season; with an expectation to be victorious when the final buzzer sounds.
"We have nothing to lose and we will bring the same intensity that we did today," added Bussanich. "We know they are a very good team but so are we. If we bring the same intensity and execute the way we did in the second half, we feel like we're going to win that game."
CLICK HERE FOR MORE PHOTOS FROM THIS GAME. TO BUY A COLLECTOR'S PRINT OF THIS STORY, PLEASE VISIT 4FeetGrafix.com.